BIG TV BLOCKBUSTERS AND THE CONSTRUCTION OF HERITAGE AS A TOURIST ATTRACTION: THE CASE OF THE GAME OF THRONES TAPESTRY AT THE ULSTER MUSEUM (BELFAST, NORTHERN IRELAND)
Pere Parramon

Universitat de Girona

F. Xavier Medina

Universitat Oberta de Catalunya
Keywords:
Game of thrones, cultural tourism, heritage, tv blockbuster, museum
Abstract
The influence of film or television shootings on the tourist interest of certain destinations has taken on an unusual force lately. Regarding the HBO's blockbuster Game of Thrones, shot in different international destinations, it should be noted that its presence in Northern Ireland has been much more than important. Possibly, a lot more than anywhere else the series has been shot. The Ulster government signed an agreement with the production company through which it could use everything related to the series as an instrument for promoting tourism in its territory, which has greatly benefited both parties. In this regard, Tourism Ireland wanted to commemorate the contribution of the series to its territory with the commission of a big hand- woven tapestry, created together with the company HBO and coordinated by the Ulster Museum, in Belfast (where it is currently shown). This tapestry shows the full story of the epic television drama, from the first to the eighth season. In this communication, we will analyse the creation of this art piece as an instrument for the current "construction" of heritage linked to an international blockbuster, with a tourist purpose and which has ended up becoming one of the greatest attractions of the Ulster Museum.
References
Aubert, M. (1946). Jean Verrier : La broderie de Bayeux, dite tapisserie de la reine Mathilde. Bulletin Monumental, 104(1), 134.
Belfast's Titanic Studios, where Game of Thrones Was Filmed, Up for Sale (8 noviembre 2021). Irish Central. https://www.irishcentral.com/news/titanic-studios-belfast
Breslin, J. (2 marzo 2020). Game of Thrones Maker HBO Ends Tenancy at Belfast's Titanic Studios. Belfast Telegraph. https://www.belfasttelegraph.co.uk/entertainment/news/game-of-thrones-maker-hbo- ends-tenancy-at-belfasts-titanic-studios-39004448.html
Game of Thrones Tapestry (s/d). Northern Ireland. https://www.ireland.com/en- gb/features/game-of-thrones-tapestry/
Game of Thrones Tapestry Exhibited in Bayeux (13 septiembre 2019). Bayeux Museum. https://www.bayeuxmuseum.com/en/actus/game-of-thrones-tapestry-exhibited-in- bayeux/
Game of Thrones Tapestry Transported to Home of its Inspiration in Bayeux (13 septiembre 2019). The Irish News. https://www.irishnews.com/magazine/entertainment/2019/09/13/news/game-of-thrones- tapestry-transported-to-home-of-its-inspiration-in-bayeux-1712028/
Game of Thrones Tapestry Unveiled in the Ulster Museum (11 julio 2019). Museum Next. https://www.museumnext.com/article/game-of-thrones-tapestry-unveiled-in-the-ulster- museum/
Harris, D. (3 marzo 2020). HBO Ends Tenancy at Titanic Studios, the Home of Game of Thrones. Fansided. https://winteriscoming.net/2020/03/03/hbo-says-goodbye-to-game- of-thrones-home-titanic-studios/
Memory of the World Register: Bayeux Tapestry (2006). UNESCO. http://www.unesco.org/new/fileadmin/MULTIMEDIA/HQ/CI/CI/pdf/mow/nomination_f orms/44+France+Bayeux+en.pdf
Memory of the World (2021). UNESCO. https://en.unesco.org/programme/mow/register O'Neill, J. (17 julio 2017). Game of Thrones Tapestry Unveiled in New Tourism Drive. BBC
News. https://www.bbc.com/news/uk-northern-ireland-40631829 Patrimonio cultural (2021). UNESCO.
https://es.unesco.org/fieldoffice/santiago/cultura/patrimonio
Parramon, P. & Medina, F. X. (2016). Turismo, grandes producciones y posicionamientos urbanos: El rodaje de Juego de Tronos en Girona. International Journal of Scientific Management and Tourism, 2(2), 315-328.
Parramon, P. & Medina, F. X. (2021). Juego de tronos: Realidades, ficciones, turismos. Cuenca, Ediciones de la Universidad de Castilla-La Mancha y Ediciones de la Universidad de Cantabria.
Redondo, J. M. (12 enero 2021). La ruta de Juego de tronos en Irlanda del Norte. El Rincón de Sele. https://www.elrincondesele.com/ruta-escenarios-juego-de-tronos-irlanda-del-norte/
Shankman, S. (3 abril 2014). Tourism Ireland Makes Deal with HBO to Bring Game of Thrones to Life. Skift. https://skift.com/2014/04/03/tourism-ireland-makes-deal-with-hbo-to- bring-game-of-thrones-to-life/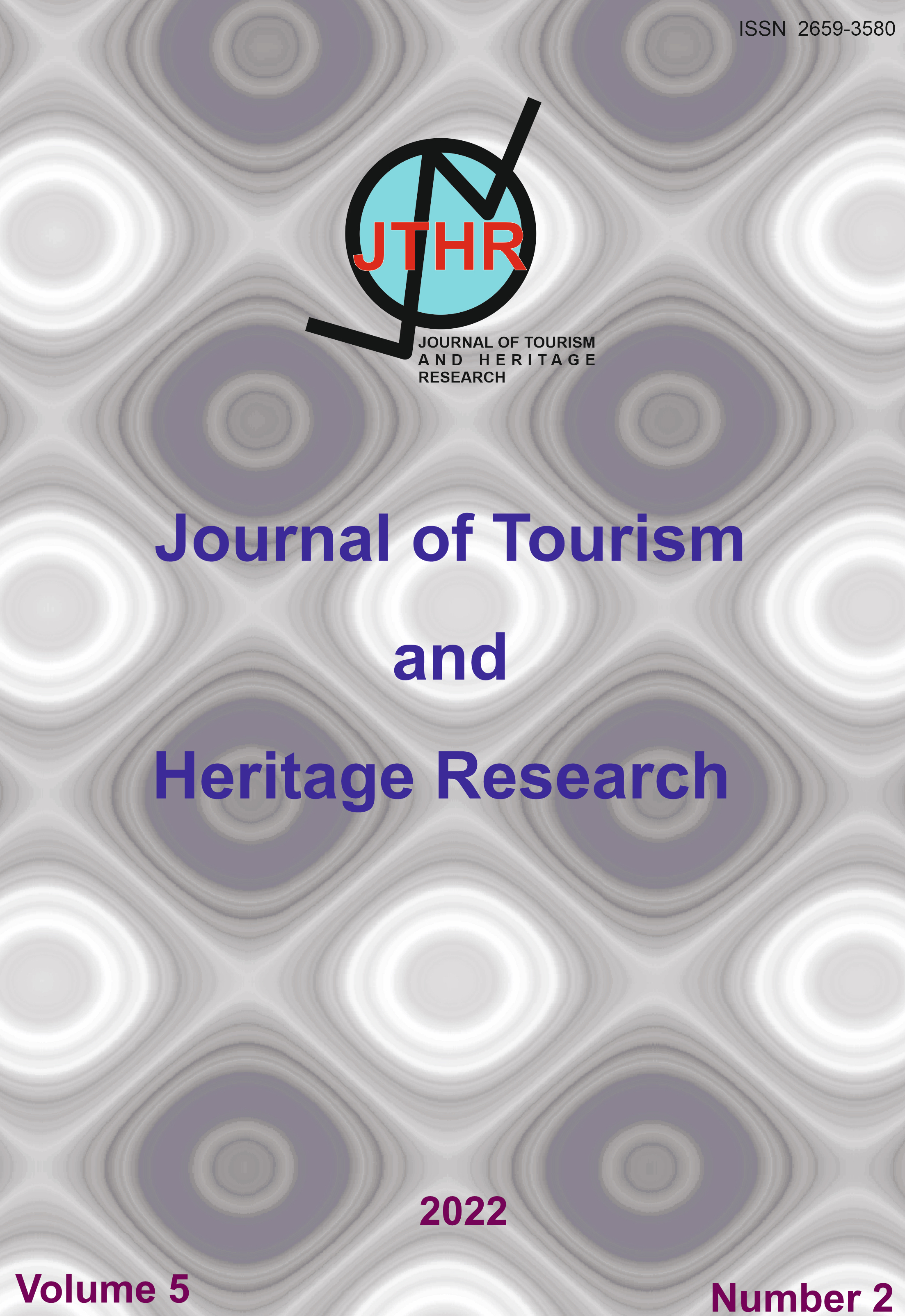 How to Cite
Parramon, P., & Medina, F. X. (2022, April 18). BIG TV BLOCKBUSTERS AND THE CONSTRUCTION OF HERITAGE AS A TOURIST ATTRACTION: THE CASE OF THE GAME OF THRONES TAPESTRY AT THE ULSTER MUSEUM (BELFAST, NORTHERN IRELAND). Journal of Tourism and Heritage Research, 5(2), 253-264. Retrieved from https://jthr.es/index.php/journal/article/view/370
This work is licensed under a Creative Commons Attribution 4.0 International License.
1.The works published in this magazine are subject to the following terms: Tourism Research Association (the publisher) preserves the patrimonial rights (copyright) of the published works, and favors and allows the reuse of them under the license of use indicated in point 2.
© Investur, 2017
2.The works are published in the electronic edition of the magazine under a Creative Commons Attribution-NonCommercial-NoDerivative 3.0 Spain (legal text) license. They can be copied, used, disseminated, transmitted and publicly displayed, provided that: i) the authorship and the original source of their publication (journal, editorial and URL of the work) are cited; ii) are not used for commercial purposes; iii) the existence and specifications of this license are mentioned.
3. Self-file conditions. Authors are allowed and encouraged to disseminate electronically the pre-print versions (version before being evaluated) and / or post-print (version evaluated and accepted for publication) of their works before publication, since it favors their circulation and earlier dissemination and with it a possible increase in its citation and scope among the academic community.