ANALYSIS OF PORTUGUESE TRAVEL BLOGUES AND THEIR IMPACT ON THE RELAUNCH OF TOURISM
Marta Dionísio

TECHN&ART, Polytechnic Institute of Tomar

Paula Almeida

TECHN&ART, Polytechnic Institute of Tomar

Cláudia Pires da Silva

TECHN&ART, Polytechnic Institute of Tomar

Célio Gonçalo Marques

TECHN&ART, Polytechnic Institute of Tomar

João Paulo Pedro

TECHN&ART, Polytechnic Institute of Tomar
Keywords:
travel blogs, tourism reactivation, digital transition, bloggers
Abstract
A phenomenon that has been growing in recent years is travel blogs, which have been revolutionizing the tourism sector. Although COVID 19 has caused profound changes in the lives of the population worldwide, confining people, limiting their movement and travel, devastating the tourism sector, this phenomenon has gained greater prominence in society and in the habits of tourists. Travel affects our ideas, takes us to other cultures, other smells, other flavours and is a way of spending money, which enriches us, magnifies us, and improves us as citizens of the world. Travel blogs are a means of stimulating the tourism sector, even if that purpose was not at their origin. By reporting experiences and places visited, bloggers can play an important role in reactivating the sector, stimulating the digital transition, which is today an unavoidable reality, taking advantage of its potential to promote a new era and influencing decision-making of tourists. This study aims to analyse the main Portuguese travel blogs and try to measure the stimulus produced by their reports, namely in this pandemic period when they helped to discover our country, encouraging the discovery of our lands, our traditions. A qualitative and quantitative investigation will be carried out and data collection will be based on document analysis and interview survey carried out using digital means. The present study allowed us to see the growing relevance and dynamics that bloggers have gained in recent years is visible, what can serve as leverage for a sector that has suffered a lot from the effects of the pandemic, influencing the choice of tourists for a certain destination based on the transmitted posts.
References
Almeida, P., Marques, C. G., Silva, C. P., & Dionísio, M. (2021). Alojamento local: do paraíso ao inferno - o impacto da COVID 19 e as estratégias para recuperar o investimento. VII Congreso Internacional Científico-Profesional de Turismo Cultural. Journal of Tourism and Heritage Research (2022), vol.5, no 1, p. 191.
Associação de Bloggers de Viagem Portugueses (2019). Associação de Bloggers de Viagem Portugueses. Obtido de: https://www.abvp.pt
Awad-Núñez, et. al. (2021). Post-COVID-19 travel behaviour patterns: impact on the willingness to pay of users of public transport and shared mobility services in Spain. European Transport Research Review, 1-18. DOI: 10.1186/s12544-021-00476-4.
Calzati, S. (2014). Intermediality, Multimodality and Medial Chronotopes: A Comparison between the Travel Book and the Travel Blog. Caracteres. Estudios culturales y críticos de la esfera digital, 3(1), 99-113.
Chandralal, L., Rindfleish, J. & Valenzuela, F. (2014). An Application of Travel Blog Narratives to Explore Memorable Tourism Experiences, Asia Pacific Journal of Tourism Research, 1-13. DOI: 10.1080/10941665.2014.925944.
ET2027 (2017). Estratégia Turismo 2027. Turismo de Portugal I.P.
Gomes, A. (2014). A imagem percebida e projetada de Portugal como destino turístico [dissertação de Mestrado]. Universidade de Aveiro.
Gomes, F. M. (2001). Alma de Viajante. Obtido de: https://www.almadeviajante.com/
Henry, J. (2019). The Geopolitics of Travel Blogging. Geopolitics, 1-23. DOI: 10.1080/14650045.2019.1664473.
Juliaty, H. & Dita, A. (2021). Analysis on the Structure and Purposes of Travel Blog Posts. Journal of Language and Literature, 15(2), 317-328.
Karabacak, G. & Genç, M. (2019). The Use of Blogues as an Example of Internet Entrepreneurship: Turkish Travel Blogues. 3rd World Conference on Technology, Innovation and Entrepreneurship (WOCTINE). Elsevier, pp. 869–876.
Lee, Y. & Gretzel, U. (2014) Cross-Cultural Differences in Social Identity Formation through Travel Blogging. Journal of Travel & Tourism Marketing, 31(1), 37-54. DOI: 10.1080/10548408.2014.861701.
Leonardo, C. (2016). Wandering Life. Obtido de: https://wandering-life.com/
Melo, A. S. (2008). Cartografia Pessoal. Obtido de: https://cartografiapessoal.wordpress.com/
Muldoon, M. & Mair, H. (2016). Blogging Slum Tourism: A Critical Discourse Analysis of Travel Blogues. Tourism Analysis, 21, 465–479.
Nunes, S. & Cooke, P. (2020). New global tourism innovation in a post-coronavirus era. European Planning Studies, 1-19.
Oliveira, C. (2020). My trip in my words: Subjectivities, time(s) and mobilities in slow travel blogues. Time & Society, 29(1), 223–255.
Parente, A. (2008). Tempo de Viajar. Obtido de: https://www.tempodeviajar.com/
Pascual, D. (2021). Speech acts in travel blogues: users' corpus-driven pragmatic intentions and discursive realisations. ELIA Estudios de lingüística Inglesa Aplicada, 85-123. DOI: 10.12795/elia.2021.i21.04.
Pinho, P., Monteiro, J. & Binhote, J. (2021). Wanderlust without Wandering: Managing a Travel Blog during the COVID-19. Revista de Administração Contemporânea - Journal of Contemporary Administration, 25, 1-18.
Portelinha, R. (2012). O Berço do Mundo. Obtido de: https://bercodomundo.com/
Ribeiro, S. (2013). Viaje Comigo. Obtido de: https://www.viajecomigo.com/
Stainton, H. & Iordanova, E. (2017). An ethical perspective for researchers using travel blog analysis as a method of data collection. Methodological Innovations, 10(3), 1– 7.
Teather-Posadas, E. (2021). To Thrive in These Times: Capabilities, Negativity, and the Pandemic. International Journal of Žižek Studies, 15(1), 1-23.
Wang, H. (2012). Investigating the determinants of travel blogues influencing readers' intention to travel. The Service Industries Journal, 32(2), 231–255.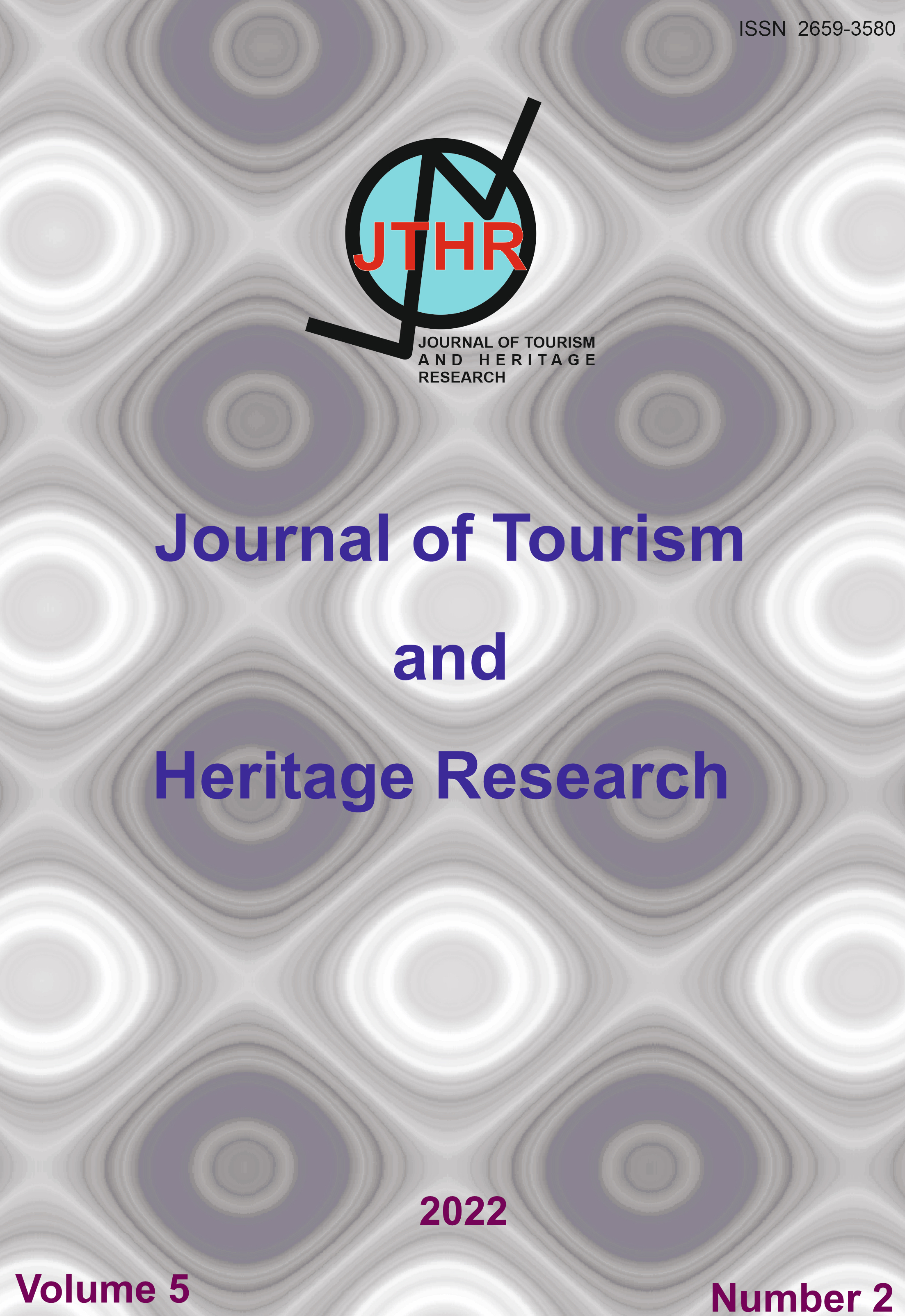 How to Cite
Dionísio, M., Almeida, P., Pires da Silva, C., Gonçalo Marques, C., & Paulo Pedro, J. (2022, April 18). ANALYSIS OF PORTUGUESE TRAVEL BLOGUES AND THEIR IMPACT ON THE RELAUNCH OF TOURISM. Journal of Tourism and Heritage Research, 5(2), 238-252. Retrieved from https://jthr.es/index.php/journal/article/view/369
This work is licensed under a Creative Commons Attribution 4.0 International License.
1.The works published in this magazine are subject to the following terms: Tourism Research Association (the publisher) preserves the patrimonial rights (copyright) of the published works, and favors and allows the reuse of them under the license of use indicated in point 2.
© Investur, 2017
2.The works are published in the electronic edition of the magazine under a Creative Commons Attribution-NonCommercial-NoDerivative 3.0 Spain (legal text) license. They can be copied, used, disseminated, transmitted and publicly displayed, provided that: i) the authorship and the original source of their publication (journal, editorial and URL of the work) are cited; ii) are not used for commercial purposes; iii) the existence and specifications of this license are mentioned.
3. Self-file conditions. Authors are allowed and encouraged to disseminate electronically the pre-print versions (version before being evaluated) and / or post-print (version evaluated and accepted for publication) of their works before publication, since it favors their circulation and earlier dissemination and with it a possible increase in its citation and scope among the academic community.