Tourist conditions for the development of adventure tourism in a location of Huanuco, Peru
Jedme Atanacio Malpartida

Universidad Nacional Hermilio Valdizán-Huánuco

Christian Dominguez Barreto

Universidad Nacional Hermilio Valdizán-Huánuco

Stephani Urco Ninahuaman

Universidad Nacional Hermilio Valdizán- Huánuco

Verónica Cajas Bravo

Universidad Nacional Hermilio Valdizán- Huánuco
Keywords:
tourist conditions, adventure tourism, natural sites, tourist plant
Abstract
The research aimed to determine the relationship between the practice of adventure tourism and the tourist conditions offered by the town of Conchamarca located in the province of Ambo - Peru. The research was carried out at a correlational level, with a non-experimental design and a transectional cut, with a population of 2989 inhabitants, taking a sample of 121 inhabitants. The data collection technique used was the survey, the questionnaire being applied to the sample in question. The results obtained show very favorable tourist conditions for the practice of adventure tourism, obtaining a correlation index of 0.67, which shows that there is a relationship described as moderate  between our adventure tourism variables and tourist conditions, based on the correlation coefficient Spearman's It is concluded that there is a relationship described as moderate between the tourist conditions offered by the town and the different activities of adventure tourism that can be developed by land, by air and by water.
References
Albornoz, E. y Rodríguez, D. (2011). Modelo de servicios turísticos de intereses especiales para Caleta Portales (Tesis Licenciatura). Universidad de Chile

Amayo, J. (2016). Condiciones Turísticas del distrito de Cascas para desarrollar el turismo de naturaleza-aventura en el año 2016. (Tesis para obtener el título profesional en Administración en Turismo y Hotelería) Universidad Cesar Vallejo. Lima.

Araujo, N., Fraiz, J. A., & Paul, V. (2011). El turismo Activo o de aventura como componente destacado del turismo de naturaleza. Análisis de la oferta en Galicia. Gran Tour: Revista de investigaciones turísticas, 8-31.

Behar, D. (2008). Metodología de la investigación. Colombia: Sharlom.

Canalis, X. (2015). Turismo de Aventura. Crecimiento a la vista y tendencias. Obtenido de https://www.hosteltur.com/110225_turismo-aventura-crecimiento-vista- tendencias.html

Carlsen J., (2001). The environmental attitudes and practices of family businesses in the rural tourism and hospitality sector, Journal of sustainable tourism, 9(4). 281-297

Celina, H y Campo, A. (2005) Aproximación al uso del coeficiente alfa de Cronbach. Revista Colombiana de Psiquiatría, XXXIV(4) . En: https://www.researchgate.net/publication/284821545_Aproximacion_al_uso_del_c oeficiente_Alfa_de_Cronbach

Diario Ahora (2017) Flujo Turístico en Huánuco disminuyó en relación al 2016. En: http://www.ahora.com.pe/flujo-turistico-en-huanuco-disminuyo-en-relacion-a- 2016/

Díaz, M. (2013). Condiciones turísticas que favorecen el turismo de naturaleza – aventura en el distrito de Virú año 2013. (Tesis de Licenciatura). Universidad César Vallejo, Trujillo, Perú.

García, L. (2012). Condiciones turísticas para la generación de un circuito turístico temático en el pueblo de Magdalena de Cao, año 2012. (Tesis de Licenciatura). Universidad César Vallejo, Trujillo, Perú.

Hernández, R., Fernández, C., & Baptista, L. (2014). Metodología de la Investigación. México: McGraw-Hill/Intermaricana Editores, S.A. de C.V.

Jump, J. &. Morón, A. (2010). El Turismo de Aventura en Pichgacocha, una Alternativa de Desarrollo socio económico para el distrito de Conchamarca. (Tesis de pregrado) Universidad Nacional Hermilio Valdizán. Huánuco.

Landivar, E. (2011). Plan de desarrollo turístico para la zona de la Piraua, Parroquia de Nanegal, Cantón Quito Provincia de Pichincha. (Tesis para optar el título de ingeniero en empresas turísticas y Áreas naturales) Universidad Tecnológica Equinoccial. Ecuador:

Lepp, A. y Gibson, H. (2003). Tourist roles, perceived risk and international tourism, Annals of Tourism Research, 30(3), 606-624.
López, P. (2004) Población, muestra y muestreo. Punto Cero v.09 n.08 Cochabamba En: http://www.scielo.org.bo/scielo.php?script=sci_arttext&pid=S1815- 02762004000100012
Millington, K.; Locke, T. y Locke, A. (2001). Occasional studies: adventure travel, Travel & tourism analyst, 4, 65-97.

Molina, S. (1997) Conceptualización del Turismo. México. Editorial Limusa S.A
.
Mowforth, M. (1993): Ecotourism: terminology and definitions, Research Report Series, no 1, United Kindgong, University of Plymouth.

Ospina, M., Mora, R. y Romero, J. (2013). Ecoturismo: diagnóstico y propuesta estratégica para la oferta de destinos ecoturísticos en Colombia por parte de las agencias de turismo localizadas en Bogotá, D.C. Cuadernos Latinoamericanos de Administración, IX(17),. 7 - 28.

Promperú (2017) Comisión de la Promoción de Perú para la Exportación y el Turismo. Perfil del vacacionista nacional y extranjero. En: https://www.promperu.gob.pe/TurismoIN/sitio/PerfVacacionistaNac
Ramírez, M. (2001). Teoría general de turismo. México: Ed. Diana.

Rivera, M., (2010): Turismo activo en la naturaleza y espacios de ocio en Andalucía: Aspectos territoriales, políticas públicas y estrategias de planificación. Consejería de Turismo, Comercio y Deporte. Junta de Andalucía. Córdoba.

Rodríguez, M. (2009). Metodología de la investigación: La creatividad, el rigor del estudio y la integridad son factores que transforman al estudiante en un profesionista de éxito. México.

Uriol, F. (2016). Potencialidades turísticas que presenta el cerro campana- sector sur, ubicado en el distrito de Huanchaco, para la práctica del turismo de naturaleza- aventura en las modalidades de observación de flora y fauna, trekking y campismo. (Tesis de pregrado) Universidad Nacional de Trujillo.

Zamorano, F. (2007). Turismo Alternativo, servicios turísticos diferenciados. México: Trillas. Bogotá: Universidad El Bosque, 2013.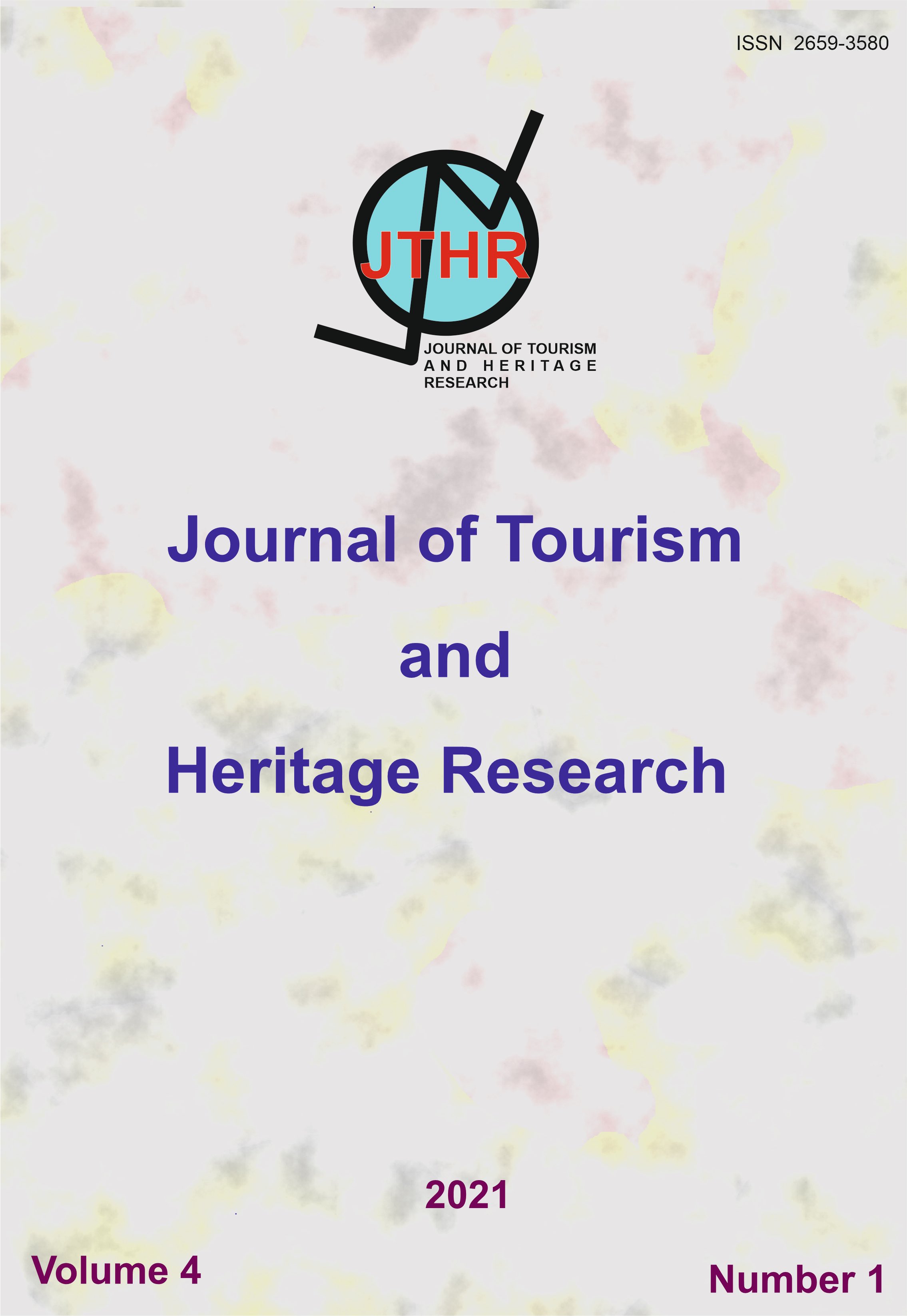 How to Cite
Atanacio Malpartida, J., Dominguez Barreto, C., Urco Ninahuaman, S., & Cajas Bravo, V. (2021, January 1). Tourist conditions for the development of adventure tourism in a location of Huanuco, Peru. Journal of Tourism and Heritage Research, 4(1), 37-48. Retrieved from https://jthr.es/index.php/journal/article/view/245
This work is licensed under a Creative Commons Attribution 4.0 International License.
1.The works published in this magazine are subject to the following terms: Tourism Research Association (the publisher) preserves the patrimonial rights (copyright) of the published works, and favors and allows the reuse of them under the license of use indicated in point 2.
© Investur, 2017
2.The works are published in the electronic edition of the magazine under a Creative Commons Attribution-NonCommercial-NoDerivative 3.0 Spain (legal text) license. They can be copied, used, disseminated, transmitted and publicly displayed, provided that: i) the authorship and the original source of their publication (journal, editorial and URL of the work) are cited; ii) are not used for commercial purposes; iii) the existence and specifications of this license are mentioned.
3. Self-file conditions. Authors are allowed and encouraged to disseminate electronically the pre-print versions (version before being evaluated) and / or post-print (version evaluated and accepted for publication) of their works before publication, since it favors their circulation and earlier dissemination and with it a possible increase in its citation and scope among the academic community.