Student travel: an option for cultural tourism
Claudia Serafina Berumen Félix

Universidad Autónoma de Zacatecas,  México
Keywords:
Cultural Heritage, Historical Destinations, Museums, Archaeological Sites
Abstract
Within the new educational designs in Mexico emphasis has been given to the method of students performing more extra classroom activities, which is why the practice of conducting trips to places where they can apply or reaffirm what they learned in the classroom. Regarding the area of ​​Humanities, History and Tourism specifically, travel is a very useful tool, considering the importance for the History student of knowing the places where different events took place, as well as the cultural heritage of their country, which helps them understand and value other cultures, also provides experiences that help them in their personal formation. Taking into account the pros and cons of student travel, we have sought to review the aspects they have, not only as a didactic resource, in this case as a branch of cultural tourism, for which from the experience of Undergraduate students in History of the Autonomous University of Zacatecas make a comparison between the definition of cultural tourism and the way in which these trips comply with it, concluding that they are a little vein taken into account as a tourist resource , although they meet all the parameters.
References
Jiménez, R. (2005) Modelo académico del Plan siglo XXI de la Universidad Autónoma de Zacatecas, México: UAZ.

Rivas, D. (2008) Proyecto viaje de estudios a Michoacán. Ciudad Hidalgo, Morelia, Santuario Mariposa monarca. México, Universidad de Chapingo, p.1

Román Á. (2011), Plan de estudios de la licenciatura en Historia, México: Universidad Autónoma de Zacatecas, p.187.

Díaz K. (2018, 18 mayo), México desconocido [en línea] recuperado el 16 de diciembre de 2018 https://www.mexicodesconocido.com.mx/lista-completa-de-los-museos-de-la-ciudad-de-mexico.html.

García,R. (2016, marzo 8) Evolución y tendencias del turismo cultural, [en línea] recuperada el 9 de diciembre de 2018 de https://www.aprendedeturismo.org/evolucion-y-tendencias-del-turismo-cultural/

Jamart C. (2007, junio) "Los viajes de estudio de AGTER. Definición, objetivo y métodos" [en línea] recuperado el 14 de diciembre 2018 de http://www.agter.asso.fr/IMG/pdf/Jamart_voyages_d_etudes_es.pdf, p. 1

Red de zonas arqueológicas del INAH, (2018, 5 sept.) [En línea], recuperado el16 de diciembre de 2018 de https://www.inah.gob.mx

Sergio (2015, mayo 14) Turismo cultural [en línea] recuperado el 20 de diciembre de 2018 de http://www.sectur.gob.mx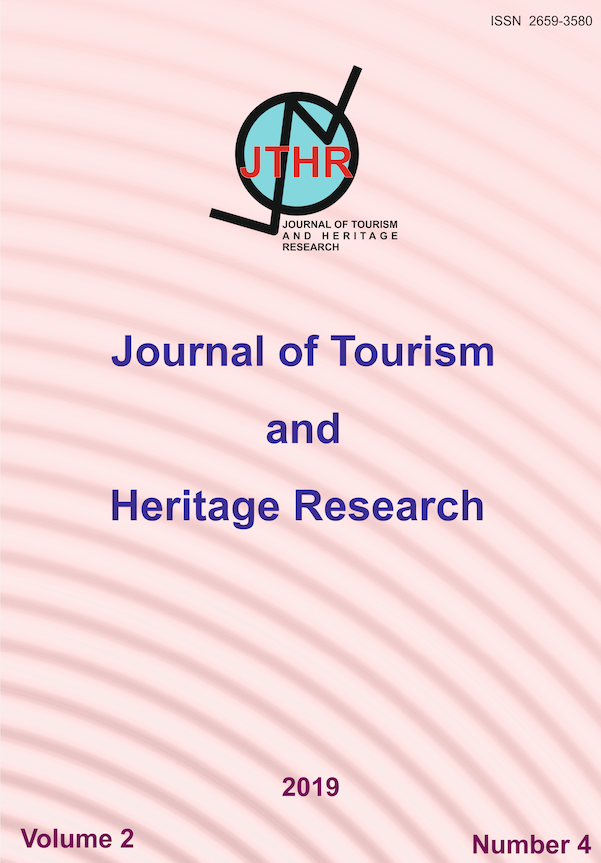 How to Cite
Berumen Félix, C. S. (2019, October 1). Student travel: an option for cultural tourism. Journal of Tourism and Heritage Research, 2(4), 24-32. Retrieved from https://jthr.es/index.php/journal/article/view/99
This work is licensed under a Creative Commons Attribution 4.0 International License.
1.The works published in this magazine are subject to the following terms: Tourism Research Association (the publisher) preserves the patrimonial rights (copyright) of the published works, and favors and allows the reuse of them under the license of use indicated in point 2.
© Investur, 2017
2.The works are published in the electronic edition of the magazine under a Creative Commons Attribution-NonCommercial-NoDerivative 3.0 Spain (legal text) license. They can be copied, used, disseminated, transmitted and publicly displayed, provided that: i) the authorship and the original source of their publication (journal, editorial and URL of the work) are cited; ii) are not used for commercial purposes; iii) the existence and specifications of this license are mentioned.
3. Self-file conditions. Authors are allowed and encouraged to disseminate electronically the pre-print versions (version before being evaluated) and / or post-print (version evaluated and accepted for publication) of their works before publication, since it favors their circulation and earlier dissemination and with it a possible increase in its citation and scope among the academic community.