importance of aerial lines in the Mexico tourism sector
Cecilia García Muñoz Aparicio

University Juárez Autónoma de Tabasco
Keywords:
company, airlines, tourism
Abstract
Tourism today is an activity that contributes to economic growth because according to the National Air Transportation Chamber (2017) the number of passengers increased 10.7%, from 73.2 million passengers in 2015 to just over 82 million passengers in 2016, increase that according to the decrease in the prices of airline tickets. In Mexico, transportation generates activities such as the movement of people, animals, merchandise and equipment. The objective of the work is to know the importance of the airlines in the development of Tourism. The methodology used is of explanatory descriptive type to measure the phenomenon through secondary sources. As a result, there are national capital companies positioned in the market such as Aeromexico, Interjet, Viva Aerobús, Volaris, Aeromar, Mayair and TAR, among others, which contribute to the development and economic growth of the country through the generation of more than one million jobs and their contribution to the gross domestic product.
References
Aeromar (2017). Nuestra Historia. Recuperado: https://www.aeromar.com.mx/nosotros/

Aeroméxico (2015). Acerca de Aeroméxico. Recuperado: https://world.aeromexico.com/es/conocenos/acerca-de-aeromexico/?site=mx

Aerolíneas Mexicanas (2017) Volaris, historia y datos. Recuperado: http://aerolineasmexicanas.mx/lista-de-aerolineas-mexicanas/volaris-historia-y-datos

Álvarez, D. (2015). Las Alas del Deseo: Historia de Aeroméxico a Través de Su Flota. Revista Aire, 15. Recuperado: https://world.aeromexico.com/es/conocenos/acerca-de-aeromexico/historia-flota/?site=mx

Archipiélago (2006). Inicios de la Aviación en México. Archipiélago, Revista Cultural de nuestra América. UNAM, 14(54). Recuperado: file:///C:/Users/HP01/Downloads/19897-31603-1-PB.pdf

Aviación Mexicana (2015). 10 datos interesantes de la aviación en México. Recuperado: www.aviacionmexico.com/10-datos-interesantes-de-la-aviacion-en-mexico/

Ballistrieri, C. A. (2010). Hacia la construcción del futuro transporte aéreo de cabotaje en la argentina. Revista Transporte y Territorio, 2, pp. 18-37.

Blauwens, G., De Baere, P. y Van de Voorde, E. (2008). Economía del transporte (3ª. Ed.), De Boeck Ltd., Amberes.

Cámara Nacional de Aerotransportes (CANAERO) (2017). Beneficios de la Industria Aeréa en México.
Castellanos, J. (2017). Aviación en México genera 2.9% del PIB nacional: IATA. Recuperado: http://a21.com.mx/aeropuertos/2017/05/15/aviacion-en-mexico-genera-29-del-pib-nacional-iata

Díaz, O. y López, A.L (2016). Comportamiento e interrelación del turismo y el transporte aéreo en Colombia. Estudios y Perspectivas en Turismo, 25, 1, pp. 36-56.

Etcheverri, A. (2017). Impulso al turismo en 2017. Milenio.com (10 de octubre).Recuperado: http://www.milenio.com/firmas/azul_e_aranda/Impulso-turismo-milenio_18_917488315.html

García, C.A. (2017). IATA ve buenas perspectivas para aviación del país. El tiempo. (Consultado el 6 de enero, 2017). Recuperado: http://www.eltiempo.com/

Infraestructura Aeroespacial (2015). Historia de la aviación mexicana Recuperado: http://www.aicmaniversario.com/2015/06/historia-de-la-aviacion-mexicana/#more-114

Interjet (2017). Quiénes somos. Recuperado: https://interjet.com/quienes-somos.aspx?culture=es-mx

Leyva, M. A. (2012). Los controladores del tráfico aéreo y la seguridad aérea. El Cotidiano, 173, pp. 35-46. Recuperado: http://www.redalyc.org/pdf/325/32523131005.pdf

Méndez, J.S. (2012).Problemas Económicos de México y Sustentabilidad. Ed. McGraw Hilll. México.

Nardone, A. (2016). La importancia de la conectividad aérea para el desarrollo turístico. El telescopio. Recuperado: http://eltelescopio.com.uy/la-importancia-de-la-conectividad-aerea-para-el-desarrollo-turistico/

Parcerisa, C. (10 de septiembre, 2017). Turismo en México, el sector que más aporta al producto interno bruto. Forbes México. Recuperado: https://www.forbes.com.mx/forbes-life/turismo-mexico-pib/

Parlamento Europeo (2010). Departamento Temático. Políticas Estructurales y de Cohesión. Dirección General de Políticas Interiores. Recuperado: http://www.europarl.europa.eu/RegData/etudes/note/join/2009/431570/IPOL-TRAN_NT(2009)431570_ES.pdf

Secretaría de Comunicaciones y Transportes (SCT) (2017). Aviación mexicana en cifras 1991-2016. Dirección General de Aeronáutica Civil.

Secretaría de Programación y Presupuesto (1982). El papel del sector público en la economía mexicana. Participación del gobierno de México en el proyecto de investigación.

Seguí J.M. y Martinez, M. R. (2010).Movilidad y sostenibilidad en el transporte aéreo: las compañías de bajo coste en los destinos turísticos de España y Baleares. Revista Transporte y Territorio, Nº 2, Universidad de Buenos Aires. pp. 68-98. Recuperado: www.rtt.filo.uba.ar/RTT00205068.pdf

TAR Aerolíneas (2017). Nuestra flota. Recuperado: ttps://tarmexico.com/about-us/who-we-are

Viva Aerobus (2017). VivaAerobus, Lo que necesitas para Volar. Recuperado: https://www.vivaaerobus.com/mx/info/acerca-vivaaerobus

Volaris (2017). Nuestra compañía. Recuperado: http://ir.volaris.com/Spanish/quienes-volaris/nuestra-compania/default.aspx

Wallingre, N. (2010).Responsabilidad del transporte aéreo en la dinámica territorial para el desarrollo del turismo argentino. El aporte pendiente. Revista Transporte y Territorio. 2, pp. 99-120 https://www.definicionabc.com/general/aerolinea.php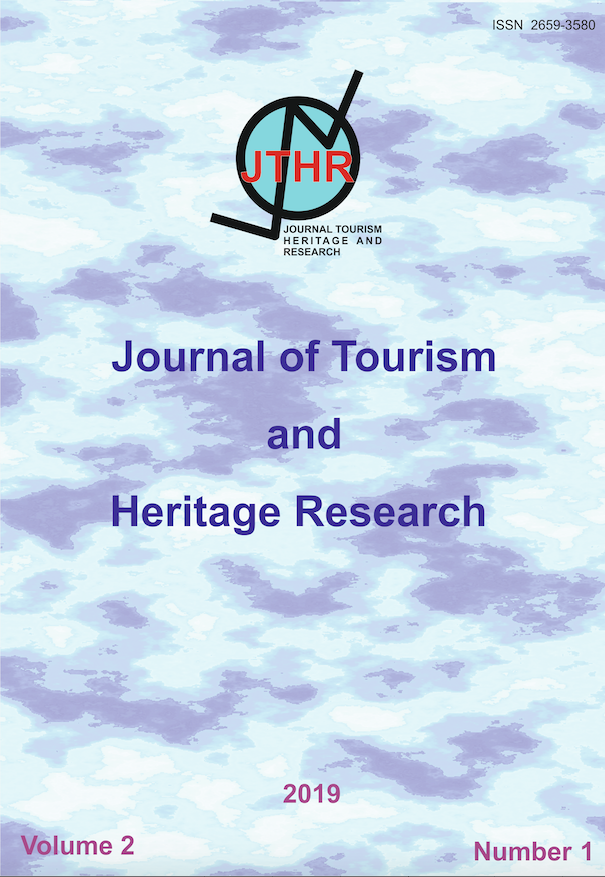 How to Cite
Muñoz Aparicio, C. G. (2019, June 3). importance of aerial lines in the Mexico tourism sector. Journal of Tourism and Heritage Research, 2(1), 220-234. Retrieved from https://jthr.es/index.php/journal/article/view/58
1.The works published in this magazine are subject to the following terms: Tourism Research Association (the publisher) preserves the patrimonial rights (copyright) of the published works, and favors and allows the reuse of them under the license of use indicated in point 2.
© Investur, 2017
2.The works are published in the electronic edition of the magazine under a Creative Commons Attribution-NonCommercial-NoDerivative 3.0 Spain (legal text) license. They can be copied, used, disseminated, transmitted and publicly displayed, provided that: i) the authorship and the original source of their publication (journal, editorial and URL of the work) are cited; ii) are not used for commercial purposes; iii) the existence and specifications of this license are mentioned.
3. Self-file conditions. Authors are allowed and encouraged to disseminate electronically the pre-print versions (version before being evaluated) and / or post-print (version evaluated and accepted for publication) of their works before publication, since it favors their circulation and earlier dissemination and with it a possible increase in its citation and scope among the academic community.