PROJECTING A DESTINATION IMAGE THROUGH FACEBOOK: THE ROLE AND CHALLENGES OF DESTINATION MANAGEMENT ORGANIZATIONS
investur investur

+34 679218154

Monica Coronel

Corvinus University of Budapest

Leonardo Torres León

University of Cuenca

Imelda Avecillas Torres

University of Cuenca

Cristina Andrea Barzallo Neira

University of Cuenca
Keywords:
Projected image, Facebook, Social media, Destination Management Organizations, COVID-19
Abstract
This study explores how the image of a destination - an intermediate city of South America- is projected by the DMO on the official Facebook page, and how this social networking is managed by the DMO. To this end, 454 posts from the official DMO's Facebook page over one year, consisting of text, illustrations (photographs, banners, graphics) and videos, were analysed using two approaches, inductive and deductive. Findings reveal that posts mainly comprise places in the city -tourist hot spots- and dismiss activities and people (locals and visitors), which projects the image of a mass tourism destination.  Content is mainly informative and not always on tourism-related topics. The pandemic significantly impacted the type of content published during the study period. The DMO fails to project on Facebook a consistent and well-differentiated image of the city. The DMO's lack of political independence from the local government influences the content and purpose of the publications. The study reflects the impact of social networks on the projection of the image of a destination. It highlights the usefulness of visual resources in tourism promotion and their possible impact on the expectations and motivations of potential visitors. Furthermore, it outlines an approach to assessing the projected image of a destination through social media by categorizing three elements -places, activities, and people- shown in the posts. The current work offers valuable insights to DMOs on social media management strategies, especially Facebook.
References
Alexa. (n.d), Top sites. Retrieved March 9, 2022, from https://www.alexa.com/topsites
Avecillas Torres, A. I., Crespo Córdova, A. B., Torres León, L., & Barzallo Neira, C. A. (2021). El turista cultural extranjero de museos en la ciudad de Cuenca-Ecuador. Chakiñan, Revista de Ciencias Sociales y Humanidades, 13, 72–84.
Beerli, A., & Martin, J. D. (2004). Factors influencing destination image. Annals of Tourism Research, 31(3), 657-681.
Bernkopf, D., & Nixon, L. (2019). The impact of visual social media on the projected image of a destination: the case of Mexico City on Instagram. In J. Pesonen, & J. Neidhardt (Eds). Information and Communication Technologies in Tourism 2019. Springer. pp. 145-157.
Bigné, J., Font, X., & Andreu, L. (2000). Marketing de destinos turísticos: análisis y estrategias de desarrollo. ESIC Editorial.
Echtner, C. M., & Ritchie, J. B. (1991). The meaning and measurement of destination image. Journal of tourism studies, 2(2), 37-48.
Fundación Municipal Turismo para Cuenca. (n.d.). Home [Facebook page]. Facebook. Retrieved July 20, 2021, from https://www.facebook.com/FundacionTurismoCuenca/
Galvez-Rodriguez, M. D. M., Alonso-Cañadas, J., Haro-de-Rosario, A., & Caba-Pérez, C. (2020). Exploring best practices for online engagement via Facebook with local destination management organisations (DMOs) in Europe: A longitudinal analysis. Tourism Management Perspectives, 34, 100636.
Ghazali, R. M., & Cai, L. (2013). Social media sites in destination image formation. In Tourism social media: transformations in identity, community and culture. Emerald Group Publishing Limited (Vol. 18), pp. 73-86.
Gil, S., Beerli, A., & De León, J. (2012). Entender la imagen de un destino turístico: factores que la integran y la influencia de las motivaciones. Criterio Libre, 10(16), 115-142.
Hölzl, B. (2019). Destination im Wandel – am Beispiel Meran. In H. Pechlaner (Ed.). Destination und Lebensraum, Perspektiventouristischer Entwicklung, Springer, Wiesbaden, pp. 245-255.
Hunter, W. C. (2016). The social construction of tourism online destination image: A comparative semiotic analysis of the visual representation of Seoul. Tourism Management, 54, 221-229.
Hysa, B., Karasek, A., & Zdonek, I. (2021). Social media usage by different generations as a tool for sustainable tourism marketing in society 5.0 idea. Sustainability, 13(3), 1-27.
Jeon, H., Ok, C., & Choi, J. (2018). Destination Marketing Organization Website Visitors' Flow Experience: An Application of Plog's Model of Personality. Journal of Travel and Tourism Marketing, 35(4), 397-409.
Kavaratzis, M., & Ashworth, G. (2008). Place marketing: how did we get here and where are we going? Journal of Place Management and Development, 1(2), 150-165.
Kim, H., & Yoon, J. (2013). Examining national tourism brand image: Content analysis of lonely planet Korea. Tourism Review, 68(2), 56-71.
Kim, S. E., Lee, K. Y., Shin, S. I., & Yang, S. B. (2017). Effects of tourism information quality in social media on destination image formation: The case of Sina Weibo, Information & Management, 54(6), 687-702.
Kislali, H., Kavaratzis, M., & Saren, M. (2019). Destination image formation: Towards a holistic approach. International Journal of Tourism Research, 22(2), 1-11.
Kladou, S., & Mavragani, E. (2015). Assessing destination image: An online marketing approach and the case of TripAdvisor'. Journal of Destination Marketing & Management, 4(3), 187-193.
Költringer, C., & Dickinger, A. (2015). Analyzing destination branding and image from online sources: A web content mining approach. Journal of Business Research, 68(9), 1836-1843.
Kumar, P., Mohan-Mishra, J., & Venkata-Rao, Y. (2022). Analysing tourism destination promotion through Facebook by Destination Marketing Organizations of India. Current Issues in Tourism, 25(9), 1416-1431.
Kun, L., & Xiang, R. (2015). Tourism Destination Image: Conceptual Problems and Definitional Solutions. Journal of Travel Research, 55(8), 1-16.
Leung, D., Law, R., Van Hoof, H., & Buhalis, D. (2013). Social media in tourism and hospitality: A literature review. Journal of Travel & Tourism Marketing, 30(1-2), 3-22.
Lim, Y., Chung, Y., & Weaver, P. (2012). The impact of social media on destination branding: Consumer-generated videos versus destination marketer-generated videos. Journal of Vacation Marketing, 18(3), 197-206.
Llodra-Riera, I., Martínez-Ruiz, M. P., Jiménez-Zarco, A. I., & Izquierdo-Yusta, A. (2015). Assessing the influence of social media on tourists' motivations and image formation of a destination. International Journal of Quality and Service Sciences, 7(4), 458-482.
Mak, A. H. (2017). Online destination image: Comparing national tourism organisation's and tourists' perspectives. Tourism Management, 60, 280-297.
Marine-Roig, E., & Ferrer-Rosell, B. (2018). Measuring the gap between projected and perceived destination images of Catalonia using compositional analysis. Tourism Management, 68, 236-249.
Molina, A., Gómez, M., Lyon, A., Aranda, E., & Loibl, W. (2020). What content to post? Evaluating the effectiveness of Facebook communications in destinations. Journal of Destination Marketing & Management, 18, 1-11.
Munar, A. M. (2012). Social media strategies and destination management. Scandinavian Journal of Hospitality and Tourism, 12(2), 101-120.
Önder, I., & Marchiori, E. (2017). A comparison of pre-visit beliefs and projected visual images of destinations. Tourism Management Perspectives, 21, 42-53.
Organización Mundial del Turismo. (1998). Introducción al Turismo. Retrieved August 27, 2022, from http://www.utntyh.com/wp-content/uploads/2011/09/INTRODUCCION-AL-TURISMO-OMT.pdf
Pachucki, C., Grohs, R., & Scholl-Grissemann, U. (2022). Is nothing like before? COVID-19–evoked changes to tourism destination social media communication. Journal of Destination Marketing & Management, 23, 1-10.
Pfeffer-Hoffmann, C., & Hendricks, W. (2011). Generationenübergreifende Entwicklung gesellschaftlicher Perspektiven in der Niederlausitz. Retrieved July 20, 2022, from https://www.pedocs.de/volltexte/2012/5333/pdf/PfefferHoffmann_Hendricks_2011_Generationenuebergreifende_Entwicklung_D_A.pdf
Picazo, P., & Moreno-Gil, S. (2019). Analysis of the projected image of tourism destinations on photographs: A literature review to prepare for the future. Journal of Vacation Marketing, 25(1), 3-24.
Rodríguez, M., Nassanbekova, S., Pérez, L. M., & Uruzbayeva, N. (2020). The impact of information quality in DMOs' Facebook pages on the formation of destination image in the Silk Road: the case of Almaty, Kazakhstan. Current Issues in Tourism, 23(13), 1587-1592.
Paniagua Rojano, F. J., & Pastor Marín, F. M. (2021). La comunicación de los destinos turísticos internacionales en Facebook y Twitter durante la pandemia de COVID-19. Cuadernos del Centro de Estudios de Diseño y Comunicación, 136, 167-183.
Santillán, V. (2010). La fotografía como creadora de la imagen de un destino turístico. Pasos, 8(1), 71-82.
Song, S., Park, S., & Park, K. (2021). Thematic analysis of destination images for social media engagement marketing. Industrial Management & Data Systems, 121(6), 1375-1397.
Statista. (2022). Most popular social networks worldwide as of January 2022, ranked by number of monthly active users. Retrieved April 9, 2022, from https://www.statista.com/statistics/272014/global-social-networks-ranked-by-number-of-users/
Stankov, U., Jovanović, T., Pavluković, V., Kalinić, Č., Drakulić-Kovačević, N., & Cimbaljević, M. (2018). A regional survey of current practices on destination marketing organizations' Facebook Pages: the case of EU and US. Geographica Pannonica, 22(2), 81-96.
Stepchenkova, S., & Zhan, F. (2013). Visual destination images of Peru: Comparative content analysis of DMO and user-generated photography. Tourism Management, 36, 590-601.
Tasci, A. D., & Gartner, W. C. (2007). Destination image and its functional relationships. Journal of Travel Research, 45(4), 413-425.
Tiago, F., Moreira, F., & Borges-Tiago, T. (2019). YouTube Videos: A Destination Marketing Outlook. In A. Kavoura, E. Kefallonitis, & A. Giovanis (Eds.). Strategic Innovative Marketing and Tourism, Springer Proceedings in Business and Economics, Springer, Cham, pp. 877-884.
Toubes, D. R., Araújo Vila, N., & Fraiz Brea, J.A. (2021). Changes in Consumption Patterns and Tourist Promotion after the COVID-19 Pandemic. Journal of Theoretical and Applied Electronic Commerce Research, 16(5), 1332-1352.
Uğur, L. (2017). Mind the gap: reconceptualising inclusive development in support of integrated urban planning and tourism development. In N. Bellini, & C. Pasquinelli (Eds.). Tourism in the City. Springer, Cham, pp. 51-66.
Villamediana-Pedrosa, J., Vila-Lopez, N., & Küster-Boluda, I. (2019). Secrets to design an effective message on Facebook: an application to a touristic destination based on big data analysis. Current Issues in Tourism, 22(15), 1841-1861.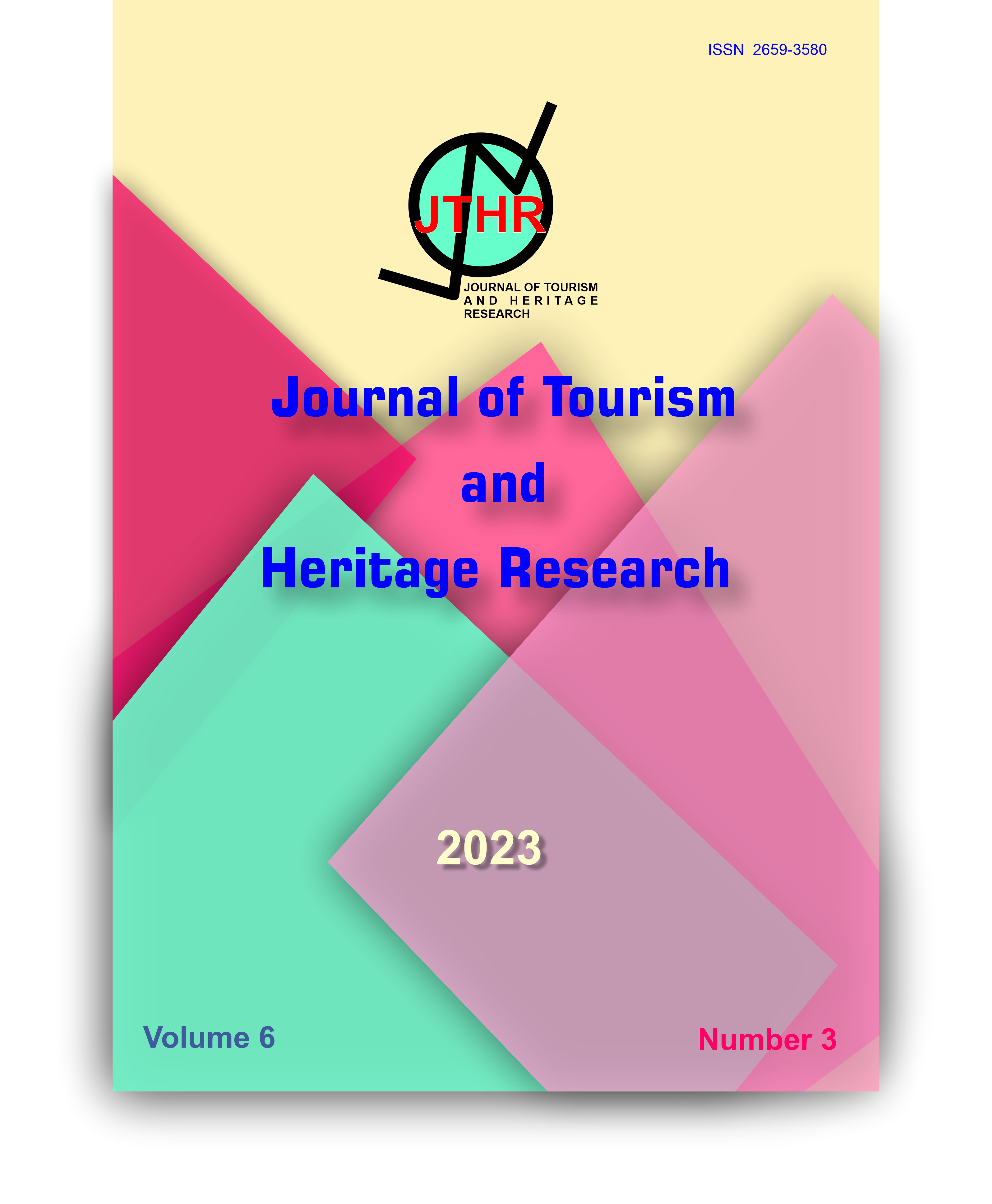 How to Cite
investur, investur, Coronel, M., Torres León, L., Avecillas Torres, I., & Barzallo Neira, C. A. (2023, August 8). PROJECTING A DESTINATION IMAGE THROUGH FACEBOOK: THE ROLE AND CHALLENGES OF DESTINATION MANAGEMENT ORGANIZATIONS. Journal of Tourism and Heritage Research, 6(3), 219-233. Retrieved from https://jthr.es/index.php/journal/article/view/508
This work is licensed under a Creative Commons Attribution 4.0 International License.
1.The works published in this magazine are subject to the following terms: Tourism Research Association (the publisher) preserves the patrimonial rights (copyright) of the published works, and favors and allows the reuse of them under the license of use indicated in point 2.
© Investur, 2017
2.The works are published in the electronic edition of the magazine under a Creative Commons Attribution-NonCommercial-NoDerivative 3.0 Spain (legal text) license. They can be copied, used, disseminated, transmitted and publicly displayed, provided that: i) the authorship and the original source of their publication (journal, editorial and URL of the work) are cited; ii) are not used for commercial purposes; iii) the existence and specifications of this license are mentioned.
3. Self-file conditions. Authors are allowed and encouraged to disseminate electronically the pre-print versions (version before being evaluated) and / or post-print (version evaluated and accepted for publication) of their works before publication, since it favors their circulation and earlier dissemination and with it a possible increase in its citation and scope among the academic community.