THE CULT OF THE VIRGEN DE GUADALUPE: A CELEBRATION WITH ECONOMIC AND TOURIST SPIRITUAL DIVIDENDS
investur investur

+34 679218154

Margarita Rodríguez Falcón

Universidad Juárez Autónoma de Tabasco

Dalila de Asís Rueda Vázquez

Universidad Juárez Autónoma de Tabasco
Abstract
Religion has always been present and has witnessed the formation of the world system. Religions in the world have also been included in globalization itself, they are part of the economies and politics of states. Marx argued that religion is the opium of the people, a means of control and despite the context in which Marx raised it, it remains a hope for peace and expiation of guilt. The latter is an engine that mobilizes millions of people to witness, for example, the celebration and/or festivity of the Virgin of Guadalupe every December 12 in Mexico, a scenario that we will analyze in this work.
The foregoing does not lead to an account of this commemoration not only from the historical, spiritual part, but also from its commercial and tourist practices after the COVID-19 pandemic in the Centro municipality, Tabasco, Mexico. To get closer to reality, we use Husserl's phenomenology and resort to the theory of Marx and Clauss Offe to propose the economic context where observation and the questionnaire were essential to build a position on the possible commodification and tourism of Faith, from which the religions of the world have not escaped.
References
Béjar, H. (2007), Identidades Inciertas: Zygmunt Bauman. Barcelona, Herder Editorial
Berger, P. (2010). El dosel sagrado: para una teoría sociología de la religión. Barcelona, Editorial Kairós.
Cipriani, R. (2011). Manual de Sociología de la Religión. Argentina, Editorial Siglo XXI.
Cursos sobre catolicismo y religión (s/f). https://www.edx.org/es/aprende/catolicismo#:~:text=El%20catolicismo%20como%20lo%20conocemos,aceptación%20masiva%20a%20nivel%20global.
Durkheim, É. (2014). Las formas elementales de la vida religiosa. Madrid, Alianza editorial.
Fernández, F. (2018) El mercado de la fe en Toluca. Análisis sociocultural de los productos religiosos y esotéricos en el mercado. Toluca, Universidad Autónoma del Estado de México.
Garcés, B. (2015). Virgen de Guadalupe como imagen de la identidad latinoamericana y sus nuevas lógicas de consumo. Resistencia: revista de los estudiantes de la Universidad Andina Simón Bolívar, (marzo 2015), 58-61..
González, E. (2013). Acerca del estado de la cuestión o sobre un pasado reciente en la investigación cualitativa con enfoque hermenéutico. Unipluriversidad.13(1),60-63
Husserl, E. (1992). El artículo "fenomenología". En: Invitación a la fenomenología. Barcelona: Paidós, 35-73.
Kelh, M. (2013). La iglesia. Salamanca, Editorial Sígueme. Salamanca.
Lenski, G. (1961). El factor religioso: un estudio sociológico del impacto de la religión en la política, la economía y la vida familiar. Barcelona, Editorial Labor.
Núñez, M. (2012). Una aproximación desde la sociología fenomenológica de Alfred Schütz a las transformaciones de la experiencia de la alteridad en las sociedades contemporáneas. Sociológica, 27(75), 49-67.
Salmeán, S. (2016). Peregrinaciones religiosas y ciudadanía. Estudio comparativo de dos casos: la devoción guadalupana en Ciudad de México y San Diego (EEUU), con anotaciones sobre el Camino de Santiago. Madrid, Universidad Complutense de Madrid.
Sampieri, R. (2014). Metodología de la Investigación. Mexico, McGraw Hill.
Trigilio, J. y Brighenti, K. (2010). Catolicismo para tontos. Indianápolis, Mini edición.
Vallverdú, J. (2001). Gazeta de Antropología. Obtenido de Mercado religioso y movimientos carismáticos en la modernidad. Gazeta de Antropología.17, 22.
Weber, M. (1998). Ensayos sobre sociología de la religión, Tomo 1, Madrid, Taurus.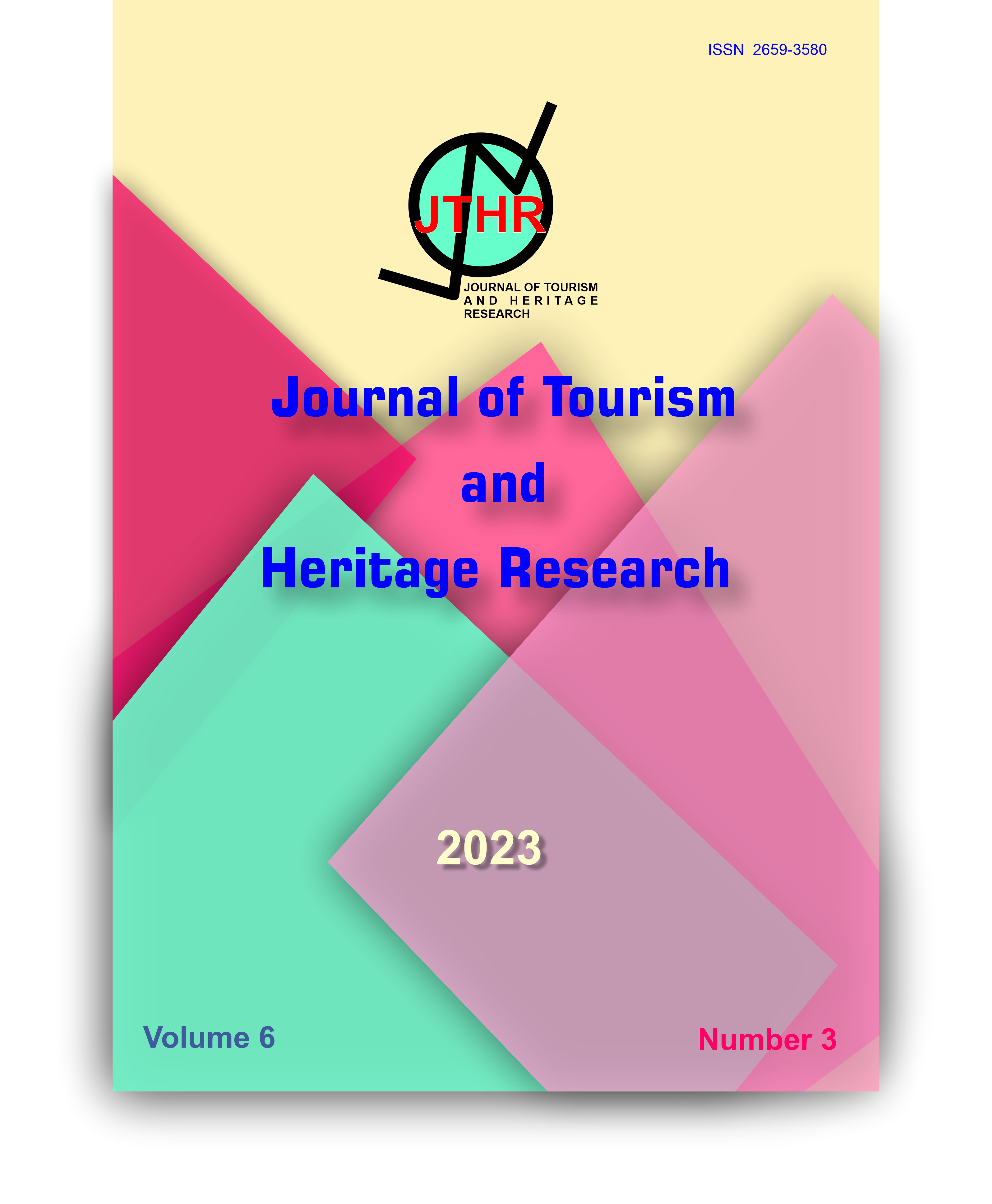 How to Cite
investur, investur, Rodríguez Falcón, M., & Rueda Vázquez, D. de A. (2023, June 27). THE CULT OF THE VIRGEN DE GUADALUPE: A CELEBRATION WITH ECONOMIC AND TOURIST SPIRITUAL DIVIDENDS. Journal of Tourism and Heritage Research, 6(3), 66-80. Retrieved from https://jthr.es/index.php/journal/article/view/494
This work is licensed under a Creative Commons Attribution 4.0 International License.
1.The works published in this magazine are subject to the following terms: Tourism Research Association (the publisher) preserves the patrimonial rights (copyright) of the published works, and favors and allows the reuse of them under the license of use indicated in point 2.
© Investur, 2017
2.The works are published in the electronic edition of the magazine under a Creative Commons Attribution-NonCommercial-NoDerivative 3.0 Spain (legal text) license. They can be copied, used, disseminated, transmitted and publicly displayed, provided that: i) the authorship and the original source of their publication (journal, editorial and URL of the work) are cited; ii) are not used for commercial purposes; iii) the existence and specifications of this license are mentioned.
3. Self-file conditions. Authors are allowed and encouraged to disseminate electronically the pre-print versions (version before being evaluated) and / or post-print (version evaluated and accepted for publication) of their works before publication, since it favors their circulation and earlier dissemination and with it a possible increase in its citation and scope among the academic community.