ONE PROBABILITY OF SURVIVAL IN THE FACE OF CLIMATE CHANGE FOR SALINAS-ECUADOR: CASE OF MANGROVES OF THE GALAPAGOS ISLANDS
investur investur

+34 679218154

Judith Genoveva Quelal-Mora

Universidad de Guayaquil
Abstract
This reflective article frames the Salinas tourist spot, a beach in the province of Santa Elena located in Ecuador. The same one that represents a point of high tourist development, evidenced in the number of inhabitants and tourists and economic indicators, which if lost in the coming years due to the floods predicted by global warming, would represent a great economic and human loss. The objective is to find the approximate economic value that it would represent to have mangroves planted with existing species in the Galapagos Islands and thus hope that this place can remain over time. The methodology is based on bibliographic information, with a positivist approach. The identification of the variables was obtained through conclusive descriptive research, using quantitative and qualitative research tools. The results indicate that considering a study of a valuation of Salinas, by the travel cost method, for $211 million among other economic indicators, efforts must be joined to save it. The collection of data from approximately 30 bibliographical references serve for the assessment of the mangrove by those in charge of conserving the site, both public and private
References
Centro del Agua y Desarrollo Sustentable CADS – ESPOL. (2013). Análisis de vulnerabilidad del cantón santa elena, perfil territorial 2013. Con el acompañamiento técnico del proyecto: "Estimación de Vulnerabilidades y Reducción de Riesgos de Desastres a nivel municipal en el Ecuador". Retrieved from https://biblio.flacsoandes.edu.ec/libros/digital/56776.pdf
Aquae, (2019). Retrieved from https://www.iagua.es/noticias/fundacion-aquae/causas-y-consecuencias-aumento-nivel-mar
Banco Central del Ecuador (BCE). (2011): Cuentas cantonales 2010. Retrieved from https://www.bce.fin.ec/index.php/component/k2/item/293-cuentas-provinciales
Banco Central del Ecuador (BCE). (2015): Cuentas cantonales 2014. Retrieved from https://www.bce.fin.ec/index.php/component/k2/item/293-cuentas-provinciales.
Beck, M. & Menéndez, P. (2020). Proteger los manglares puede ahorrarnos millones de dólares al año en inundaciones. Retrieved from https://theconversation.com/proteger-los-manglares-puede-ahorrarnos-millones-de-dolares-al-ano-en-inundaciones-133559
Davidson, N.C. (2014). How much wetland has the world lost? Longterm and recent trends in global wetland area. Marine and Freshwater Research, 65(10), 934-941
Díaz, J., Coba, E., Mocha, J., & Mayorga, M. (2018). La biocontabilidad en la conservación de los recursos turísticos naturales: caso de estudio playa de Salinas, Ecuador. Revista Espacios 39 (16) . 31.
Informe del Barómetro de Restauración de la UICN (2022)
Instituto Nacional de Estadísticas y Censos (2022). Censo Nacional de Población y Vivienda CNPV 1990. Retrieved from http://www.ecuadorencifras.gob.ec/sistema-integrado-de-consult as-redatam/
Instituto Nacional de Estadísticas y Censos (2022). Censo Nacional de Población y Vivivenda CNPV 2001. Retrieved from http://www.ecuadorencifras.gob.ec/sistema-integrado-de-consult as-redatam/
Instituto Nacional de Estadísticas y Censos (2022). Censo Nacional de Población y Vivivenda CNPV 2010. Retrieved from http://www.ecuadorencifras.gob.ec/sistema-integrado-de-consult as-redatam/
Instituto Nacional de Patrimonio Cultural (2016): Sistema de Información del Patrimonio Cultural Ecuatoriano. Retrieved from http://www.inpc.gob.ec/sistema-de-informacion-para-la-gestionde-bienes-culturales-abaco.
Instituto Nacional de Estadística y Censos (INEC). (2017). Medición de los indicadores ODS de Agua, Saneamiento e Higiene (ASH) en el Ecuador. Quito. Retrieved from https://www.ecuadorencifras.gob.ec/censo-de-poblacion-y-vivienda/
Instituto Nacional de Patrimonio Cultural (2016): Sistema de Información del Patrimonio Cultural Ecuatoriano. Retrieved from http://www.inpc.gob.ec/sistema-de-informacion-para-la-gestionde-bienes-culturales-abaco.
Manglares increíbles. Retrieved from https://www.worldwildlife.org/descubre-wwf/historias/manglares-increibles
Martínez, D. (2014). El turismo y su impacto económico en el sector hotelero del cantón Salinas. Provincia de Santa Elena período 2009-2011 (Tesis de Maestría). Universidad de Guayaquil. Guayaquil, Ecuador.
Millennium Ecosystem Assesment (MEA), 2005. Ecosystems and human and trends. In: Millenial Ecosystem Assesment. vol. 1.
Ministerio de Turismo. (2022). Catastro Turístico de la Provincia de Santa Elena. Salinas, Santa Elena. Retrieved from https://servicios.turismo.gob.ec/portfolio/catastro-turistico-nacional
ONU. (28 de noviembre del 2019). Manglares, una súper solución contra el cambio climático.Retrieved from https://www.unep.org/es/noticias-y-reportajes/reportajes/manglares-
una-super-solucion-contra-el-cambio-climatico
Prefectura de Santa Elena. Retrieved from https://www.santaelena.gob.ec/index.php/provincializacion/23santa-elena/santa-elena
Proteger los manglares puede ahorrarnos millones de dólares al año en inundaciones. (2020). Retrieved from https://theconversation.com/proteger-los-manglares-puede-ahorrarnos-millones-de-dolares-al-ano-en-inundaciones-133559
Quelal, J. G. (2020). Assessment of the water cleaning service that circulates through the mangroves of the Santay-Ecuador island. Journal of Tourism and Heritage Research,3(3), 51-66.
RAMSAR. (2019). Humedales: en peligro de desaparecer en todo el mundo. Recuperado de:
https://humedaleschile.mma.gob.cl/wp-content/uploads/2017/10/en-peligro.pdf
Recursos mundiales, 2002. La guía global del planeta. José María Aznar. BID
Secretaría de Gestión de Riesgos, 2023.Oleajes y aguajes continúan en la costa ecuatoriana. Retrieved from https://www.gestionderiesgos.gob.ec/oleajes-y-aguajes-continuan-en-la-costa-ecuatoriana/
Secretaría de Gestión de Riesgos, 2023. Determinación del nivel de amenaza por oleaje. Retrieved from https://alertasecuador.gob.ec/oleaje
Secretaría Técnica Planifica Ecuador, 2020. Plan de Ordenamiento del Espacio Marino Costero 2017-2030. Versión resumida. Quito, Ecuador. Retrieved from https://www.conservation.org/docs/default-source/ecuador-documents/plan-de-ordenamiento-del-espacio-marino-costero.pdf?sfvrsn=a2e8594e_12
The State of the World's Mangroves. Retrieved from https://www.mangrovealliance.org/

Tanner, M., Moity, N., Costa, M., Jarrin, J.,Aburto-Oropeza, O., & Salinas-de-León, P. (2019). Mangroves in the Galapagos: Ecosystem services and their valuation. Ecological Economics, 160. 12-24. https://doi.org/10.1016/j.ecolecon.2019.01.024.
World Bank and PuntoAparte. Forces of Nature. 2020. Flood damages in mangrove areas.
Worthington T.A., Andradi-Brown D.A., Bhargava R., Buelow C., Bunting P., Duncan C. et al. (2020, May 22). Harnessing Big Data to Support the Conservation and Rehabilitation of Mangrove Forests Globally. 2 (5), 429-443. Retrieved from https://www.sciencedirect.com/science/article/pii/S2590332220302050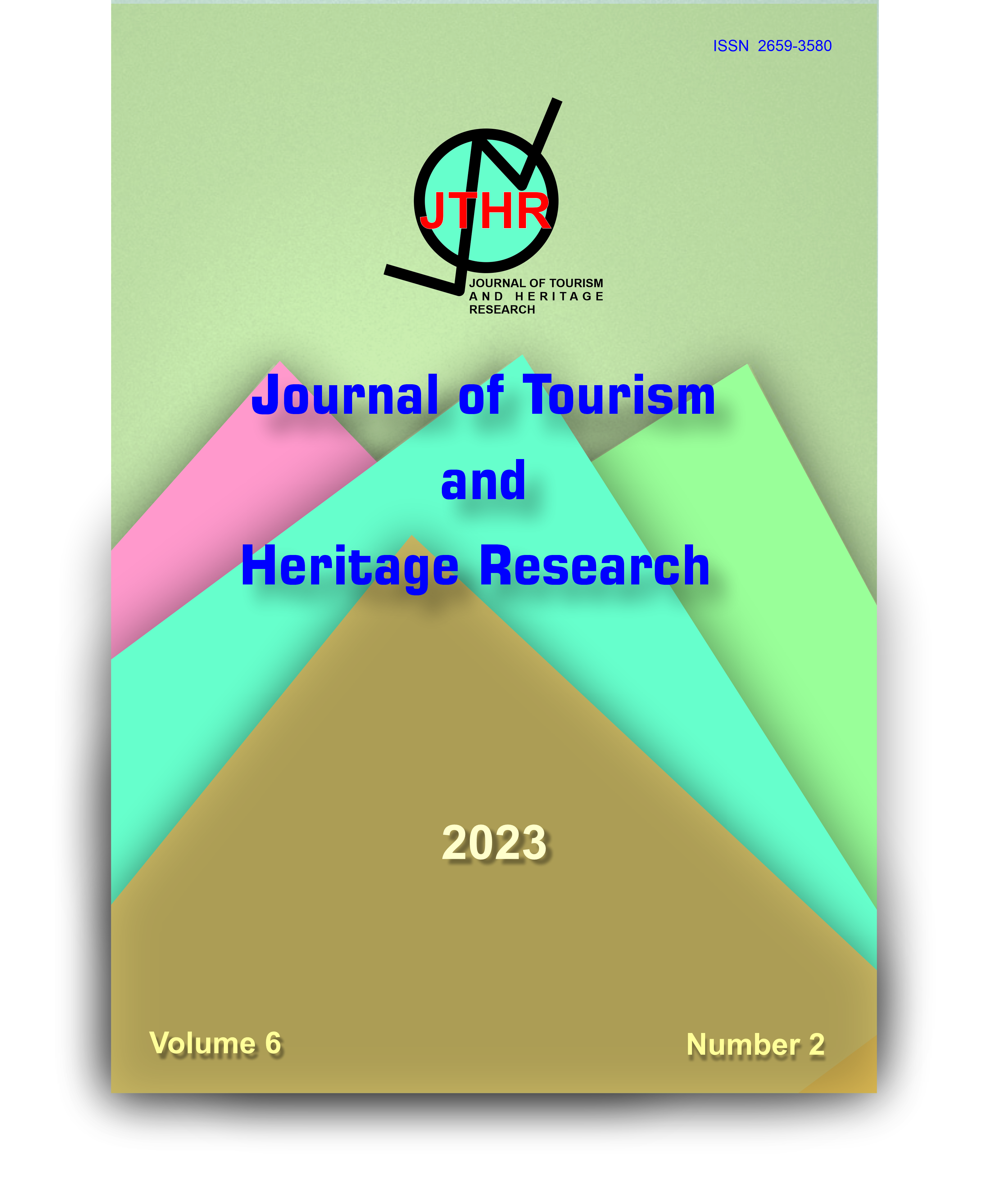 How to Cite
investur, investur, & Quelal-Mora, J. G. (2023, April 26). ONE PROBABILITY OF SURVIVAL IN THE FACE OF CLIMATE CHANGE FOR SALINAS-ECUADOR: CASE OF MANGROVES OF THE GALAPAGOS ISLANDS. Journal of Tourism and Heritage Research, 6(2), 175-185. Retrieved from https://jthr.es/index.php/journal/article/view/473
This work is licensed under a Creative Commons Attribution 4.0 International License.
1.The works published in this magazine are subject to the following terms: Tourism Research Association (the publisher) preserves the patrimonial rights (copyright) of the published works, and favors and allows the reuse of them under the license of use indicated in point 2.
© Investur, 2017
2.The works are published in the electronic edition of the magazine under a Creative Commons Attribution-NonCommercial-NoDerivative 3.0 Spain (legal text) license. They can be copied, used, disseminated, transmitted and publicly displayed, provided that: i) the authorship and the original source of their publication (journal, editorial and URL of the work) are cited; ii) are not used for commercial purposes; iii) the existence and specifications of this license are mentioned.
3. Self-file conditions. Authors are allowed and encouraged to disseminate electronically the pre-print versions (version before being evaluated) and / or post-print (version evaluated and accepted for publication) of their works before publication, since it favors their circulation and earlier dissemination and with it a possible increase in its citation and scope among the academic community.