THE ROLE OF MENTAL MAPS IN THE CO-CREATION OF CULTURAL EXPERIENCES: "LIVING HERITAGE" PROJECT
investur investur

+34 679218154

Isabel Vieira

Instituto Politécnico de Viseu, Escola Superior de Tecnologia e Gestão de Lamego, Portugal CIDEI - Centro de Estudos em Educação e Inovação

Paula Santos

Instituto Politécnico de Viseu, Escola Superior de Tecnologia e Gestão de Lamego

Didiana Fernandes

Instituto Politécnico de Viseu, Escola Superior de Tecnologia e Gestão de Lamego, Portugal. CIAC - Centro de Investigação em Artes e Comunicação/CITUR (colaboradora)– Centro de Investigação, Desenvolvimento e Inovação em Turismo
Abstract
This study aims to explain the importance of applying mental maps to a community as a research tool that allows the co-creation of cultural tourism experiences. Therefore, this research identifies and evaluates residents' visual/oral perceptions and memories to map and model, through content analysis, the interviews conducted with residents. In its final phase, the project allowed the involvement of the local community, students and cultural agents through a contemporary recreation/interpretation of the space.
Interviews and mental maps were applied to 32 residents of the town of Lamego, of four different age groups, in 4 distinct neighbourhoods. The 64 maps collected allowed the identification of new natural and cultural resources of tangible and intangible heritage, as well as the recognition of several points linked to the singularity and identity of the town and its neighbourhood, which allowed the creation of new itineraries.
It was concluded that the connection of residents to their neighbourhood influences how they perceive the city and its symbolic and representational icons.
Finally, it was possible through a participatory project to co-create heritage tourism products, allowing the construction and renewal of the tourism offer in small historical towns.
References
Alçada, M., Lisitzin, K. & Manz, K. (2013). Turismo e Património Mundial: Seleção e abordagem de experiências de gestão em sítios do Património Mundial de origem e influência Portuguesa, Projeto Tour-WHPO, Ed. Turismo de Portugal / UNESCO.
Almeida, A. (2018). Decomposição identitária e intensificação da experiência turística – entre a emancipação local e a integração internacional", Revista Lusófona de Estudos Culturais, 5(2), 409-425.
Berelson, B. (1952). Content analysis in communication research. New Yor, Free Press.
Bertollo, A., Masseroni, R. & Fabbri, D. (2016). Mental maps of tourists in destination branding. International Journal of Culture, Tourism and Hospitality Research, 10(4), 487-496.
Bourgeois, V. (2013). Sur les routes de la memoire. In Bourdieu, L, Marcotte, P (Eds), Colloque International Routes Touristiques et Itineraires Culturels, entre Memoire et Developpement Conference Procedings, Canada, Presses de l Universite Laval Quebec, 90-98.
Casakin, H., Hernández, B. & Ruiz, C. (2015). Place attachment and place identity in Israeli cities: The influence of city size. Cities, 42,224–230
Chang, H. M., & Huang, Y. C. (2017). Residents' perceived marine tourism impacts and support development attitude: Case study of Jibei Island. Asian Journal of Environment & Ecology, 5(2), 1 14.
Creswell, J. W. (2014). Research design: qualitative, quantitative, and mixed methods approaches. Sage publications.
Curcija, M., Breakey, N. & Driml, S (2019). Development of a conflict management model as a tool for improved project outcomes in community-based tourism, Tourism Management, 70, 341-354
Decosta, Jean-Noel & Grunewald, A. (2011). Logies of Tourismology: The Need to Include Meta-Theories in Tourism Curricul. Journal of Teaching in Travel & Tourism, V.11, 289-303.
Duxbury, N., Garrett-Petts, W. & MacLennan, D., eds. (2015). Cultural mapping as cultural inquiry. New York, Routledge.
Eslami, S., Khalifah, Z., Mardani, A., Streimikiene, D. & Han, H. (2019). Community attachment, tourism impacts, quality of life and residents' support for sustainable tourism development. Journal of Travel & Tourism Marketing, 36, 1061-1079.
Grawitz, M. (1993). Análise de Conteúdo: Teoria, Metodologia e Prática. São Paulo, Atlas.
Ham, S.H. (2014). Interpretación – Para marcar la diferencia intencionadamente. Asociación para la Interpretación del Patrimonio, España.
Holmén, J. & Götz, N. eds (2022). Mental Maps- Geographical and Historical Perspectives, Routledge.
Holzer, W. (1999). O lugar na geografia humanista. Revista Território, ano IV, nº 7, jul/dez.
Jenkins, J. M., & Walmsley, D. J. (1993). Mental Maps of Tourists: A Study of Coffs Harbour. GeoJournal, 29(3), 233–241.
Ko, D-W. & Stewart, W.P. (2002). A Structural equation model of residents' attitudes for tourism development. Tourism Management, 23(5), 521-530.
Kozel, S. (2007). Mapas mentais – uma forma de linguagem: perspectivas metodológicas In Kozel, S. [et al.] (orgs.) Da percepção e cognição à representação: reconstrução teórica da Geografia Cultural e Humanista, São Paulo, Terceira Margem; Curitiba, NEER, 114-38.
Lefebvre, H. (1974). La production de l'espace, Paris, Éditions Anthropos.
Lynch, Kevin (1964). The Image of the City, Harvard, MIT Joint Center for Urban Studies Series.
Mayaka, M., Croy, W. & Cox, J. W. (2018). Participation as motif in community-based tourism: a practice perspective. J. Sustain. Tour., 26 (3), 416-432.
Mircea Valeriu Vana, & Simona Malaescu (2016). Cultural Thematic Tourism Itineraries: Mediators of Success, Procedia Economics and Finance, Volume 39, 642-652.
Murphy, P. E. (1985). Tourism. A Community Approach. New York-London, Methuen.
Nora, P. (2017). A cocriação na formatação de produtos turísticos. Revista Turismo & Desenvolvimento, nº 27/28, 1947-1956.
Nunkoo, R., & Ramkissoon, H. (2010). Small Island Urban Tourism: A Residents' Perspective. Current Issues in Tourism, 13 (1): 37–6.
Osóch, B. &Czaplińska, A. (2019). City image based on mental maps — the case study of Szczecin (Poland). Miscellanea Geographica, vol.23, no.2, 111-119.
Pillai, J. (2013). Cultural mapping: A guide to understanding place, community, and continuity, Petaling Jaya, Malaysia, Strategic Information and Research Development Centre.
Pine, B. & Gilmore, J. H. (1999). The experience economy. Boston, Harvard Business School Press.
Prahalad, C. K. & Ramaswamy, V. (2004). Co-creation experiences: The next practice in value creation. Journal of Interactive Marketing, 18(3), 5–14.
Prentice, R. &Andersen, V. (2003). Festival as creative destination. Annals of Tourism Research, 30, 7-30.
Reis, R. & Santos, N. (2012). As recriações históricas – perspetivas e potencialidades, Revista Turismo e Desenvolvimento, nº 17, 177-179.
Richards, G. & Raymond, C. (2000). Creative Tourism. ATLAS News, 23, 16– 20.
Richards, G. & Wilson, J. (2006). Developing creativity in tourist experiences: A solution to the serial reproduction of culture? Tourism Management, 27, 1209–1223.
Richards, G. & Wilson, J. (2007). Tourism, Creativity and Development. London, Routledge.
Richards, G. (2011). Creativity and tourism: The State of the Art. Annals of Tourism Research, Volume 38, Issue 4, 1225-1253.
Rickly, (2009). The Tourist Narrative. Tourist Studies, 9(3):259-280
Roberts, L., ed. (2012). Mapping cultures: Place, practice, performance. Basingstoke, UK, Palgrave Macmillan.
Rodrigues, A., Vieira, I., Fernandes, D. & Pires, C. (2020). Residents' support for tourism development in a Portuguese historic town, Tourism Analysis, Number 2-3, 295-307(13).
Setokoe, T. J., Ramukumba, T., & Ferreira, I. W. (2019). Community participation in the development of rural areas: A leaders' perspective of touris, African Journal of Hospitality, Tourism and Leisure, 8, 1-15.
Sharpley, R. (2002). Rural tourism and the challenge of tourism diversification: The case of Cyprus, Tourism Management, 23, 233–244.
Stokowski, P. (2016). Re-interpreting the past to shape the future: The uses of memory discourses in community tourism development. Tourism and Hospitality Research, 16(3):254-266.
Timothy, D. & Tosun, C. (2003). Arguments for community participation in the tourism development process. Journal of Tourism Studies, 14(2). 2-15.
Timothy, D. J. & Tosun, C. (2003). Arguments for community participation in the tourism development process. Journal of Tourism Studies, 14(2), 2–15.
Tribe, J. (1997). The indiscipline of tourism. Annals of Tourism Research, 24, 628–657.
Trostdorf, M. (2003). Mapas Mentais na Representação do Lugar: Ensaio Metodológico na Área central na cidade de Cambé – PR. Monografia (Especialização em Ensino de Geografia), Universidade Estadual de Londrina-UEL.
Vieira, I., Rodrigues, A & Fernandes, D. (2016). The role of local government management of tourism in fostering residents' support to sustainable tourism development: evidence from a Portuguese historic town, Int. J. of Tourism Policy (IJTP) 6, 2, 109 – 135.
WHIPIC (2021). [World Heritage, Multiple Memories] 1st session - New Approaches to World Heritage Conservation, Int. Centre for WH Interpretation & Presentation.
Włodarczyk, B. (2014). Space in Tourism, Tourism in Space: On the Need for Definition, Delimitation and Classification". Turyzm, 24, 1, 25-34.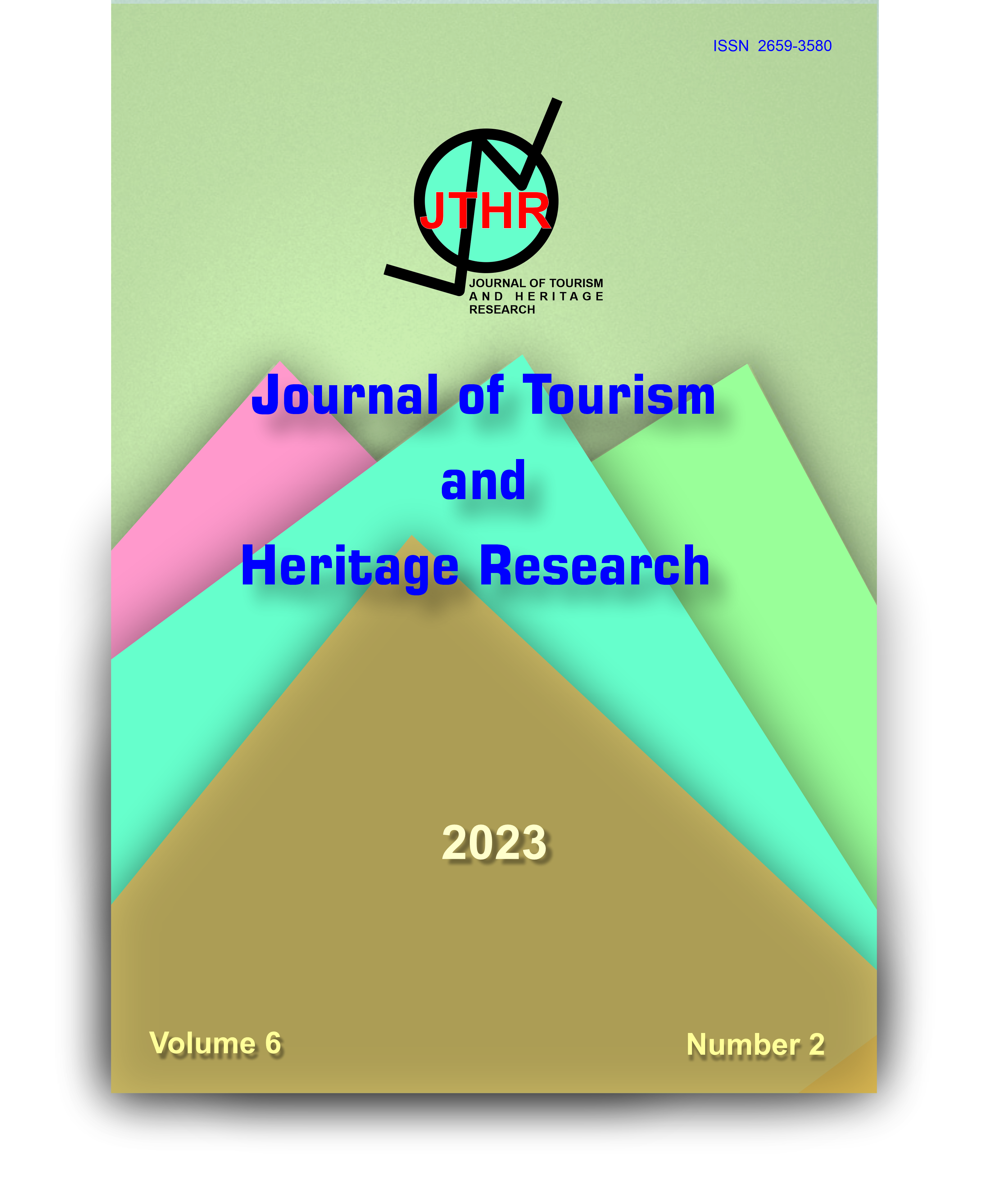 How to Cite
investur, investur, Vieira, I., Santos, P., & Fernandes, D. (2023, April 25). THE ROLE OF MENTAL MAPS IN THE CO-CREATION OF CULTURAL EXPERIENCES: "LIVING HERITAGE" PROJECT. Journal of Tourism and Heritage Research, 6(2), 154-174. Retrieved from https://jthr.es/index.php/journal/article/view/472
This work is licensed under a Creative Commons Attribution 4.0 International License.
1.The works published in this magazine are subject to the following terms: Tourism Research Association (the publisher) preserves the patrimonial rights (copyright) of the published works, and favors and allows the reuse of them under the license of use indicated in point 2.
© Investur, 2017
2.The works are published in the electronic edition of the magazine under a Creative Commons Attribution-NonCommercial-NoDerivative 3.0 Spain (legal text) license. They can be copied, used, disseminated, transmitted and publicly displayed, provided that: i) the authorship and the original source of their publication (journal, editorial and URL of the work) are cited; ii) are not used for commercial purposes; iii) the existence and specifications of this license are mentioned.
3. Self-file conditions. Authors are allowed and encouraged to disseminate electronically the pre-print versions (version before being evaluated) and / or post-print (version evaluated and accepted for publication) of their works before publication, since it favors their circulation and earlier dissemination and with it a possible increase in its citation and scope among the academic community.