COMMUNICATING SCIENCE IN THE NATURAL PARK OF SERRAS D'AIRE AND CANDEEIROS, FIRST STEPS IN SCIENCE COMMUNICATION IN THE HIGHLANDS.3 PROJECT.
investur investur

+34 679218154

Júlio Silva

Instituto Politécnico de Tomar, Techn&Art

Luís Carreira dos Santos

Instituto Politécnico de Tomar, Centro de Geociências

Vasco Lopes

Instituto Politécnico de Tomar, Techn&Art
Abstract
Nature based tourism is one of the fastest growing industries worldwide since the beginning of the century. This growth is seldomly accompanied by natural areas management systems which struggle with the increasing number of tourists, lack of infrastructures, information and overall organisation.
One of the solutions adopted by many natural areas was to adopt further classification such as Biosphere Reserves, Ramsar, Natura 2000 among many others. This strategic approach committed most of the management structures to the bureaucratic endeavours, instead of adapting.
The several classification statuses, though easily understood, fall somehow short, applying traditional methodologies, poor promotion, low stakeholder involvement and conventional learning strategies. Academic knowledge and audio-visual professionalism can produce documental and promotional video materials for a wide range of audiences, supplying educational and development tools.
Science communication is a classified area's powerful management tool, the management participation of relevant regional entities, benefits the proximity engagement of Municipalities, higher education institutions, non-governmental organizations and stakeholders, intervening in territorial sustainable development, with responsibilities in the promotion, awareness and communication.
This study will present an introductory video serving as an example of the communication strategy for the Natural Park of Serras D'Aire and Candeeiros, adaptable to other protected areas as a strategy of natural and cultural tourism. Concluding that communication in classified natural areas must be governed by the same rigor and quality required in science without losing the necessary interest for its effective and efficient participated communication.
References
Foell, J. (2021). Social media science communication is a nonstop academic conference for all. Nature Human Behaviour, 5(7), 812. https://doi.org/10.1038/s41562-021-01138-0
Maia De Loureiro, P., Horta, H., & Santos, J. M. (n.d.). Mapping Case Studies of Public Engagement and Participation in Science and Technology.
Mannino, I., Bell, L., Costa, E., di Rosa, M., Fornetti, A., Franks, S., Iasillo, C., Maiden, N., Olesk, A., Pasotti, J., Renser, B., Roche, J., Schofield, B., Villa, R., & Zollo, F. (2021). Supporting quality in science communication: insights from the QUEST project. Journal of Science Communication, 20(3), 1–22. https://doi.org/10.22323/2.20030207
Nerlich, B., & McLeod, C. (2016). The dilemma of raising awareness "responsibly." EMBO Reports, 17(4), 481–485. https://doi.org/10.15252/embr.201541853
Nisbet, J. (2005). What is educational research? Changing perspectives through the 20th century. Research Papers in Education, 20(1), 25–44. https://doi.org/10.1080/0267152052000341327
Oliveira, L., & Carvalho, A. (2015). COMPOLIS-Communication and Political Engagement with Environmental Issues View project. http://obs.obercom.pt.
Solomon, M. (2021). Trust: The Need for Public Understanding of How Science Works. Hastings Center Report, 51(S1), S36–S39. https://doi.org/10.1002/hast.1227
Weingart, P., Joubert, M., & Connoway, K. (2021). Public engagement with science—Origins, motives and impact in academic literature and science policy. PLoS ONE, 16(7 July). https://doi.org/10.1371/journal.pone.0254201
Yang, Z. (2022). The new stage of public engagement with science in the digital media environment: citizen science communicators in the discussion of GMOs on Zhihu. New Genetics and Society. https://doi.org/10.1080/14636778.2022.2063826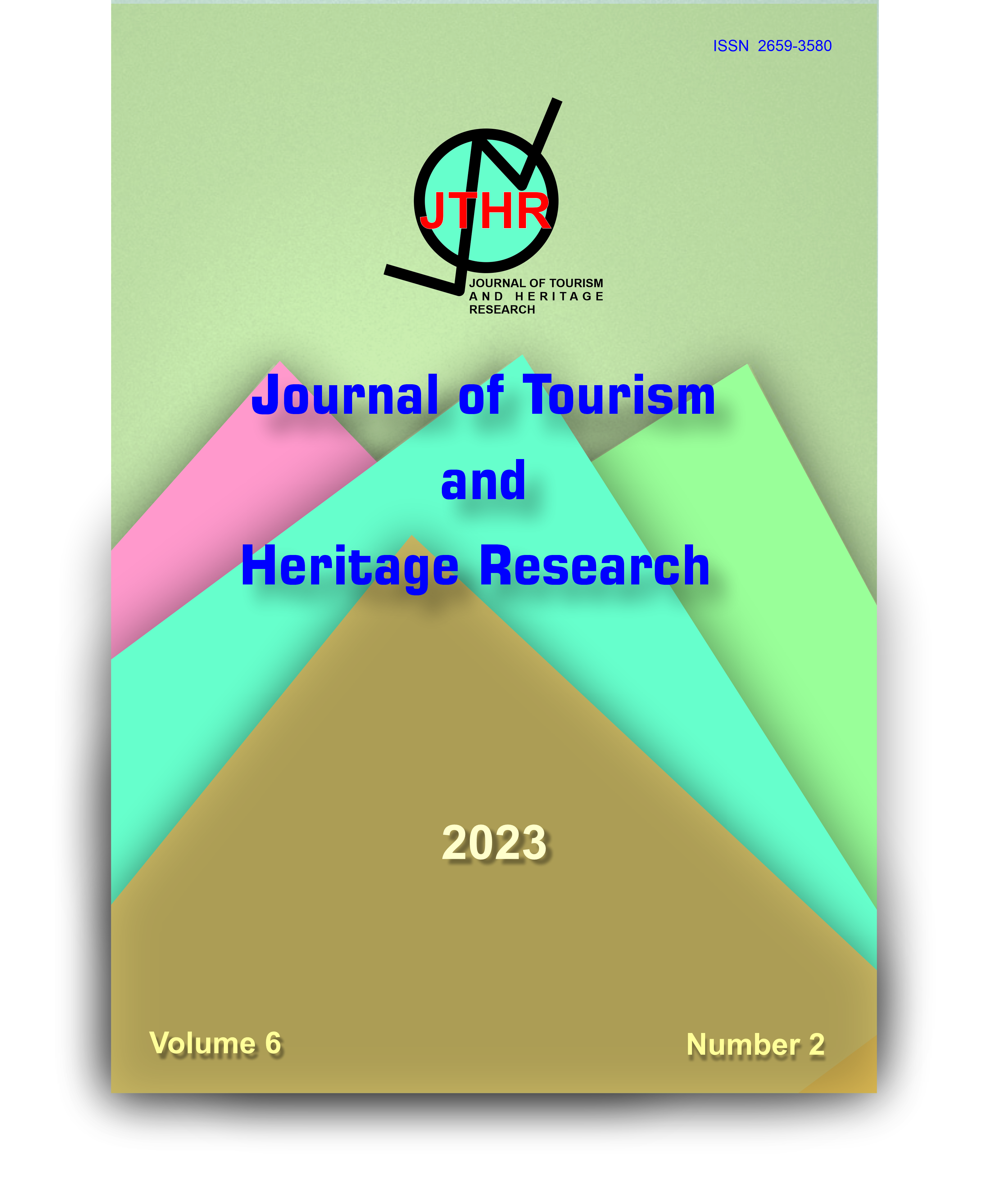 How to Cite
investur, investur, Silva, J., Carreira dos Santos, L., & Lopes, V. (2023, April 14). COMMUNICATING SCIENCE IN THE NATURAL PARK OF SERRAS D'AIRE AND CANDEEIROS, FIRST STEPS IN SCIENCE COMMUNICATION IN THE HIGHLANDS.3 PROJECT. Journal of Tourism and Heritage Research, 6(2), 112-120. Retrieved from https://jthr.es/index.php/journal/article/view/466
This work is licensed under a Creative Commons Attribution 4.0 International License.
1.The works published in this magazine are subject to the following terms: Tourism Research Association (the publisher) preserves the patrimonial rights (copyright) of the published works, and favors and allows the reuse of them under the license of use indicated in point 2.
© Investur, 2017
2.The works are published in the electronic edition of the magazine under a Creative Commons Attribution-NonCommercial-NoDerivative 3.0 Spain (legal text) license. They can be copied, used, disseminated, transmitted and publicly displayed, provided that: i) the authorship and the original source of their publication (journal, editorial and URL of the work) are cited; ii) are not used for commercial purposes; iii) the existence and specifications of this license are mentioned.
3. Self-file conditions. Authors are allowed and encouraged to disseminate electronically the pre-print versions (version before being evaluated) and / or post-print (version evaluated and accepted for publication) of their works before publication, since it favors their circulation and earlier dissemination and with it a possible increase in its citation and scope among the academic community.