LOCAL TOURISM AS A BOOST TO THE ECONOMY OF THE MAGICAL TOWN, TAPIJULAPA OF THE MUNICIPALITY OF TACOTALPA; WITH A GENDER PERSPECTIVE
investur investur

+34 679218154

María Antonieta Estañol Vidrio

Universidad Juárez Autónoma de Tabasco
Abstract
In this article, an analysis of local tourism is made as a boost in the economy of the magical town of Tapijulapa Tabasco, detecting its development potential through its natural, historical and cultural heritage. The objective of this work is to show the impact on the economy of this sector; cultural and local tourism, with a gender perspective. As part of the methodology used was the qualitative method where the use of observation and documentary technique was privileged. The main finding found was that there is a limitation in the tourist attractions, such as their low promotion, given this condition it is proposed that there be immediate attention from the authorities of the sector that allows the influx of visitors since this will allow the development of the economy.
References
Secretaria de Turismo de Tabasco (2021). Estrategia Estatal 2021-2024. para el Desarrollo Turístico del Pueblo Mágico Tapijulapa.
ala, D., & Bagri, S. C. (2018). Barriers to local community participation in tourism development: Evidence from mountainous state Uttarakhand, India. Tourism: An International Interdisciplinary Journal, 66(3), 318-333.
McKercher B. and du Cros, H. (2002), Cultural Tourism. The partenership between tourism and cultural heritage management, the Haworth Hospitality Press New York.
Mathieson, A., & Wall, G. (1982). Turismo, económico, y su impacto social y psicológico. Longman. Essex. ed. Trillas. México.
López, N. (1940). Tacotalpa y Tapijulapa, Ayer y Hoy. Red Nacional de Bibliotecas. Villahermosa Tabasco., Red Estatal de Bibliotecas Publicas
Puczko,L , & Ratz, T (2000) Tourist and resident perceptions of the physical impacts of tourist at lake. Balaton, Hungary. Journal of Sustainable Tourism. 8(6), 458-478, DOI: 10.1080/09669580008667380
Comité de Planeación para el Desarrollo del Estado de Tabasco (2019). Plan Estatal de Desarrollo. (2019-2024). Gobierno del Estado de Tabasco. Villahermosa Tabasco. COPLADET.
Sandoval L y Ortega ME. (2018). Índice de capital social para el Pueblo Mágico de Tapijulapa, Tabasco. Revista del Colegio de San Luis. 8 (15), 171-201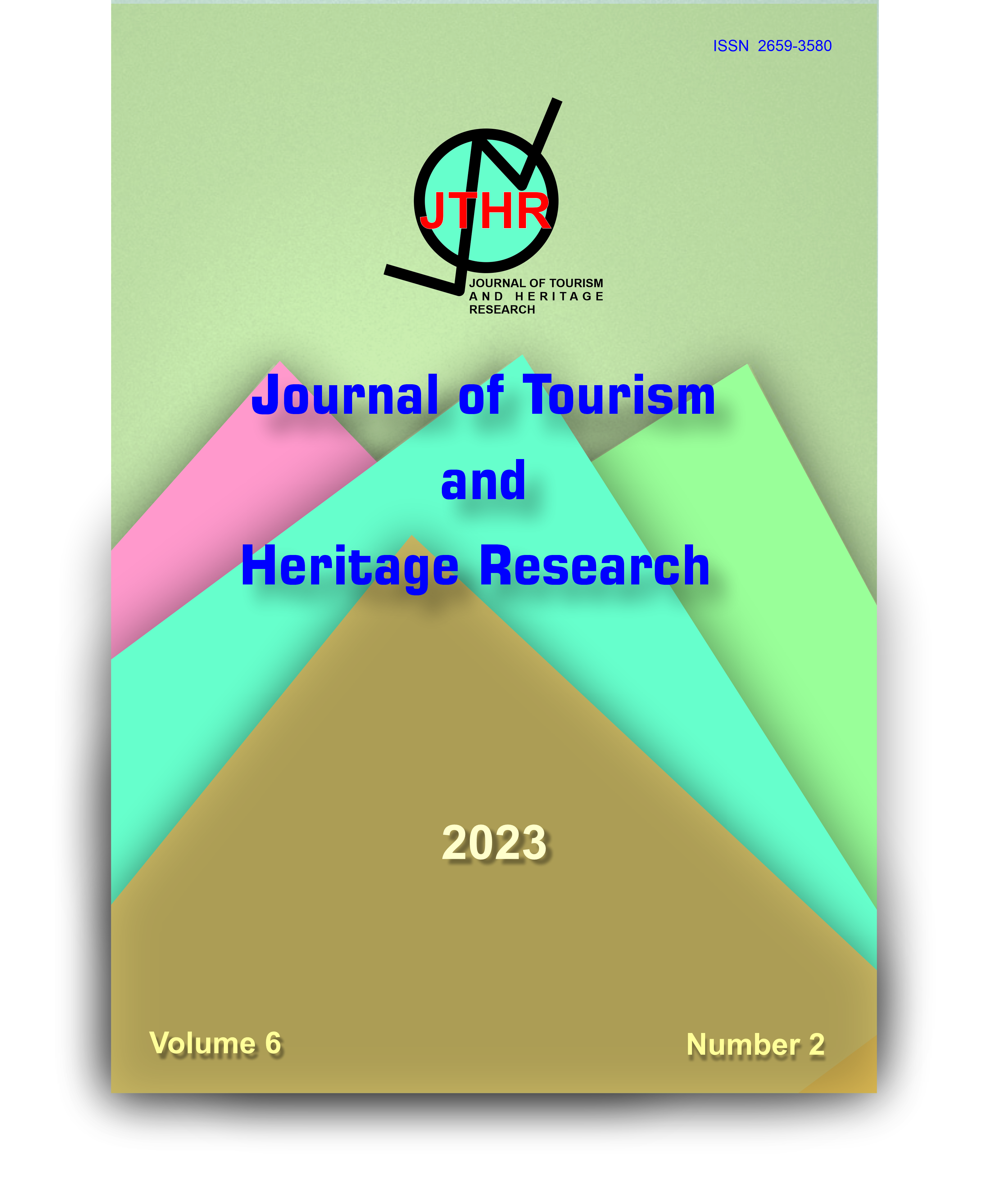 How to Cite
investur, investur, & Estañol Vidrio, M. A. (2023, April 4). LOCAL TOURISM AS A BOOST TO THE ECONOMY OF THE MAGICAL TOWN, TAPIJULAPA OF THE MUNICIPALITY OF TACOTALPA; WITH A GENDER PERSPECTIVE. Journal of Tourism and Heritage Research, 6(2), 83-90. Retrieved from https://jthr.es/index.php/journal/article/view/464
This work is licensed under a Creative Commons Attribution 4.0 International License.
1.The works published in this magazine are subject to the following terms: Tourism Research Association (the publisher) preserves the patrimonial rights (copyright) of the published works, and favors and allows the reuse of them under the license of use indicated in point 2.
© Investur, 2017
2.The works are published in the electronic edition of the magazine under a Creative Commons Attribution-NonCommercial-NoDerivative 3.0 Spain (legal text) license. They can be copied, used, disseminated, transmitted and publicly displayed, provided that: i) the authorship and the original source of their publication (journal, editorial and URL of the work) are cited; ii) are not used for commercial purposes; iii) the existence and specifications of this license are mentioned.
3. Self-file conditions. Authors are allowed and encouraged to disseminate electronically the pre-print versions (version before being evaluated) and / or post-print (version evaluated and accepted for publication) of their works before publication, since it favors their circulation and earlier dissemination and with it a possible increase in its citation and scope among the academic community.