TOURISM MARKETING ACTIONS OF THE SPANISH REGIONAL GOVERNMENTS TO REACTIVATE THE SECTOR (2020-2021)
investur investur

+34 679218154

Marta Rico Jerez

Doble Cero Consultores
Abstract
Tourism is one of the economic sector that have a higher percentage of GDP. So that, the differents Spanish regionals governments focused on it and carried out several marketing actions to reactivate this sector after pandemic.
These actions were the objective of our research, since the goals were to know them and identify them with the exploratory analysis and the content analysis.
Those actions belong to service marketing and they are territory brands, types of tourism, safe destination, sustainability, prices, communication tools and personnel tactics.
References
Biosca, D. (2013). Cómo crear 100 productos turísticos para el éxito de un destino turístico. Educatur Ediciones
De-San-Eugenio, J., y Ginesta, X. (2020). El branding territorial ante los nuevos desafíos de la sociedad: Redefinición teórica y análisis de los factores que contribuyen a su implementación exitosa. Congreso Internacional de la Asociación Española de Investigación de la Comunicación, 307-318. https://doi.org/10.3145/AE-IC-epi.2020.e26
Escuela de Marketing y Web (2019). Marketing de Servicios: Qué es y cuáles son sus características [Ejemplos]. Disponible en: https://escuela.marketingandweb.es/marketing-de-servicios/ [23 de febrero de 2022]
Fernández, A. (2017). Estudio del origen de la figura del influencer y análisis de su poder de influencia en base a sus comunidades. Universidad Pompeu Fabra
Kotler, P. y Armstrong, G. (2003). Fundamentos de Marketing. 6ª Ed. Pearson Educación.
Kotler, P., De Madariaga, J., Flores. J., Bowen, J. y Makens, J. (2011). Marketing Turístico. 5ª Ed. Pearson Educación.
Lovelock, C. y Wirtz, J. (2009). Marketing de servicios: Personal, Tecnología y Estrategia. 6ª Ed. Pearson Educación
Ministerio de Industria, Comercio y Turismo de España (2019) Directrices Generales de la Estrategia de Turismo Sostenible de España 2030.
Morillo, M. (2011). Turismo y producto turístico. Evolución, conceptos, componentes y clasificación. Visión Gerencial, 1, 135-158.
Navarro, F., Almaguer, R., Moreno, F. y Hernández, N.P. (2020). Estrategias comunicacionales en el sector del turismo. Revistas de Ciencias Sociales, XXVI(1), 77-88.
Núñez, L. y Vázquez, T. (2008). Los líderes de Opinión. Mediaciones sociales, 2, 213-245.
Ortega, C. e Izaguirre, M. (2010). Los eventos: funciones y tendencias. Publicaciones de la Universidad de Deusto.
Paredes, M., Moreno, N.Y., Terán, P.E, y Salgado, D.J (2019). Marketing de Servicios. Ediciones Grupo Compás.
Servicios Globales de Marketing (2016) El marketing mix de servicios: Las 7 p's . Disponible en: https://www.marketingsgm.es/marketing-mix-servicios-las-7-ps/ [23 de febrero de 2022]
Véliz, F. (2006). Cambio de mirada en las organizaciones: Comunicación 360º. Revista Latina de Comunicación CHASQUI, 93, 62-65.

Webs Comunidades Autónomas
https://actualidad.larioja.org/
https://comunicacion.jcyl.es/web/es/comunicacion-junta-castilla-leon.html
https://turismodeislascanarias.com/es/
https://web.gencat.cat/ca/actualitat
www.asturias.es
www.caib.es
www.carm.es
www.castillalamancha.es/actualidad/notasdeprensa
www.ceuta.es/gobiernodeceuta
www.comunidad.madrid/notas-prensa
www.euskadi.eus/gobierno-vasco/inicio/
www.gva.es/va/inicio/area_de_prensa
www.juntadeandalucia.es
www.juntaex.es/comunicacion/inicio
www.melilla.es
www.navarra.es/es/noticias
www.turismodearagon.com
www.turismodecantabria.com/inicio
www.xunta.gal/hemero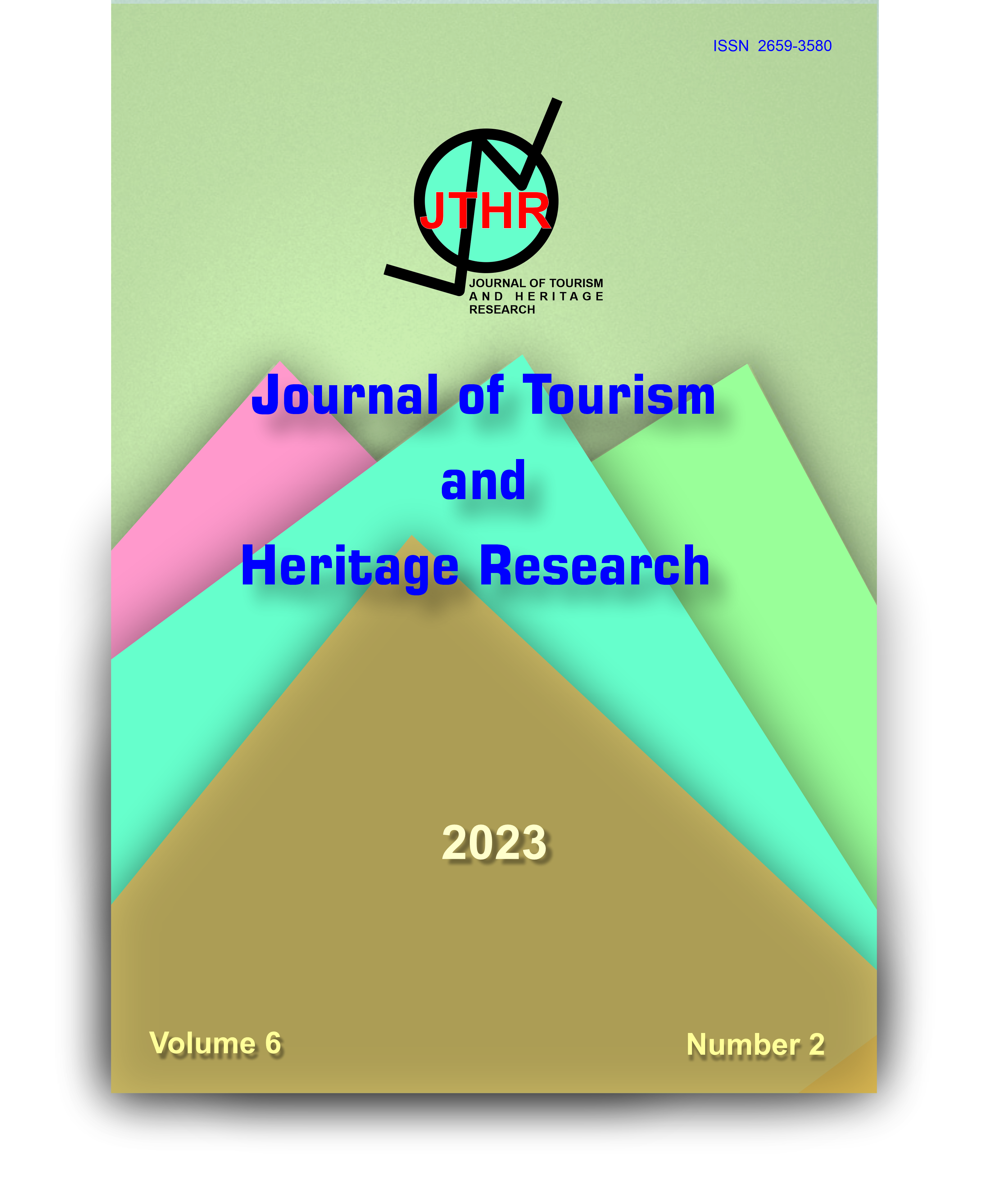 How to Cite
investur, investur, & Rico Jerez, M. (2023, March 29). TOURISM MARKETING ACTIONS OF THE SPANISH REGIONAL GOVERNMENTS TO REACTIVATE THE SECTOR (2020-2021). Journal of Tourism and Heritage Research, 6(2), 1-26. Retrieved from https://jthr.es/index.php/journal/article/view/460
This work is licensed under a Creative Commons Attribution 4.0 International License.
1.The works published in this magazine are subject to the following terms: Tourism Research Association (the publisher) preserves the patrimonial rights (copyright) of the published works, and favors and allows the reuse of them under the license of use indicated in point 2.
© Investur, 2017
2.The works are published in the electronic edition of the magazine under a Creative Commons Attribution-NonCommercial-NoDerivative 3.0 Spain (legal text) license. They can be copied, used, disseminated, transmitted and publicly displayed, provided that: i) the authorship and the original source of their publication (journal, editorial and URL of the work) are cited; ii) are not used for commercial purposes; iii) the existence and specifications of this license are mentioned.
3. Self-file conditions. Authors are allowed and encouraged to disseminate electronically the pre-print versions (version before being evaluated) and / or post-print (version evaluated and accepted for publication) of their works before publication, since it favors their circulation and earlier dissemination and with it a possible increase in its citation and scope among the academic community.