MAGICAL TOWNS 2.0
investur investur

Francisco Madrid

Universidad Anáhuac
Keywords:
Magical Towns, Tourism Governance, Tourism Policy, Tourism and citizenship
Abstract
The Magical Towns Program is one of the most important tourism policy initiatives undertaken by the Mexican government. Its genesis incorporates important elements of tourism governance; however, it faces important challenges after twenty years of existence. The objective of this paper is to identify successes and challenges faced by the Progrtam, in order to present the bases of a proposal to evolve the Program through greater citizen participation, both in its definitions and in its operation. This is a non-experimental research, based on a documentary review exploited through the content analysis technique. The central elements that are proposed to be adopted in the new stages of the Program are citizenship and the transition towards a model of smart and sustainable destinations.
References
Arévalo, J. & Armas, E. (2019). Pueblos Mágicos: implicaciones para el desarrollo local. Impactos ambientales, gestión de recursos naturales y turismo en el desarrollo regional. Ciudad de México, Universidad Nacional Autónoma de México y Asociación Mexicana de Ciencias para el Desarrollo Regional A.C.
Barroso, E. (2016). Gestación y evolución del Programa Pueblos Mágicos. En Francisco Madrid (coor.). Pueblos Mágicos. Aciertos y retos de una iniciativa de Política Pública. Volumen I. México, D. F., Limusa-Universidad Anáhuac, pp. 21-44.
Buhalis, D. (2000). Marketing the competitive destination of the future. Tourism Management 21(1), 97-116.
Ellis, C., Adams, T. & Bochner, C. (2015). Autoetnografía: un panorama. Astrolabio 14, 249-273.
Escobedo, J. (2014). El turismo rural, un desafío para pequeños agricultores. Revista Mexicana de Ciencias Agrícolas 9, 1601-1613. Disponible en http://cienciasagricolas. inifap.gob.mx/ editorial/index.php/agricolas/article/view/393/369
Espinosa, G. (2015). Pueblos Mágicos: El Caso De Mineral del Monte (sic). [Tesis de Licenciatura en Economía. UNAM]. http://132.248.9.195/ptd2015/septiembre/30760703 2/Index.html
Fernández, A, López, J., Moreno, L, Perles, J. Ramón, A. & Such, M. (2017). Innovación y destinos inteligentes: oportunidad para el know how turístico español. Información Comercial Español, ICE. Revista de Economía. 894, 137-150.
García, V. Vázquez, P. & Velázquez, R. (2012). La denominación de Pueblo Mágico en el desarrollo del turismo sustentable. Global Conference on Business and Finance Proceedings 8, (2), pp. 810-813. http://www.theibfr.com/archive/issn-1941-9589-v8-n2-2013.pdf
Gross, T. (2011). Divided over Tourism: Zapotec Responses to Mexico's 'Magical Villages Program. Anthropological Notebooks 17 (3), 51–71. Disponible en http://www.drustvo-antropologov.si/AN/PDF/2011_3/Anthropological_Notebooks_ XVII_3_ Gross.pdf
Juárez, J., Ramírez, B. & Galindo, M. (2010). Turismo rural y desarrollo territorial en espacios indígenas de México. Investigaciones geográficas 48, 189-208. Disponible en https://rua. ua.es/dspace/bitstream/10045/15328/1/IG_48_07.pdf
Kotler, P. & Keller, K. (2016). Dirección de Marketing. 15ª edición. México, D. F., Pearson.
Lara, M. & Hernández R. (2016). La evaluación del diseño del programa de pueblos mágicos en México. ¿Propensión a la participación ciudadana? En Liliana López y Carmen Valverde (coords) Los imaginarios del Turismo. El caso de los pueblos mágicos. México, D.F., UAM y UNAM, pp. 135-152.
López de Ávila, A. & García, S. (2015). Destinos Turísticos inteligentes. Economía Industria. 395, 61-69.
Lyotard, J. F. (2008). La posmodernidad (Explicada a los niños). 9ª reimpresión. Barcelona, Gedisa.
Madrid, F. (2019). Derivaciones epistémicas de una política pública. Periplo Sustentable 36, 184-229.
Madrid, F. (2016). Reflexiones sobre la concepción estratégica del Programa Pueblos Mágicos y su evolución en el tiempo. En Francisco Madrid (coord..). Pueblos Mágicos. Aciertos y retos de una iniciativa de Política Pública. Volumen I. México, D. F., Limusa, pp. 45-66.
Madrid, F. (2014a). Gobernanza Turística=destinos turísticos exitosos. El caso de los Pueblos Mágicos de México. Huixquilucan, Universidad Anáhuac México.
Madrid, F. (2014b). A Tourism Governance Proposal in Mexico. Eduardo Fayos-Solà, María Álvarez & Chris Cooper (eds.), Tourism as an Instrument for Development: A Theoretical and Practical Study (Bridging Tourism Theory and Practice Volume 5. Bingley, Emerald Group Publishing Limited, pp.195-209.
Madrid, F & Cerón H. (2013). Medición de la incidencia de los apoyos gubernamentales en el desempeño turístico de destinos seleccionados: los convenios de coordinación en materia de reasignación de recursos en México. Turismo y Sociedad 14, 197-215.
Meníndez, J. (2017). Pueblo Mágico Factor de Desarrollo para el Emprendimiento en Jalpan de Serra. [Tesis de Maestría ,Universidad Autónoma de Querétaro]. http://ri-ng.uaq. mx/jspui/bitstream/123456789/1538/1/RI004565.pdf
Muñoz, E. (2019). Participación ciudadana y patrimonio cultural en la planificación turística de los pueblos mágicos (México): alcances y limitaciones. Turismo y Sociedad 25, 29-50.
Otto, J. & Ritchie, B. (1996). The service experience in tourism. Tourism Management. 17 (3), 165-174.
Pérez, C. & Antolín, D. (2016). Programa pueblos mágicos y desarrollo local: actores, dimensiones y perspectivas en El Oro, México. Estudios Sociales 25(47), 219-243. Disponible en: https:// www.redalyc.org/pdf/417/41744004009.pdf
Quiroz, L. (2015). Conformación socioespacial de un pueblo en resistencia. En Liliana López, Carmen Valverde, Anna María Fernández y María Elena Figueroa (coords.), Pueblos Mágicos. Una visión interdisciplinaria. Volumen I. México, D.F., UAM Xochimilco-UNAM, pp. 87-106.
Rodríguez, F., Vargas, E., Andrade, M. & Bedolla, J. El Programa de Pueblos Mágicos en Michoacán. Una puesta en valor del potencial turístico de los territorios. En F. Madrid (coord..). Pueblos Mágicos. Aciertos y retos de una iniciativa de Política Pública. Volumen I. México, D. F., Limusa, pp. 87-126.
Rodríguez, R. 2016. Sistema de indicadores para el Programa Pueblos Mágicos. En F. Madrid (Coordinador). Pueblos Mágicos. Aciertos y retos de una iniciativa de Política Pública. Volumen I. México, D. F., Limusa, pp. 67-86.
Rosas, M. I., Almeraya, X. & Guajardo, L. G. (2017). Los Comités Pueblos Mágicos y el desarrollo turístico: Tepotzotlán y El Oro, Estado de México. Agricultura, Sociedad y Desarrollo 14, 105-123.
Ruiz, L. (2014). De Cuachquetzaloyan a Huasca Pueblo Mágico. Aplicación del programa Pueblos Mágicos en Huasca de Ocampo. [Tesis de Licenciatura, UNAM]. http://132. 248.9.195/ptd2014/febrero/ 087361766/Index.html
Secretaría de Turismo (2022). Pueblos Mágicos. https://www.sectur.gob.mx/gobmx/pueblos-magicos/
Secretaría de Turismo (2014). Programa Nacional de Turismo. México, D. F., Sectur.
Sosa, M. (2015). La economía de Zacatlán antes y después de su condición de pueblo mágico. En Raúl Hernández (coord..), Pueblos Mágicos: discursos y realidades. Una mirada desde las políticas públicas y la gobernanza. México, D.F., UAM Lerma, pp. 327-355.
Toffler, A. (1970). Future shock. New York, Bantam Books.
Yee, S., Borquez, R. & Ángeles, M. (2019). Parametros para la transición a un nuevo modelo de Pueblos Mágicos. El caso de Loreto, Baja California Sur. Periplo Sustentable 37, 334-355.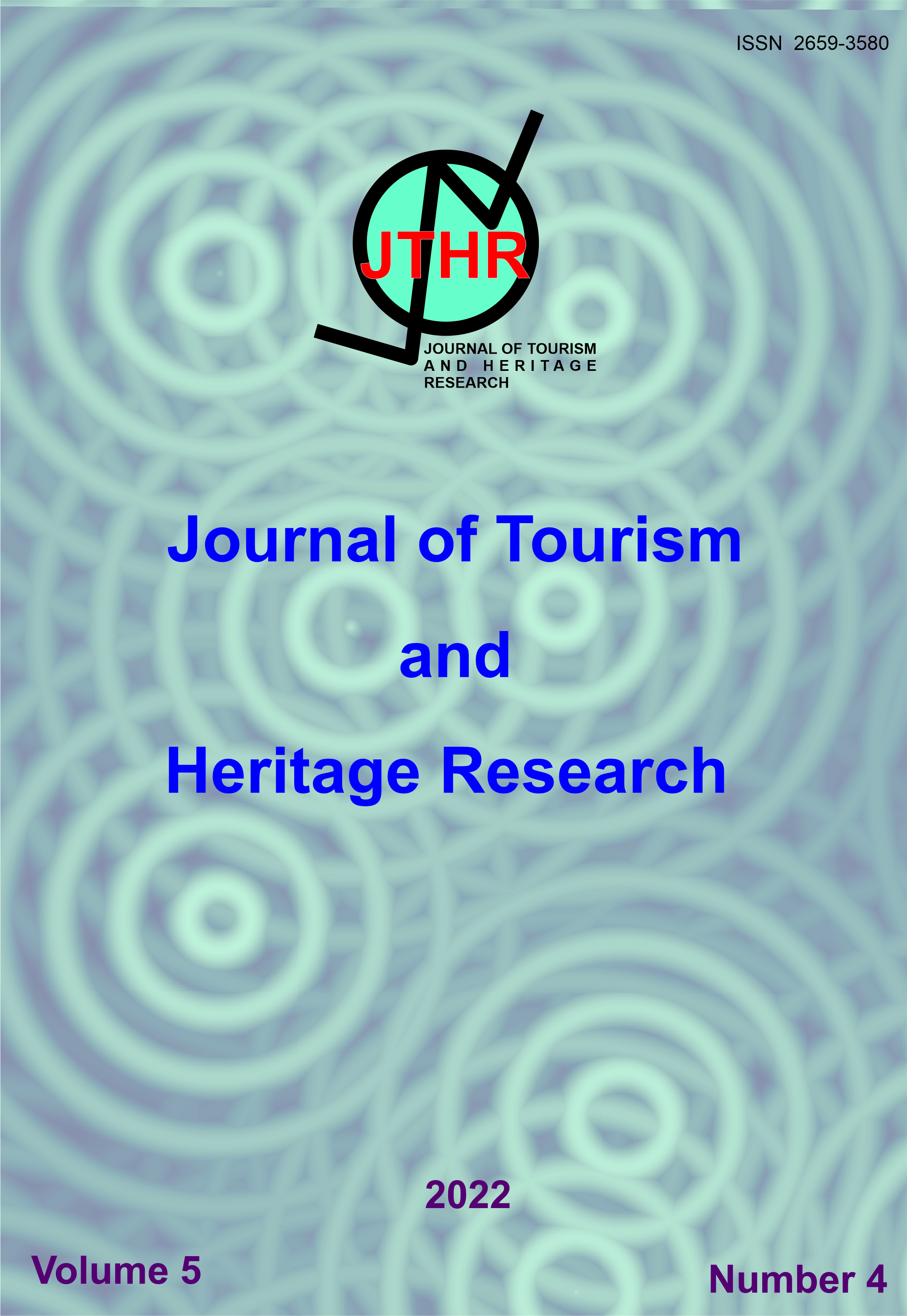 How to Cite
investur, investur, & Madrid, F. (2022, November 10). MAGICAL TOWNS 2.0. Journal of Tourism and Heritage Research, 5(4), 102-121. Retrieved from https://jthr.es/index.php/journal/article/view/423
This work is licensed under a Creative Commons Attribution 4.0 International License.
1.The works published in this magazine are subject to the following terms: Tourism Research Association (the publisher) preserves the patrimonial rights (copyright) of the published works, and favors and allows the reuse of them under the license of use indicated in point 2.
© Investur, 2017
2.The works are published in the electronic edition of the magazine under a Creative Commons Attribution-NonCommercial-NoDerivative 3.0 Spain (legal text) license. They can be copied, used, disseminated, transmitted and publicly displayed, provided that: i) the authorship and the original source of their publication (journal, editorial and URL of the work) are cited; ii) are not used for commercial purposes; iii) the existence and specifications of this license are mentioned.
3. Self-file conditions. Authors are allowed and encouraged to disseminate electronically the pre-print versions (version before being evaluated) and / or post-print (version evaluated and accepted for publication) of their works before publication, since it favors their circulation and earlier dissemination and with it a possible increase in its citation and scope among the academic community.