Revaloration of the ethnic cultural heritage of the north of mexico and its tourist potential to reduce socio-territorial inequalities
María Elena Robles Baldenegro

Universidad de Sonora

Ramón Leopoldo Moreno Murrieta

Universidad Autónoma de Ciudad Juárez.

Dena María Camarena Gómez

Universidad de Sonora
Keywords:
Heritage, planning, ethnic groups, rescue, conservation
Abstract
Regional development is a multidimensional phenomenon and should be approached from a transdisciplinary way, the complexity of its analysis lies in identifying and considering the convergences and divergences of the regions from the cultural, historical, political, economic and social aspects, being the tourism a boost of the economy with multiplier effects. Rondan, (2014: 412).
Any approach aimed at boosting regional development, should consider various territorial-social aspects, these efforts to stimulate economies can be observed more clearly in the policies that have historically emerged and been applied in the various territories that by themselves, originate a bias, divergences, inequalities and imbalances since the regional development in itself, segmentates or regionalizes the territory, not only for its qualities, but also for the different moments of integration to the development process of the region.
In the segmentation caused by the regionalization resulting from the implementation of the selection of a certain potential heritage of development (natural resources, history, geography, economy, culture, agriculture, mining, human resources, among others) inequalities will be created, which may be present in some territories in a subtler way than in others.
Recognizing the above in the present work, the objective is to retake ethnic cultural expressions related to the festivities held during the course of the year and design a rescue program that at first meets the objective of the perpetuation of culture-traditions of the ethnic groups of northern Mexico.
References
Aguilar Valenzuela Rubén. (2014) Revisado el 2 de enero del 2019 https://www.animalpolitico.com/blogueros-lo-que-quiso-decir/2014/02/11/las-etnias-de-mexico/
Barretto, M. (2005). Turismo étnico y tradiciones inventadas. Universidad de Caxias do Sul, El encuentro del turismo con el patrimonio cultural: concepciones teóricas y modelos de aplicación.
Boullón, Roberto C. (4a Ed) (2006). Planificación del Espacio Turístico. México: Trillas
Bourillón, L., A. Cantún, F. Eccardi, E. Lira, J. Ramírez, E. Velarde y A. Zavala. 1988. Islas del Golfo de California. SG-UNAM, 292 pp.
Camou, H.E. 1985. Historia general de Sonora. Historia contemporánea de Sonora: 1929-1984. Publicaciones del Gobierno del Estado de Sonora. Tomo V., pp. 311-313.
Castaño Cárdenas, Helena (2016). TURISMO ÉTNICO. Las comunidades indígenas y los atractivos naturales de sur de Colombia. Revista Intersección: Eventos, turismo, gastronomía y moda. Año 2, N3. ISSN 2357 -5875. Tecnología en Organización de Eventos. Facultad de Comunicación Audiovisual. Grupo de Investigación en Comunicación-GIC. Politécnico Colombiano Jaime Isaza Cadavid. Medellín-Colombia & Facultad de Ciencias de la Comunicación de la Universidad Autónoma de San Luis Potosí-UASLP-México. Págs. 61-71
Comisión de Fomento al Turismo. http://www.turismo.sonora.gob.mx/, rescatado el día 17 de febrero de 2017.
DIARIO OFICIAL (2014). Consultado el 2 de enero del 2019
Difusión Cultural, A.C. http://www.difusioncultural.org/turismo-cultural/, rescatado el día 17 de febrero de 2017.
Drumm A., Moore A. (2005). Introducción a la planificación del ecoturismo. Segunda Edición. Volumen 1. ISBN 1-886765-15-4. The Natural Conservancy. USA. Págs. 102.
FERROMEX 2018. https://www.debate.com.mx/losmochis/Incrementa-la-afluencia-turistica-en-el-Chepe-20170204-0120.html
Fugueras, Ramón Alberch i. Et. Al. Archivos y cultura: manual de dinamización. Ediciones TREA, S.L., 2001.
Honey M., (1999). Ecoturism and Sustainable Development. Who owns Paradise?. ISBN: 1-55963-581-9. USA.
http://www.cdi.gob.mx/programas/2014/programa-especial-de-los-pueblos-indigenas-2014-2018.pdf
https://rio.upo.es/xmlui/bitstream/handle/10433/5166/Tamaura%20Torres%2c%20Erika%20Shander%3b%20Rojas%20Borboa%2c%20Grace%20Marlene.pdf?sequence=1&isAllowed=y
INE. 1993. "Isla Tiburón. Encuesta". En: A. Gómez-Pompa, R. Dirzo et al. (comps.). Proyecto de evaluación de áreas naturales protegidas de México. SEDESOL. México.
Informes de actividades del Archivo Histórico de la Universidad de Sonora, 2013, 2014, 2015 y 2016.
Instituto Municipal de Cultura y Arte de Hermosillo, http://www.imcahermosillo.com.mx, rescatado el día 17 de febrero de 2017.
Instituto Nacional de Ecología. Integración de Políticas. SEMARNAP. http://www2.inecc.gob.mx/publicaciones/libros/16/3.html.
McGee, W.J. 1971. Los Seris de Sonora, México. Instituto Nacional Indigenista. México, pp. 17-75.
Organización para la Cooperación y el Desarrollo Económico. Sección Medio Ambiente. http://www.oecd.org/centrodemexico/laocde/eltrabajodelaocde.htm#medio_ambiente
Plan de desarrollo institucional de la Universidad de Sonora 2013-2017.
Programas operativos anuales del Archivo Histórico de la Universidad de Sonora 2013, 2014, 2015 y 2016.
Robles - Baldenegro, M.E. (1998). Informe Técnico. Proyecto Desarrollo e implementación de actividades eco turísticas en la Isla del Tiburón, Sonora; México. Centro de Datos para la Conservación de la Naturaleza. Instituto del Medio Ambiente y Desarrollo Sustentable del Estado de Sonora. Págs. 79.
Robles-Baldenegro, M.E., (1999). Informe Técnico. Proyecto Desarrollo e implementación de actividades eco turísticas en tres comunidades de Sonora, Mesa del Campanero, Isla del Tiburón y Álamos, Sonora; México. Centro de Datos para la Conservación de la Naturaleza. Instituto del Medio Ambiente y Desarrollo Sustentable del Estado de Sonora. Págs. 160.
Secretaria de Desarrollo Social (1994). Informe de la situación general en materia de equilibrio ecológico y protección al ambiente 1993-1994. México. ISBN: 968-838-338-4. Págs. 395
SEDUE. 1989. Información básica sobre las Áreas Naturales Protegidas de México. Subsecretaría de Ecología- SINAP. México, pp. 18 y 26.
SEPESCA. 1982. Islas de México. Secretaría de Pesca, 40 pp.
Sitios de internet consultados
Unión Mundial para la Conservación de la Naturaleza (UINC). Ecoturism. http://www.iucn.org/about/work/programmes/business/bbp_work/by_sector/tourism/ecotourism/about_ecotourism/
Valdez Múñoz, Raúl. Funcionamiento de los programas de turismo cultural en México. Algunas observaciones críticas. Recuperado de: http://www.cultura.gob.mx/turismocultural/cuadernos/pdf19/articulo3.pdf
Veldez Muñoz, Raúl. Turismo Cultural: la Experiencia Mexicana. Caderno Virtual de Turismo, vol. 3, núm. 1, 2003, Universidade Federal do Rio de Janeiro, Río de Janeiro, Brasil, pp. 18-33.
Villanueva Bazán, Gustavo. Et. Al. Manual de procedimientos técnicos para archivos históricos de universidades e instituciones de educación superior. Benemérita Universidad Autónoma de Puebla, 2002.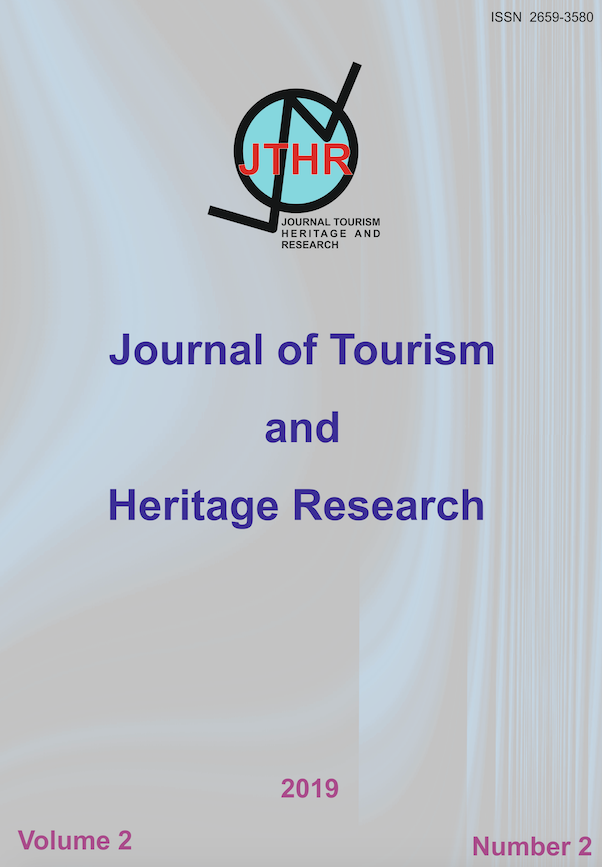 How to Cite
Robles Baldenegro, M. E., Moreno Murrieta, R. L., & Camarena Gómez, D. M. (2019, April 17). Revaloration of the ethnic cultural heritage of the north of mexico and its tourist potential to reduce socio-territorial inequalities. Journal of Tourism and Heritage Research, 2(2), 49-73. Retrieved from https://jthr.es/index.php/journal/article/view/42
1.The works published in this magazine are subject to the following terms: Tourism Research Association (the publisher) preserves the patrimonial rights (copyright) of the published works, and favors and allows the reuse of them under the license of use indicated in point 2.
© Investur, 2017
2.The works are published in the electronic edition of the magazine under a Creative Commons Attribution-NonCommercial-NoDerivative 3.0 Spain (legal text) license. They can be copied, used, disseminated, transmitted and publicly displayed, provided that: i) the authorship and the original source of their publication (journal, editorial and URL of the work) are cited; ii) are not used for commercial purposes; iii) the existence and specifications of this license are mentioned.
3. Self-file conditions. Authors are allowed and encouraged to disseminate electronically the pre-print versions (version before being evaluated) and / or post-print (version evaluated and accepted for publication) of their works before publication, since it favors their circulation and earlier dissemination and with it a possible increase in its citation and scope among the academic community.