TECHNOLOGIES FOR THE MANAGEMENT OF PUBLIC SAFETY AND THE WAY OF ST. JAMES: PRACTICAL APPLICATION IN RELIGIOUS TOURISM
Rosa María Touris López

Universidad Autónoma de Madrid

Ricardo García García

Universidad Autónoma de Madrid

Beatriz Narbona

Universidad Autónoma de Madrid

Isabel Martínez Gutiérrez

Universidad Autónoma de Madrid
Keywords:
religious tourism, camino de santiago, security, technologies, alertcops
Abstract
Tourism is a strategic sector for economic and social development, and nowadays security in tourism activities and for the tourist has become an essential element. This paper analyses the Way of St. James religious tourism where security plays a relevant role that must be managed by public authorities. A key ally when optimizing public services is definitely the application of technologies to security, a crucial tool that must be necessarily accompanied by a specific legal framework. In the case of Spain, such framework is made up of the so-called Safe Tourism Plan, developed by the Ministry for Home Affairs, and the extensive regional legislation directly affecting the tourism industry, both of which are studied. Besides, this paper also analyses the publicly owned application promoted by the Ministry Alertcops, with its many functionalities devised to guarantee tourists and pilgrims safety on the "Camino de Santiago". Finally, some examples of other applications of public and private ownership are included, highlighting their strengths and weaknesses. The analysis leads to the conclusion that this type of tools should be of public ownership – or should at least have the support and data of the Public Administrations – in order to ensure the reliability of the information and to enable the possible assistance required by tourists.
References
AA.VV., (2006). Cuadernos de Turismo. 18.
Alertcops. https://alertcops.ses.mir.es/mialertcops/

Bernal, A., (2020). La Transformación Digital, aliada clave del turismo seguro y resiliente.
https://www.segittur.es/blog/destinos-turisticos-inteligentes/la-transformacion-digital-
aliada-clave-del-turismo-seguro-y-resiliente/

Cámara de Comercio de España. (2021). Impacto de la actividad turística en la economía española.https://www.camara.es/sites/default/files/publicaciones/impacto-del-turismo- cce-abril-2021.pdf
Cánoves, G., & Blanco, A. (2011). Turismo religioso en España: ¿la gallina de los huevos de oro? Una vieja tradición, versus un turismo emergente, en Cuadernos de Turismo, 27, 115- 131.

https://revistas.um.es/turismo/article/view/139791
Conferencia Internacional sobre Patrimonio Religioso y Turismo: tipos, tendencias y desafíos. OMT, Ministerio de Industria, Energía y Turismo y Ayuntamiento de Elche (27-28 de noviembre de 2014). https://www.e-unwto.org/doi/pdf/10.18111/9789284416684

Directrices Generales de la Estrategia de Turismo sostenible de España 2030.

https://www.segittur.es/wp-content/uploads/2021/02/Directrices-Generales-de-la-
Estrategia-de-Turismo-Sostenible-de-Espana-2030.pdf

García, C., Pérez, B., Navarrete, M.C. (2017). La Importancia del Turismo en México, en International Journal of Scientific Management and Tourism, 3,1, 133-146.

García, R., (2020). Turismo, seguridad y covid-19, en 20 reflexiones jurídicas en tiempo de confinamiento: liber amicorum en homenaje a Cristina Izquierdo Sans, 89-102.

González, B., (2008) La regulación del factor religioso en la Comunidad Autónoma de Galicia, en la Libertad religiosa en las comunidades autónomas: veinticinco años de su regulación jurídica (Dir. García García, R.,). Ed. Centro de Estudios Autonómicos de Cataluña, 426- 427.
Guardia Civil.

https://www.guardiacivil.es/es/prensa/noticias/7773.html

https://www.guardiacivil.es/es/prensa/noticias/7851.html?versionImprimible=true
Herramientas digitales.

https://step.state.gov/step/
https://www.getbsafe.com/
https://www.sitata.com/es/?ref=producthunt https://www.hosteltur.com/lat/164500_securis-app-protegera-al-turista-todo-mundo.html

Korstanje, M.: (2007) Tratado turístico, Edición electrónica gratuita. Texto completo en
www.eumed.net/libros/2007c/321/

Memoria Anual de Actividades de la Iglesia católica en España año 2019. Conferencia Episcopal Española.
https://www.conferenciaepiscopal.es/wp-content/uploads/2021/05/Memoria-de-la-Iglesia- 2019.pdf

https://www.conferenciaepiscopal.es/wp-content/uploads/2020/06/2020-Memoria- Actividades-Iglesia.pdf
Millán, G., Pérez, L. Ma., (2017). El turismo religioso en distintas zonas geográficas de España. Características de los turistas, en Boletín de la Asociación de Geógrafos Españoles, 75, 29- 54.
Ministerio del Interior (España).

Instrucción 7/2011, Secretaría de Estado de Seguridad, Plan Turismo Seguro. http://www.interior.gob.es/documents/642012/1568607/Instrucci%C3%B3n+del+Plan+T
urismo+Seguro/c9aedcad-645c-4f1e-a583-dc53d96e529a http://www.interior.gob.es/web/servicios-al-ciudadano/planes-de-prevencion/plan-turismo-
seguro https://www.policia.es/_es/colabora_participacion_planturismoseguro.php#
Moral, P., (2016). El Impacto del terrorismo internacional en la industria del turismo: balance y perspectivas en el Mediterráneo, en Boletín IEEE, 3, 349-364.
Moreno, A., Sariego, I., (2019). El desarrollo turístico en Jerusalén: la fragmentada capital mundial del turismo religioso, en Revista Turismo y Patrimonio, 13, 67-84.
Organización Mundial del Turismo (2020), Convención marco sobre ética del turismo, OMT, Madrid, https://www.e-unwto.org/doi/pdf/10.18111/9789284421695
Ostrowski, M., (2002). Peregrinación o turismo religioso, en Pontificia Academia de Teología, Cracovia, Polonia.
Panorama del turismo internacional. (2019). https://www.e- unwto.org/doi/epdf/10.18111/9789284421237
Recomendaciones internacionales para estadísticas de turismo 2008. Naciones Unidas.
https://unstats.un.org/unsd/publication/SeriesM/Seriesm_83rev1s.pdf

Secretaría de Estado de Turismo.
https://www.dataestur.es/economia/cst/

Tobón, S. y Tobón, N. (2013). Turismo religioso: fenómeno social y económico, en Turismo y Sociedad. 14, 237-249.
TurEspaña.
https://www.spain.info/es/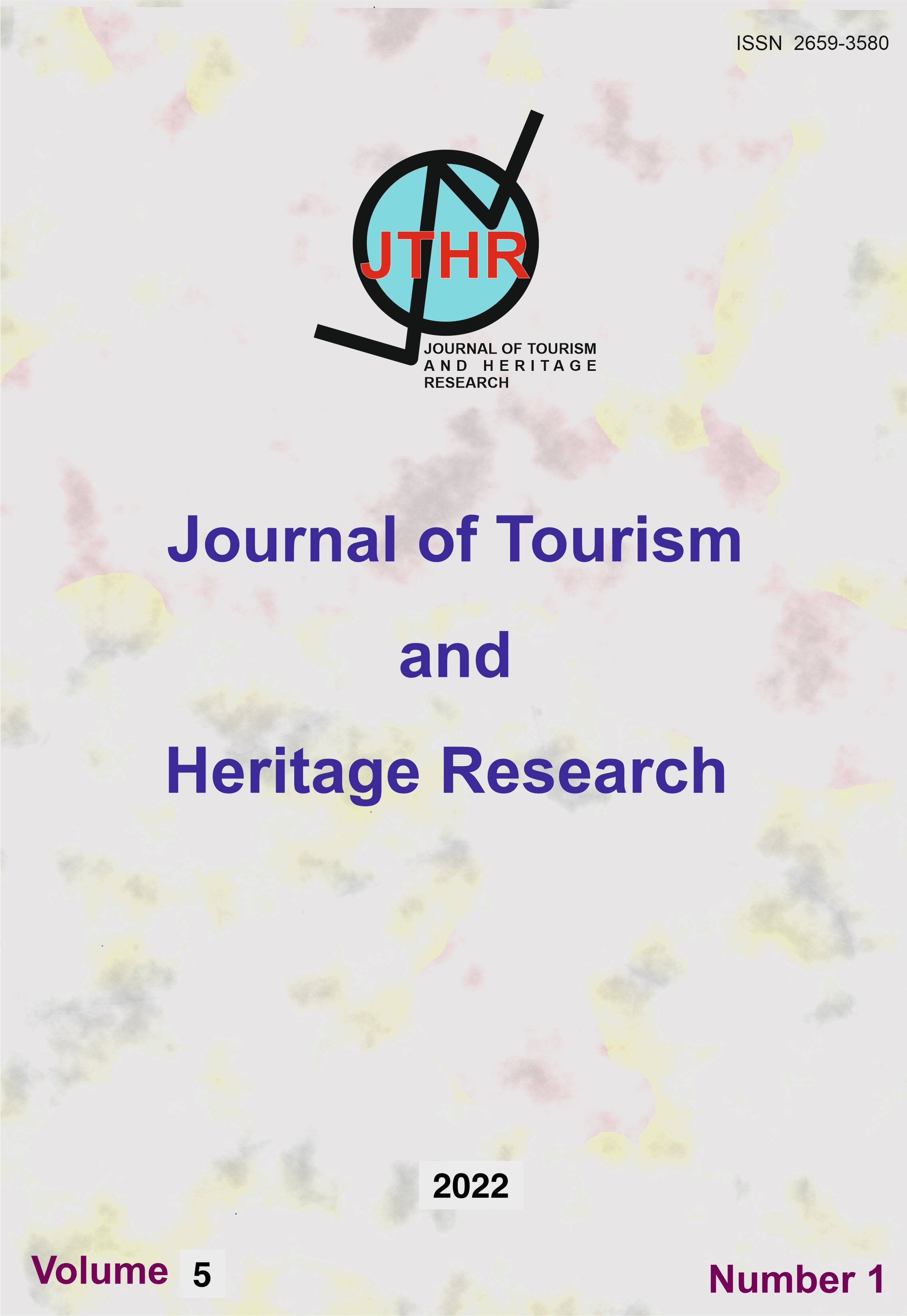 How to Cite
Touris López, R. M., García García, R., Narbona, B., & Martínez Gutiérrez, I. (2022, January 1). TECHNOLOGIES FOR THE MANAGEMENT OF PUBLIC SAFETY AND THE WAY OF ST. JAMES: PRACTICAL APPLICATION IN RELIGIOUS TOURISM. Journal of Tourism and Heritage Research, 5(1), 153-164. Retrieved from https://jthr.es/index.php/journal/article/view/336
This work is licensed under a Creative Commons Attribution 4.0 International License.
1.The works published in this magazine are subject to the following terms: Tourism Research Association (the publisher) preserves the patrimonial rights (copyright) of the published works, and favors and allows the reuse of them under the license of use indicated in point 2.
© Investur, 2017
2.The works are published in the electronic edition of the magazine under a Creative Commons Attribution-NonCommercial-NoDerivative 3.0 Spain (legal text) license. They can be copied, used, disseminated, transmitted and publicly displayed, provided that: i) the authorship and the original source of their publication (journal, editorial and URL of the work) are cited; ii) are not used for commercial purposes; iii) the existence and specifications of this license are mentioned.
3. Self-file conditions. Authors are allowed and encouraged to disseminate electronically the pre-print versions (version before being evaluated) and / or post-print (version evaluated and accepted for publication) of their works before publication, since it favors their circulation and earlier dissemination and with it a possible increase in its citation and scope among the academic community.