DEVELOPMENT TOURISM IN TABASCO AS A PROMOTION ECONOMIC; THROUGH NATURAL POTENTIALITIES AND CULTURAL
Ana Bertha Vidal Fócil

Universidad Juárez Autónoma de Tabasco
Keywords:
Economic, development, tourism, cultural and natural potentialities
Abstract
The objective of the research is to carry out a theoretical review on the tourist dynamics within Tabasco territory, to identify how the natural and cultural resources of the state have been used.
The State of Tabasco can be considered as a competitive tourist destination, since it has important sites of interest to enjoy the nature of a tropical ecosystem; however, Tabasco has a low tourist influx, where the economic spillover necessary for socioeconomic progress is not generated. It can be identified that, regarding the tourist sector in Tabasco, there is no offer of attractions, so the government is required to prepare a new tourist offer based on the analysis of the territories.
References
Alburquerque, F. &. (2013). El Desarrollo Territorial: Enfoque, Contenido y Políticas, pp. 45 Barreneche, L. M. (2003): Iberoamericana de Gobierno Local, pp. 1-24.

Cabrera, B. C. (1987)."El retomo del turismo social", Hosteltur, n° 189, pp. 6-13.

Conabio. Sectur. (2014). Informe de Evaluación Ambiental: Sistemas Productivos. México:

Dachari, A. C., 2005, "Retos del turismo rural en América Latina", en Alfredo Cesar Dachari, Javier Orozco y Stella Arnaiz, Desarrollo rural y turismo, Universidad de Guadalajara, México.

Fonatur. Sectur, (2017). Tomo 2: Villahermosa Tabasco: Secretaría de Turismo, pp.134-138.

Gillot, L. (2005). Viajeros en Tabasco. Cultura de Tabasco, pp. 10.

Rojas, M. d. (2012). El Turismo en el Desarrollo Regional: La Experiencia de Dos Departamentos.
Revista Lebret, pp. 1146.

Maldonado, C. (2005). III Coloquio Turismo y desarrollo, Marrakech. Marruecos. Oca, L. E. (2019). Turismo. Tabasco CDD.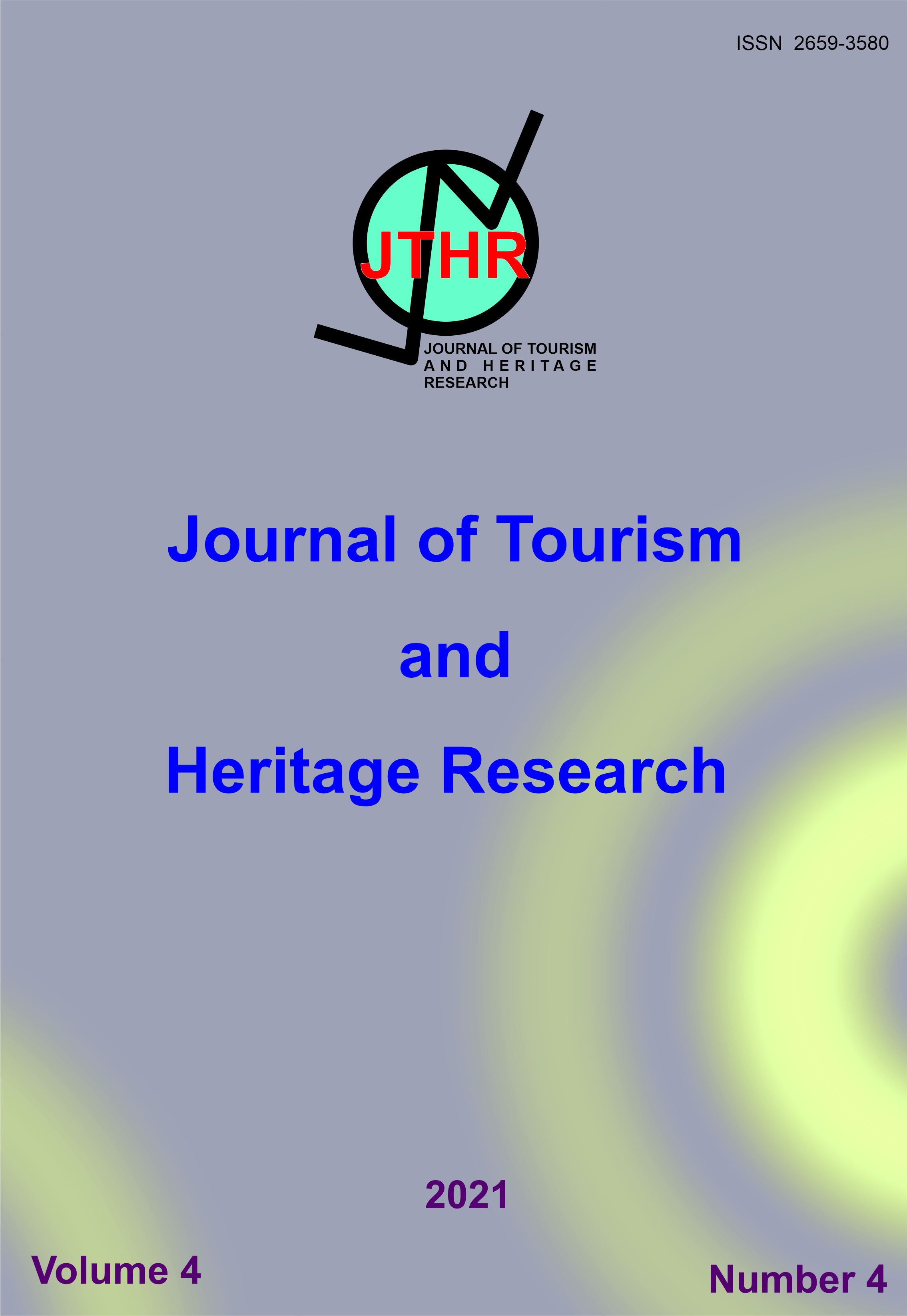 How to Cite
Vidal Fócil, A. B. (2021, October 1). DEVELOPMENT TOURISM IN TABASCO AS A PROMOTION ECONOMIC; THROUGH NATURAL POTENTIALITIES AND CULTURAL. Journal of Tourism and Heritage Research, 4(4), 78-86. Retrieved from https://jthr.es/index.php/journal/article/view/316
This work is licensed under a Creative Commons Attribution 4.0 International License.
1.The works published in this magazine are subject to the following terms: Tourism Research Association (the publisher) preserves the patrimonial rights (copyright) of the published works, and favors and allows the reuse of them under the license of use indicated in point 2.
© Investur, 2017
2.The works are published in the electronic edition of the magazine under a Creative Commons Attribution-NonCommercial-NoDerivative 3.0 Spain (legal text) license. They can be copied, used, disseminated, transmitted and publicly displayed, provided that: i) the authorship and the original source of their publication (journal, editorial and URL of the work) are cited; ii) are not used for commercial purposes; iii) the existence and specifications of this license are mentioned.
3. Self-file conditions. Authors are allowed and encouraged to disseminate electronically the pre-print versions (version before being evaluated) and / or post-print (version evaluated and accepted for publication) of their works before publication, since it favors their circulation and earlier dissemination and with it a possible increase in its citation and scope among the academic community.