SITES WITH CHARM OF MORELIA, MICHOACAN, MEX "SANCTUARY OF THE MONARCH BUTTERFLIE
María del Consuelo Castañeda Barrera

Benemérita Universidad Autónoma de Puebla

Esther del Carmen Espinoza Castañeda

Secretaria de Educación Pública, Directora de Nivel Preescolar, México
Keywords:
butterfly, sanctuary, monarch
Abstract
As already mentioned in the first article of cultural diffusion "SITES WITH CHARM OF MORELIA, MICHOACAN, MEX", in which some of these beautiful places of the capital city, Morelia were cited, this article shares information about the "Sanctuary of the Monarch Butterflies "located in eastern Michoacán and western Mexico State, in the mountainous biosphere reserve identified by its name" Monarch Butterfly ", it is the main destination of one of the most colorful and mysterious migrations of insects of the planet. Every year, millions of orange lepidoptera take flight from as far away as eastern Canada towards certain fir forests in central Mexico, traveling more than 8,000 kilometers from southern Canada and northern United States to cover the trees of oyamel, pine and cedar of the Michoacan entity with the objective of hibernating.
They arrive and gather in dozens of colonies, called "sanctuaries," most of which are located in this reserve, spread over just over 56,000 hectares. They live, flutter, reproduce and rest in the oyameles despite the cold of winter. The most impressive thing about this colorful phenomenon of millions of butterflies is that nobody knows how they find their way between their summer habitat and their winter sanctuaries, since the life cycle of the butterfly is only a few weeks.
For this reason, the Monarch butterfly sanctuaries have one of the most colorful and mysterious migrations in the world and are considered as Natural Heritage of Humanity.
References
Blog Alternare A.C., (2020). Restaurar y Regenerar para un Futuro Sostenible
Esquivel-Rios, S., Cruz- Jimenez, G., Cadena-Inostroza, C. & Zizumbo-Villareal, L. (2014), Turismo como instrumento de política ambiental en el Santuario de la Mariposa Monarca El Rosario. Econ. soc. territ, 14(44),141-174.
http://beautynchicc.com/tag/mariposa-monarca/ https://www.cityexpress.com/blog/los-mejores-santuarios-para-ver-la-mariposa-monarca https://www.forbes.com.mx/forbes-life/santuarios-de-la-mariposa-monarca-en-michoacan
https://www.google.com/search?sa=X&sxsrf=ALeKk00NDJWfrq3vDhOU4y5gyU7azjb3i g:1611165150087&q=%C2%BFC%C3%B3mo+llegar+al+Santuario+de+la+Maripos a+Monarca
https://www.questionpro.com/blog/es/investigacion-documental http://www.sectur.gob.mx/hashtag/2014/12/09/mariposa-monarca/ https://www.gob.mx/sectur/acciones-y-programas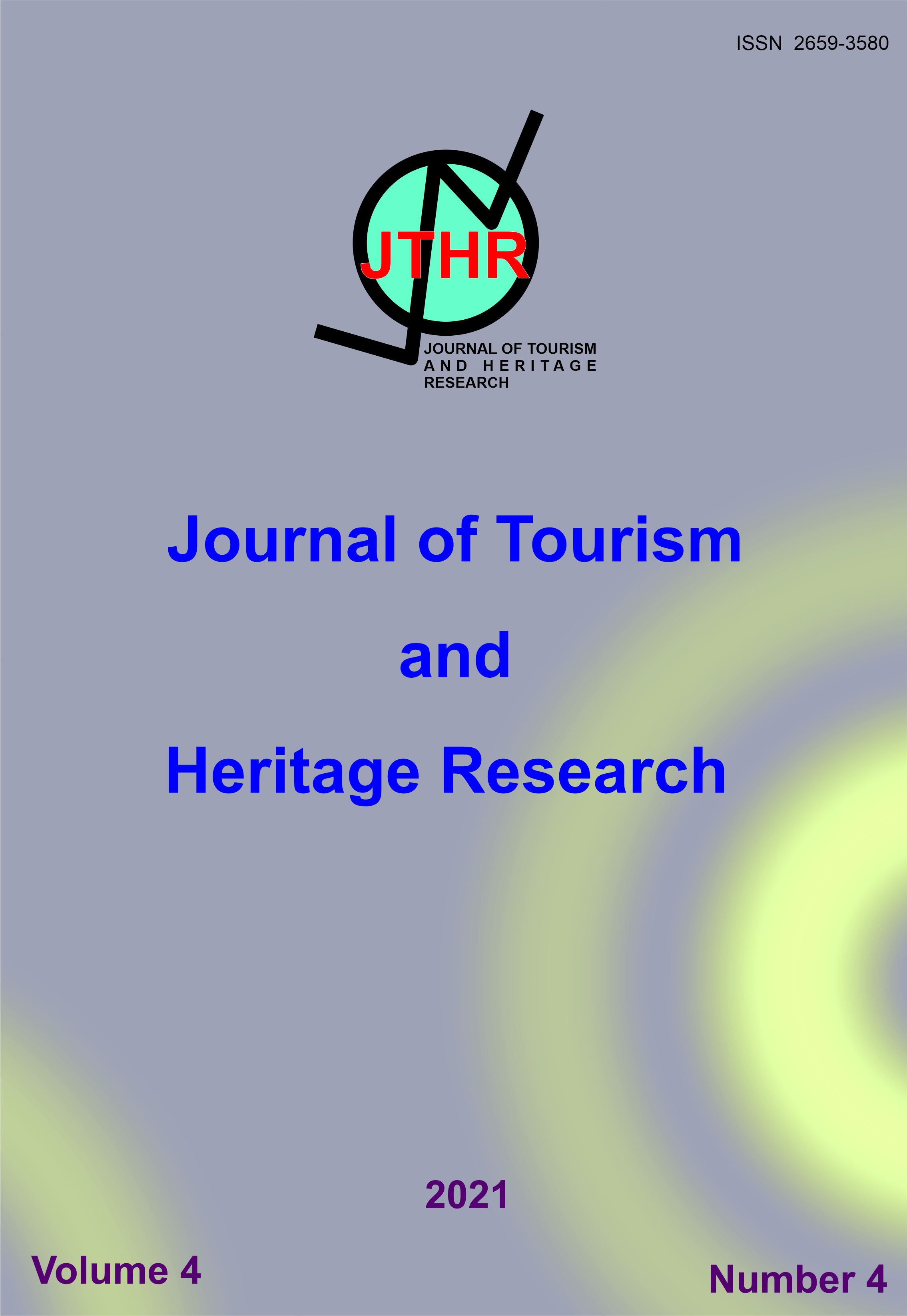 How to Cite
Castañeda Barrera, M. del C., & Espinoza Castañeda, E. del C. (2021, October 1). SITES WITH CHARM OF MORELIA, MICHOACAN, MEX "SANCTUARY OF THE MONARCH BUTTERFLIE. Journal of Tourism and Heritage Research, 4(4), 35-45. Retrieved from https://jthr.es/index.php/journal/article/view/312
This work is licensed under a Creative Commons Attribution 4.0 International License.
1.The works published in this magazine are subject to the following terms: Tourism Research Association (the publisher) preserves the patrimonial rights (copyright) of the published works, and favors and allows the reuse of them under the license of use indicated in point 2.
© Investur, 2017
2.The works are published in the electronic edition of the magazine under a Creative Commons Attribution-NonCommercial-NoDerivative 3.0 Spain (legal text) license. They can be copied, used, disseminated, transmitted and publicly displayed, provided that: i) the authorship and the original source of their publication (journal, editorial and URL of the work) are cited; ii) are not used for commercial purposes; iii) the existence and specifications of this license are mentioned.
3. Self-file conditions. Authors are allowed and encouraged to disseminate electronically the pre-print versions (version before being evaluated) and / or post-print (version evaluated and accepted for publication) of their works before publication, since it favors their circulation and earlier dissemination and with it a possible increase in its citation and scope among the academic community.