Cultural tourism in Argentina. San Francisco Solano in the city of Santiago del estero
Eve Carmen Medina

Universidad Nacional de La Rioja

Sonia Ruth María Medina

Universidad Nacional de La Rioja
Keywords:
taumaturgo, folklore, traditions
Abstract
The city of Santiago del Estero is the capital of the province of the same name, located in the center of Argentina. His geopolitical situation left a mark that would over time give her the seal of being considered "Mother of Cities" because from there other capitals were founded and because she was the oldest. This work investigates the arrival of San Francisco Solano in that city and the influence of the saint on the traditions of the locals (then ethnic groups who inhabited the region) their miracles and above all in the music and assessment of the people who instituted him patron saint of folklorists. It also aims to highlight the commemorative festival and the folk shows that take place. The festivities include special visits to the Museum of Sacred Art, located in the same church and also the tributes provided by the troops of the Police of the Province. He is one of twelve saints who set foot on Argentine lands, and the first to tour Santiago del Estero. In the rest of the world, its patron saint's feast is remembered every July 14, however, in Santiago del Estero the date was moved to July 24 to be coinciding with the anniversary of the feast of Santiago Apóstol. He was known as the "New World caster", for the countless miracles that some of which are documented were produced.
References
Archivo del convento de San Francisco de Lima, Registro XVI, fol 405. pag 27 Bustamante J. El apostol de Lima y de America del sur. Pag 9 Pag 57/581
Contardo, M. "San Francisco Solano, el apóstol de América"

CORDOBA, DIEGO. "Vida, virtudes y milagros del apóstol del Perú, el venerable padre

Fray Francisco Solano" Imp. Real. Madrid. 1643 Cordoba Diego L.I Cap XII pag 45

Cordoba Diego L.I Cap XII pag 47

Cordoba Diego Cap XXXIII pag 214 (pag 58/59)

Miglioranza Contardo pag 94 Pag 57/58

Peña Ángel San Francisco Solano Apóstol de América Lima Peru 2011 2 ASV N° 1.328, fol 997

ASV N° 1.328, fol 992-1.004.

Proceso de Lima, pp. 63-65.pag 37

Revista AICA SANTIAGO DEL ESTERO 25/07/18

Diario EL LIBERAL 25/07/2019 - 00:41 Santiago

Diario Se SOLANO EXPRESO Mar, 15/07/2014 - 02:25

Diario Nuevo Diario de Santiago del Estero web. 24/07/2017 https://www.ecured.cu/San_Francisco_Solano https://www.ecured.cu/San_Francisco_Solano

http://www.turismosantiago.gob.ar/
https://www.facebook.com/Museofranciscano/ www.telam.com.ar › 25/07/2019 FESTEJO img]http://www.aica.org/subidas/4154.jpg[/img] https://www.facebook.com/Museofranciscano/ img]http://www.aica.org/subidas/4154.jpg[/img] Diario Publicación "PARAGUAY.COM"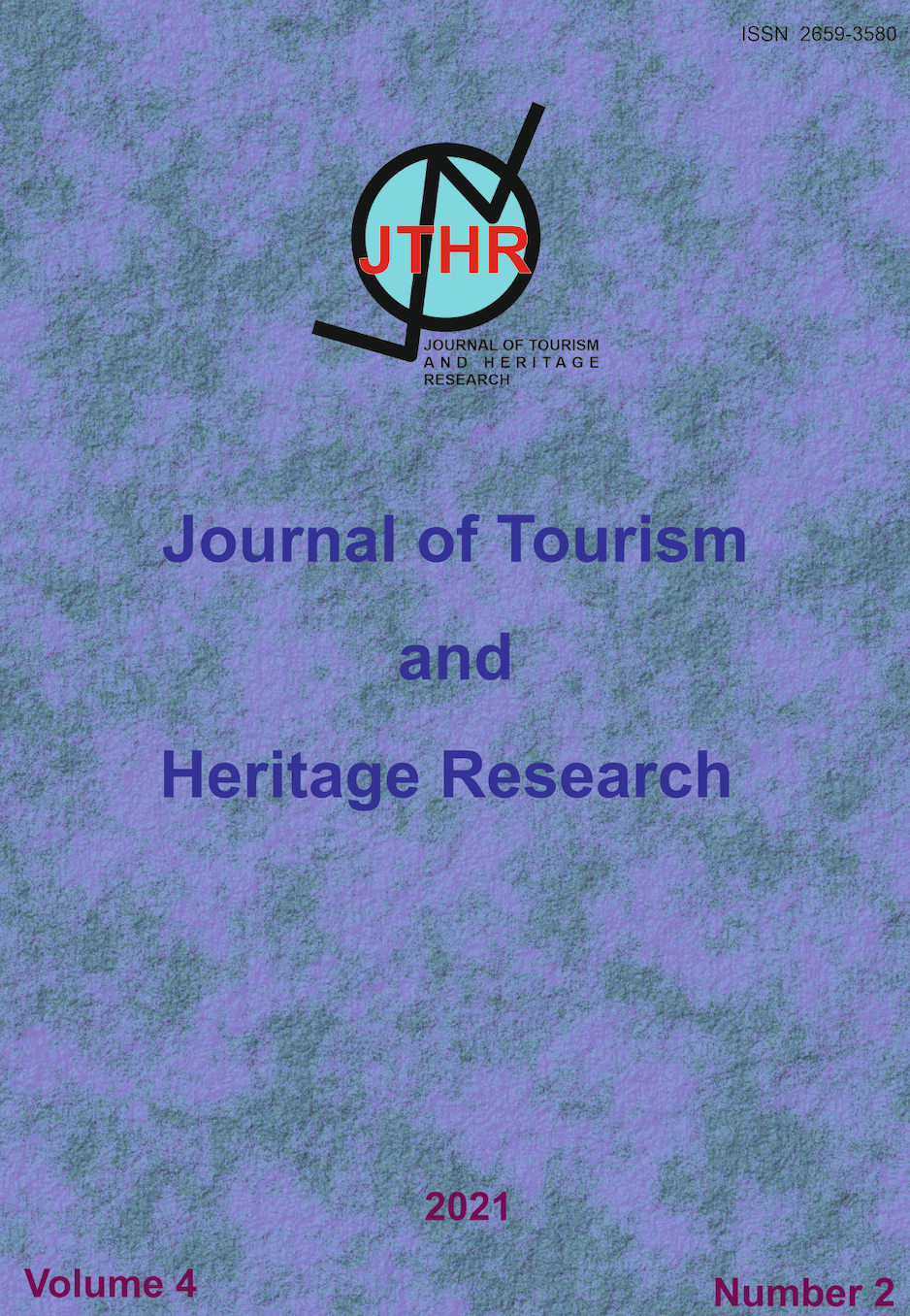 How to Cite
Carmen Medina, E., & María Medina, S. R. (2021, April 1). Cultural tourism in Argentina. San Francisco Solano in the city of Santiago del estero. Journal of Tourism and Heritage Research, 4(2), 332-351. Retrieved from https://jthr.es/index.php/journal/article/view/284
This work is licensed under a Creative Commons Attribution 4.0 International License.
1.The works published in this magazine are subject to the following terms: Tourism Research Association (the publisher) preserves the patrimonial rights (copyright) of the published works, and favors and allows the reuse of them under the license of use indicated in point 2.
© Investur, 2017
2.The works are published in the electronic edition of the magazine under a Creative Commons Attribution-NonCommercial-NoDerivative 3.0 Spain (legal text) license. They can be copied, used, disseminated, transmitted and publicly displayed, provided that: i) the authorship and the original source of their publication (journal, editorial and URL of the work) are cited; ii) are not used for commercial purposes; iii) the existence and specifications of this license are mentioned.
3. Self-file conditions. Authors are allowed and encouraged to disseminate electronically the pre-print versions (version before being evaluated) and / or post-print (version evaluated and accepted for publication) of their works before publication, since it favors their circulation and earlier dissemination and with it a possible increase in its citation and scope among the academic community.