Heritage study of pedestrian itineraries at historics centers of Portimão and Loulé city: a contribute for cultural and accessible tourism
Ana Rodrigues

Algarve University

Manuela Rosa

Algarve University

Efigénio Rebelo

Algarve University
Keywords:
Accessible cultural tourism, architectural heritage, immaterial heritage, historic centers, cultural and accessible itineraries
Abstract
Tourism is a major factor for cities holding cultural or heritage events as they contribute to the growth of the local economy and the creation of new patrimonial spaces. Increasingly urban rehabilitation in historic centers is thought about taking into account its tourist potential. In this context, there are some innovative urban centers with pedestrian itineraries that promote accessible and cultural tourism.
The Algarve region is a tourist destination that, in addition to the "Sun & Beach", intends to offer new segments, of which cultural tourism and accessible tourism stand out. Its consumers are given a new image with sustainable tourism products. The objective of this study is to analyze the patrimonial potential of the urban environments in two tourist pedestrian routes are integrated: the "Accessible Route" of the city of Portimão and the pedestrian itineraries "Comércio" and "Património" of the city of Loulé. The principal aim is to identify the tangible and intangible cultural heritage and to understand how it is transmitted to the consumers.
The applied methodology consists in the collection of quantitative and qualitative data, through campaigns of visitation and inventory. The results obtained demonstrate that urban spaces have heritage values ​​and these are used to disseminate the local culture. Cultural and accessible tourism can contribute to the sustainable development of territories, by triggering economic growth, cultural conservation and social inclusion.
References
Aleixo, J. (coord.) (2015). Processo de Inventariação da manifestação religiosa da Mãe Soberana no Inventário Nacional do Património Cultural Imaterial (P.C.I.). Direcção-Geral do Património Cultural (D.G.C.P.).

Almeida, J. A. (1988). Tesouros Artísticos de Portugal. Selecções Reader´s Digest. 3.º edição, Porto.

Alves, E. (2012). Diversidade cultural, patrimônio cultural material e cultura popular: a Unesco e a construção de um universalismo global. Sociedade e Estado, 25(3), 539-560.

Assembleia da República (2008). Tratado de Lisboa, versão consolidada. Assembleia da República, Divisão de Edições da Assembleia da República, 153,175-176.

Bandarin, F., & van Oers, R. (2012). The Historic Urban Landscape, Managing Heritage in a urban century. Wiley-Balckwell, UK.

Câmara Municipal de Loulé. (2016). RIU Loulé 2020, Plano de Ação para a Regeneração urbana no centro histórico de Loulé e Plano de Ação para a Regeneração. Câmara Municipal de Loulé.

Câmara Municipal de Portimão. (2014). ARU Área de Reabilitação Urbana Centro Histórico de Portimão. Câmara Municipal de Portimão.

Carmona, F.; Tabales, J., & Ocerín, J. (2017). La informacion de un producto turístico la Ruta de La Batalla de Munda. International Journal of Scientific Management and Tourism, 3(2), 175-190.

Choay, F. (1999). A Alegoria do Património. Edições 70, Lisboa, Portugal.

Choay, F. (2005). Património e Mundialização. Casa do Sul editora, centro de história da arte da Universidade de Évora, Évora, Portugal.

Conselho da Europa (1976). Carta de Amesterdão.

Conselho da Europa (2005). Convenção de Faro ratificada em Diário da República Portuguesa em 2008, pela Resolução da Assembleia da República n.º 47/2008.

Csapó, J. (2012). The role and importance of cultural tourism in modern tourism industry. Strategies for Tourism Industry-Micro and Macro Perspectives, 201-232.

Decreto-Lei n.º 149/2015 de 4 de agosto, 2015, Diário da República, 1.ª série, n.º 150, (2015).

Dionísio, S. (1927). Guia de Portugal, Estremadura, Alentejo e Algarve. Fundação Calouste Gulbenkian, Biblioteca Nacional de Lisboa, Lisboa.

Ferri, B., & Maturo, A. (2014). Built cultural heritage and urban development: elements for a cultural planning in Pescara city (Italy). Built Heritage 2013 Monitoring Conservation Management, 506 -514.

Gaetan, S., & Zheer, A. (2017). Culture as a Driver for Sustainable Urban Development. UIA 2017 Seoul World Architects Congress. 1-6.

Ginting, N., & Wahid, J. (2015). Exploring Identity's Aspect of Continuity of Urban Heritage Tourism. Procedia - Social and Behavioral Sciences, 202, 234-241.

Governo da Irlanda (2011). Access, Improving the accessbility of historic buildings and places. The Stationery Office, Dublin. 5-17.

Guzmán, P; Roders, A., & Colenbrander, B. (2014). Bridging the gap between urban development and cultural heritage protection. IAIA14 Conference Proceedings', Impact Assessment for Social and Economic Development, 34th Annual Conference of the International Association for Impact Assessment.1-4.

Hassler, U.; Algreen-Ussing, G., & Kohler, N. (2002). Cultural heritage and sustainable development. SUIT Position. 1-5.

ICOMOS (1999). A Carta Internacional do Turismo Cultural, Gestão do Turismo nos Sítios com Significado Patrimonial, a adoptada pelo ICOMOS na 12.ª Assembleia Geral no México, 1-9.

ICOMOS (2008). Carta dos Itinerários Culturais. Comité Científico Internacional dos Itinerários Culturais, ratificada pela 16ª Assembleia Geral do ICOMOS, Québec, Canadá.

ICOMOS (2011). Princípios de La Valeta para a salvaguarda e gestão das populações e áreas urbanas históricas, adaptado na XVIII Assembleia Geral de ICOMOS a 28 de novembro de 2011.

Lopes, F. (2013). Zonas de proteção ao património edificado arquitectónico, para que servem?. Caleidoscópio, edição e artes gráficas, S.A. Casal de Cambra, Portugal.

Mendes, A. (2013). Catálogo do espólio documental de Joaquim Magalhães (1909-1999). Universidade do Algarve.

Moura, A.; Kastenholz, E., & Pereira, A. (2017). Património e acessibilidade: Reflexão sobre os constrangimentos do Turismo Acessível. Efeitos do turismo na reabilitação urbana e do património. 443-454.

Nações Unidas (2016). Nova Agenda Urbana, Habitat III. 6-7, 13, 16-24.

Oikonomopoulou, E.; Delegou, E.; Saya, J., & Moropoulou, A. (2017). An innovative approach to the protection of cultural heritage: the case of cultural routes in Chios island, Greece. Journal of Archaeological Science Reports, 14, 742-757.

Oliveira, F. (1905). Monografia do concelho de Loulé. Algarve em foco editora, 4.º edição do ano de 1989, Faro.

Peixoto, P. (2017). Centros históricos e sustentabilidade cultural das cidades. Centros históricos e sustentabilidade cultural das cidades.

Pereira, J. F. (2012). Portimão desconhecido Proposta de divulgação alternativa. Tese de mestrado não publicada, Universidade de Lisboa, Faculdade de Arquitectura de Lisboa.

Porto Editora (2003). Portimão in Dicionário infopédia de Toponímia. Porto: Porto Editora, 2003-2017.

Raimundo, H. (2004). O Entrudo e o Carnaval. A Voz de Loulé.

Raposo, I. (coord.) (2007). Guia da reabilitação e construção. Cidade de Loulé. Loulé. Faculdade de Arquitectura da Universidade Técnica de Lisboa, Câmara Municipal de Loulé.

Roders, A. & van Oers, R. (2011). Editorial: bridging cultural heritage and sustainable development. Journal of Cultural Heritage Management and Sustainable Development, vol. 1 (1), 5-14.

Santos, J., & Silva, J. (2016). Arte popular criativa e turismo cultural na cidade de Loulé (Algarve/Portugal). Revista Brasileira de Pesquisa em Turismo, 10 (2), 212-232.

Simões, J. (2012). História económica, social e urbana de Loulé. Caderno n.º7. edição Arquivo Municipal de Loulé, Loulé, Portugal.

Sørmoen, O. (2009). Accessibility to Cultural Heritage. Nordic Perspectives. TemaNord, Nordic Council of Ministers, Copenhagen.

Sousa, S. (2017). As memórias de Santiago: do Património aos Itinerários dos Peregrinos. Dissertação de Mestrado em Marketing Turístico, Universidade do Algarve.
Turismo de Portugal. (2017). Estratégia Turismo 2027, Liderar o Turismo do futuro.

UNESCO (2003). Convenção para a salvaguarda do património imaterial. United Nations Educational, Scientific and Cultural Organization, Paris, França, 32ª sessão.

UNESCO (2016). Urban Future Global Report on Culture Urban Development. United Nations Educational, Scientific and Cultural Organization, Paris, França.

UNTWO (2015). Cultural Routes and Itineraries. World Tourism Organization, Madrid, Espanha.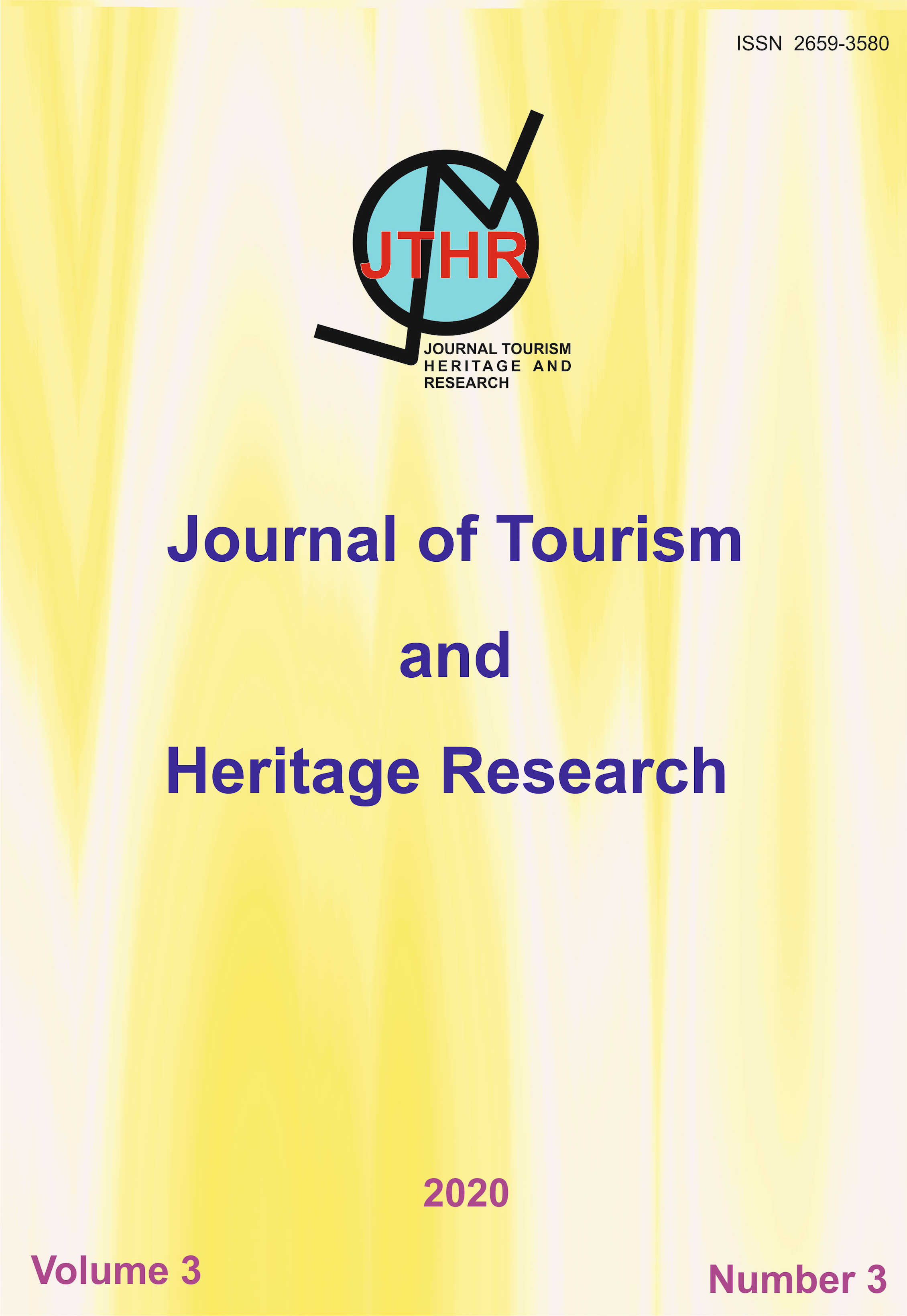 How to Cite
Rodrigues, A., Rosa, M., & Rebelo, E. (2020, July 1). Heritage study of pedestrian itineraries at historics centers of Portimão and Loulé city: a contribute for cultural and accessible tourism. Journal of Tourism and Heritage Research, 3(3), 423-451. Retrieved from https://jthr.es/index.php/journal/article/view/220
This work is licensed under a Creative Commons Attribution 4.0 International License.
1.The works published in this magazine are subject to the following terms: Tourism Research Association (the publisher) preserves the patrimonial rights (copyright) of the published works, and favors and allows the reuse of them under the license of use indicated in point 2.
© Investur, 2017
2.The works are published in the electronic edition of the magazine under a Creative Commons Attribution-NonCommercial-NoDerivative 3.0 Spain (legal text) license. They can be copied, used, disseminated, transmitted and publicly displayed, provided that: i) the authorship and the original source of their publication (journal, editorial and URL of the work) are cited; ii) are not used for commercial purposes; iii) the existence and specifications of this license are mentioned.
3. Self-file conditions. Authors are allowed and encouraged to disseminate electronically the pre-print versions (version before being evaluated) and / or post-print (version evaluated and accepted for publication) of their works before publication, since it favors their circulation and earlier dissemination and with it a possible increase in its citation and scope among the academic community.