The gentrification process at lavapies neighborhood
Enrique Torres Bernier

Amanda Vega Hidalgo

Germán Ortega Palomo
Keywords:
gentrification;, population;, Price;, Governance;
Abstract
The present days, we analyzes a social phenomenon that is becoming more and more important in Spain: gentrification in the central Madrid district of Lavapies.
For this, firstable, through a theoretical and territorial approach, the neighborhood will be identified and described, analyzing its historical background, its territorial and functional structure and the agents that are involved in the process.
Then, causes and consequences of this phenomenon are studied, it focuses on the tourism perspective and always with the support of statistical data.
Finally, in order to obtain a quantitative perception of everything that is seen, an index can be created that allows measuring the gentrification in Lavapiés, as well as its evolution.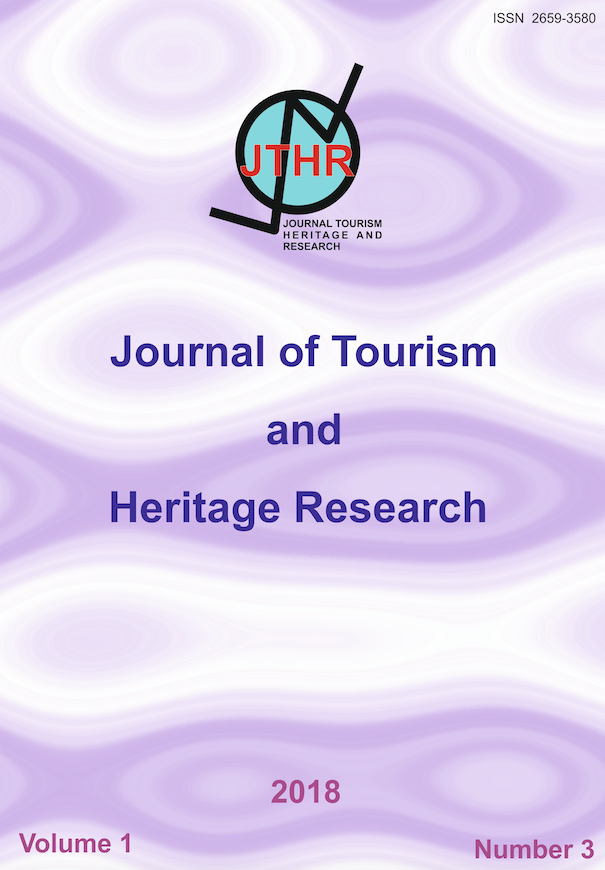 How to Cite
Torres Bernier, E., Vega Hidalgo, A., & Ortega Palomo, G. (2018, September 30). The gentrification process at lavapies neighborhood. Journal of Tourism and Heritage Research, 1(3), 41-70. Retrieved from https://jthr.es/index.php/journal/article/view/22
1.The works published in this magazine are subject to the following terms: Tourism Research Association (the publisher) preserves the patrimonial rights (copyright) of the published works, and favors and allows the reuse of them under the license of use indicated in point 2.
© Investur, 2017
2.The works are published in the electronic edition of the magazine under a Creative Commons Attribution-NonCommercial-NoDerivative 3.0 Spain (legal text) license. They can be copied, used, disseminated, transmitted and publicly displayed, provided that: i) the authorship and the original source of their publication (journal, editorial and URL of the work) are cited; ii) are not used for commercial purposes; iii) the existence and specifications of this license are mentioned.
3. Self-file conditions. Authors are allowed and encouraged to disseminate electronically the pre-print versions (version before being evaluated) and / or post-print (version evaluated and accepted for publication) of their works before publication, since it favors their circulation and earlier dissemination and with it a possible increase in its citation and scope among the academic community.