Huelva's salt pans: immaterial heritage and the new tourism
Celeste Jiménez de Madariaga

Universidad de Huelva

Laura del Valle Mesa

Universidad de Huelva
Keywords:
Intangible Heritage, sustainable heritage tourism, new tourism, traditional salt pans, Huelva
Abstract
In recent years, we are witnessing two contradictory facts about intangible cultural tourism: the tourist widespread growth in elements that are internationally recognized (of those that have the UNESCO seal) and, on the contrary, assets that are in disuse and in danger of extinction. This last case is the subject of our investigation.
Salt has been an indispensable element for its nutritional, cultural and economic values. In the province of Huelva there were many artisan salt pans. However, these salt pans have been closed, leaving only one currently active. We intend to show how new tourism can activate this immaterial heritage at risk.
References
Alonso, C., García, J., & Ménanteau, L. (2003). Las salinas de la bahía de Cádiz durante la Antigüedad: visión geoarqueológica de un problema histórico. SPAL, 12, 317-332.

Alonso, C., Jiménez, M., Cabrera, F. & Ariza, J, (2007). Geoarqueología y arqueometría de la sal. In Lagóstena, L., Bernal, D., & Arévalo, A. (eds.), CETARIAE, Salsas y Salazones en Occidente durante la Antigüedad (pp. 317-325). Oxford: John and Erica Hedges Ltd.

Atlántida. (2014). Proyecto Dinamización y puesta en valor del patrimonio integral de las Salinas litorales de España.
Bardin, I. (1986). Análisis de contenido. Madrid: Akal.

Campos, J. M., & Vidal, N. (2004). Las salazones del litoral onubense: La Cetaria de "El Eucaliptal". Huelva en su historia, 11, 51-82.

Compán, D. (2003). El legado de la pesca marítima en Andalucía. Propuesta para su recuperación. PH: Boletín del Instituto Andaluz del Patrimonio Histórico, 44, 58-63.

Consejería de Turismo y Deporte. Junta de Andalucía. (2018). Balance del año turístico en Andalucía. Sevilla: Junta de Andalucía. Retrieved January 8, 2019, from http://www.juntadeandalucia.es/turismoydeporte/publicaciones/estadisticas/bata_2017.pdf

Figuerola, M. (2018). Futuro del turismo, ordenación o masificación. Madrid: Universidad Nebrija. Mesa del Turismo.

Florido, D. (2013). Las almadrabas andaluzas bajo el consorcio nacional almadrabero (1928-1971): aspectos socio-culturales y políticos. Semata: Ciencias sociais e humanidades, nº 25, 1-35.

Hammersley, M., & Atkinson, P. (2004). Etnografía: métodos de investigación. Barcelona: Paidós Ibérica.

ICOMOS. (1999). Carta internacional sobre turismo cultural. La Gestión del Turismo en los sitios con Patrimonio Significativo. Madrid.

Jiménez, C., & García, J. J. (2019). Enhancing of the cultural fishing heritage and the development of tourism: A case study in Isla Cristina (Spain). Ocean and Coastal Management, 168, 1-11.

Jiménez, C., & Seño, A. (2018). Patrimonio Cultural Inmaterial de la Humanidad y Turismo. International Journal of Scientific Management and Tourism, 4-2, 349-366.

Martínez, J. (2012). La producción fenicio-púnica de sal en el contexto del Mediterráneo Occidental desde una perspectiva diacrónica. In Costa, B., & Fernández, J. H. (eds.), Sal, Pesca y Salazones Fenicios en Occidente. XXVI Jornadas de Arqueología Fenicio-Púnica (EIVISSA, 2011). Ibiza: Museo Arqueológico de Ibiza y Formentera.

Pedersen, A. (2005). Gestión del turismo en sitios del Patrimonio Mundial: Manual práctico para administradores de sitios del Patrimonio Mundial. Paris: Centro del Patrimonio Mundial de la UNESCO.

Plata, A. (2006). El ciclo productivo de la sal y las Salinas reales a mediados del siglo XIX. Álava: Arabaj Foru Aldundia. Diputación Foral de Álava.

Ríos, S. (2005). Origen y desarrollo de la industria de conserva de pescado en Andalucía (1879-1936). Revista de Historia Industrial, 29, 55-85.

Ríos, S. (2007). Evolución de la gran empresa almadrabero-conservera andaluza entre 1919 y 1936: Génesis y primeros pasos del Consorcio Nacional Almadrabero. Revista de Historia Agraria, 41, 57-82.

Román, E. (2014). Paisajes de la sal en Andalucía. Madrid: Universidad Politécnica de Madrid. Escuela Técnica Superior de Arquitectura de Madrid. Tesis Doctoral.

Romero, C. (2001). Ciudad, cultura y turismo: calidad y autenticidad. PH: Boletín del Instituto Andaluz del Patrimonio Histórico, 36(9), 100-109.

Ruiz, J. M. y López, J. A. (2005). La Almadraba de nueva Umbría. Huelva: Diputación de Huelva.

Ruiz, J. M. y López, J. A. (2012). Series históricas de capturas del atún rojo en las almadrabas del Golfo de Cádiz (siglos XVI-XXI). ICCAT, 67, 139-174.

Santana, A. (2003). Turismo cultural, culturas turísticas. Horizontes Antropológicos, 9(20), 31-57.

Toselli, C. (2006). Algunas reflexiones sobre el turismo cultural. Pasos. Revista de Turismo y Patrimonio Cultural, 2(4), 175-182.

UNESCO. (2018). Directrices operativas para la aplicación de la Convención para la Salvaguardia del Patrimonio Cultural Inmaterial. Sección del Patrimonio Cutural Inmaterial. División de Creatividad. UNESCO.

UNESCO. (2018). Textos fundamentales de la Convención para la Salvaguardia del Patrimonio Cultural Inmaterial de 2003 (2018th ed.). Sección del Patrimonio Cutural Inmaterial. División de Creatividad. UNESCO. Retrieved January 8, 2019, from https://ich.unesco.org/doc/src/2003_Convention_Basic_Texts-_2018_version-SP.pdf

Velasco, M. (2009). Gestión turística del patrimonio cultural: enfoques para un desarrollo sostenible del turismo cultural. Cuadernos de Turismo, 25, 237-253.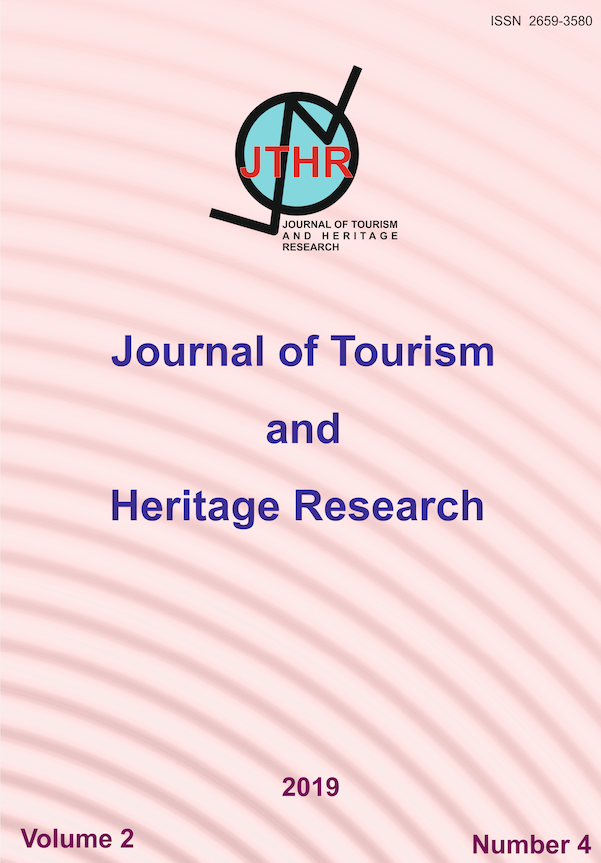 How to Cite
Jiménez de Madariaga, C., & del Valle Mesa, L. (2019, October 1). Huelva's salt pans: immaterial heritage and the new tourism. Journal of Tourism and Heritage Research, 2(4), 123-139. Retrieved from https://jthr.es/index.php/journal/article/view/105
This work is licensed under a Creative Commons Attribution 4.0 International License.
1.The works published in this magazine are subject to the following terms: Tourism Research Association (the publisher) preserves the patrimonial rights (copyright) of the published works, and favors and allows the reuse of them under the license of use indicated in point 2.
© Investur, 2017
2.The works are published in the electronic edition of the magazine under a Creative Commons Attribution-NonCommercial-NoDerivative 3.0 Spain (legal text) license. They can be copied, used, disseminated, transmitted and publicly displayed, provided that: i) the authorship and the original source of their publication (journal, editorial and URL of the work) are cited; ii) are not used for commercial purposes; iii) the existence and specifications of this license are mentioned.
3. Self-file conditions. Authors are allowed and encouraged to disseminate electronically the pre-print versions (version before being evaluated) and / or post-print (version evaluated and accepted for publication) of their works before publication, since it favors their circulation and earlier dissemination and with it a possible increase in its citation and scope among the academic community.