Effective local competitiveness based on productive activity towards cultural tourism.
Aída Dinorah García Alvarez

Victor Hugo Robles Francia

Jorge Rebollo Meza
Keywords:
Tourism, Competitiveness, Agribusiness.
Abstract
This document contains information about the competitive reactivation of the cocoa producing farm "La Victoria", an agribusiness located in the municipality of Paraíso Tabasco, Mexico, its effectiveness in local economic development, towards a tourist projection.
Some research mentions the alternative of linking agribusiness with sustainable rural tourism as an opportunity to boost the rural areas of the State. This point of origin is the connection of Cultural Tourism and Social Transformation.
The objective of this contribution as a first stage is: To carry out an analysis with theoretical support, in the field of tourism, local cultivation and sustainable local development projects. In a second moment, examine the case of the Hacienda "La Victoria" and its project of reactivation and sustainable development in support of the local economy. Finally present the evaluation, with statistical data on the success trend of this type of activity effective competitiveness.
References
Acerenza, M. (2001). Administración del Turismo (Vol. Vol 1.). México: Editorial Trillas.
BLANKE, J., & CHIESA, T. (2009). The Travel & Tourism Competitiveness Report 2009. World Economic Forum (WEF).
Budowski, G. (2001). Modalidades agro turísticas y sus limitaciones.
Camacho Gómez, M. (2018). Competencias directivas del empresario agroindustrial . pensamiento y gestión, N° 44 , 15.
Da Silva Sousa, L. (2006). Turismo e desenvolvimento local sustentável na Paraíba. Obtenido de http://www.eumed.net/libros/2006b/lss/
Fletes Ocón, H. B. (2006). Cadenas, redes y actores de la agroindustria en el contexto de la globalización. El aporte de los enfoques contemporáneos del desarrollo regional. Espiral, Estudios sobre Estado y Sociedad.
H. Ayuntamiento de Paraíso. (2010). PARAÍSO. Obtenido de Enciclopedia de Los Municipios y Delegaciones de México; Estado de Tabasco: http://www.inafed.gob.mx/work/enciclopedia/EMM27tabasco/municipios/27014a.html
Ibáñez Pérez, R. M. (2011). DIAGNÓSTICO DE LA CALIDAD Y COMPETITIVIDAD DEL SECTOR TURÍSTICO EN MÉXICO. Cuadernos de turismo.
INEGI. Instituto Nacional de Estadística y Geografía. (2018). Encuestas de viajeros internacionales. Serie mensual de agosto a noviembre 2018. México. Obtenido de Encuestas.
Instituto Interamericano de Cooperación para la Agricultura (IICA). (2010). Desarrollo de los agronegocios y la agroindustria rural en América: Conceptos, instrumentos y casos de cooperación técnica. San José, C.R.
Marvin Blanco, M., & Hernando Riveros , S. (Oct-Dic de 2011). El agroturismo como diversificación de la actividad agropecuaria y agroindustrial. Desarrollo de los agronegocios y la agroindustria rural en América Latina y el Caribe. Conceptos, instrumentos y casos de cooperación técnica, 17(49), 117-125.
Molina, S. (2004). Turismo y Ecología. México: Editorial Trillas, Serie Turismo Trillas.
Morales Zamorano, L., Cabral Martell, A., Aguilar Valdes, A., Velzasco, A. L., & Holguín Moreno, O. (julio-diciembre de 2015). AGROTURISMO Y COMPETITIVIDAD, COMO OFERTA DIFERENCIADORA: EL CASO. (S. M. A.C., Ed.) Revista Mexicana de Agronegocios, vol. 37, pp. 185-196.
Moreno, M., & Coromoto, M. (2011). Turismo y producto turístico.Evolución, conceptos,componentes y clasificación. Visión general.
Morett Sanchez, J. C. (1986). Panorama general de la agroindustria en México. Revista de Geografía Agrícola., (11-12), 23-47.
Paredes, F. (1998). El factor alojamiento en el panorama del turismo rural. Ponencia del Seminario "Turismo Social en la Región Centroamericana: una alternativa para equidad, la calidad de vida y el ambiente". IDESPO/ UNA.
Ponce, A. (03 de octubre de 2008). Un paraíso para emprender. Entrepreneur. Obtenido de Entrepeneur: https://www.entrepreneur.com/article/260998
Rosa, A. D. (27 de agosto de 2018). México, el sexto país más visitado del mundo: OMT. El Economista. Obtenido de https://www.eleconomista.com.mx/empresas/Mexico-el-sexto-pais-mas-visitado-del-mundo-OMT-20180827-0042.html
SAGARPA (Secretaría de Agricultura, Ganadería, Desarrollo Rural, Pesca y Alimentación). (2016). Secretaría de Agricultura y Desarrollo Rural 2017 – 2030. . México. Obtenido de https://www.gob.mx/cms/uploads/attachment/file/255627/Planeaci_n_Agr_cola_Nacional_2017-2030-_parte_uno.pdf
UNWTO, Organización Mundial del Turismo. (2017). Panorama OMT del turimo internacional. Obtenido de https://www.e-unwto.org/doi/pdf/10.18111/9789284419043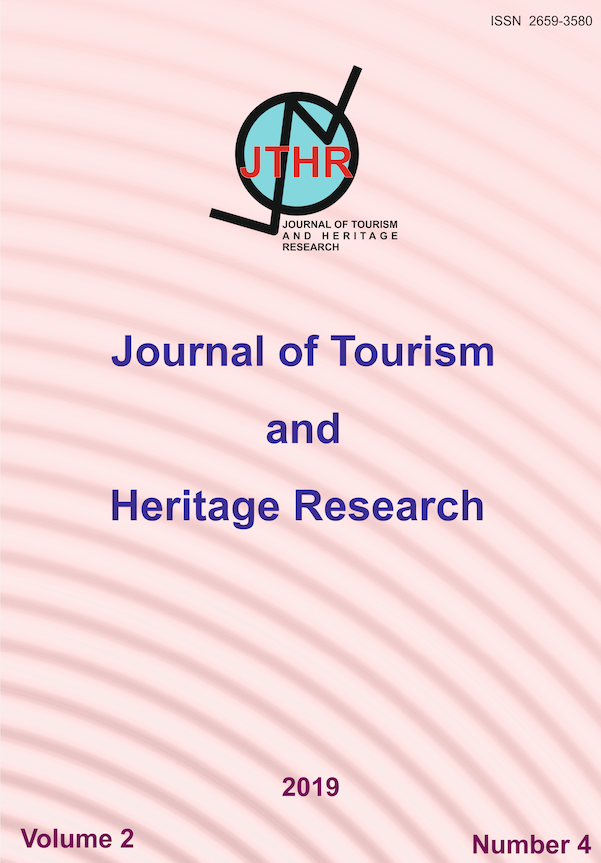 How to Cite
García Alvarez, A. D., Robles Francia, V. H., & Rebollo Meza, J. (2019, October 1). Effective local competitiveness based on productive activity towards cultural tourism. Journal of Tourism and Heritage Research, 2(4), 52-66. Retrieved from https://jthr.es/index.php/journal/article/view/101
This work is licensed under a Creative Commons Attribution 4.0 International License.
1.The works published in this magazine are subject to the following terms: Tourism Research Association (the publisher) preserves the patrimonial rights (copyright) of the published works, and favors and allows the reuse of them under the license of use indicated in point 2.
© Investur, 2017
2.The works are published in the electronic edition of the magazine under a Creative Commons Attribution-NonCommercial-NoDerivative 3.0 Spain (legal text) license. They can be copied, used, disseminated, transmitted and publicly displayed, provided that: i) the authorship and the original source of their publication (journal, editorial and URL of the work) are cited; ii) are not used for commercial purposes; iii) the existence and specifications of this license are mentioned.
3. Self-file conditions. Authors are allowed and encouraged to disseminate electronically the pre-print versions (version before being evaluated) and / or post-print (version evaluated and accepted for publication) of their works before publication, since it favors their circulation and earlier dissemination and with it a possible increase in its citation and scope among the academic community.