From reflection to a methodological proposal on the image of tourist territories and her heritage. la ruta de don vasco
Katya Meredith García Quevedo

University Michoacana of  San Nicolás of Hidalgo, México

Eugenio Mercado López

University Michoacana of  San Nicolás of Hidalgo, México
Keywords:
Tourist image, tourist territory, Heritage and Ruta de Don Vasco
Abstract
Tourism, as a key element of contemporary public policies, articulates and shapes territories and in their need to expand, has promoted, with the argument of adding development to rural regions, various tourism projects and programs. This trend is manifested globally with the creation of tourist routes and the tourist enhancement of cultural itineraries; In Mexico, this trend began to be promoted after the consolidation of the Pueblos Mágicos program. An essential part of the tourism dynamic, it is the image that serves as a link between the visitor and the destination. The tourist image selects and highlights milestones, while simplifying features of the landscape and cultural manifestations. Through these actions, tourism affects the collective imagination of both visitors and residents and managers, and thereby influences the appreciation of their environment, their heritage, their uses and customs. Which conditions the decision to conserve or modify these manifestations in function of the tourist image projected for the site, and collaterally impacts in the management of the same. Thus, this communication proposes a reflection and a methodology that, although not yet fully applied, takes into account quantitative techniques (inventories and content analysis) and qualitative ones (correlational analysis); to assess the incidence of tourism, in particular of the tourist image, on the landmarks of the tourist territory of La Ruta de Don Vasco, according to the state of conservation and management of its heritage.
References
ACDT 2015. Agenda de Competitividad del Destino Turístico de Santiago de Querétaro, Querétaro.

Bertoncello, R. (2002). Turismo y territorio. Otras prácticas, otras miradas. Aportes y Transferencias, 6 (2), 29-50.

Codeluppi, V. (2007). El papel social de la publicidad. Pensar la publicidad, 1 (1), 149‐155.
El Informador (1989). Marzo 22

García Martín, M. (2017). Territorios en venta: la periferia urbana de Sevilla proyectada en la publicidad inmobiliaria. XXV Congreso de Geógrafos Españoles: Naturaleza, territorio y ciudad en un mundo global, Madrid, 25-27 de octubre.

García Quevedo. K. M. (2017). Funcionalidad turística de las rutas turísticas de Querétaro, México. Una aproximación a la valoración del paisaje y del patrimonio cultural. XXV Congreso de Geógrafos Españoles: Naturaleza, territorio y ciudad en un mundo global, Madrid, 25-27 de octubre.

González Ávila, María E. (2011). Una propuesta para desarrollar turismo rural en los municipios de Zacatecas, México: las rutas agro-culturales. PASOS Revista de Turismo y Patrimonio Cultural, 9(1), 129–145.
Hall, S. (Ed.). (1997). Representation: Cultural representations and signifying practices (2). S
age.
Hernández López, E. & Acosta Collazo, A. (2014). Imaginarios y patrimonio urbano arquitectónico. Las representaciones y el imaginario radical hacia los conflictos y propuestas del Centro Histórico de la ciudad de Guanajuato [Gto.], México. Labor & Engenho, Campinas [Brasil], 8 (2), 33-51.

Hernández Ramírez, J., (2011). Los caminos del patrimonio. Rutas turísticas e itinerarios culturales. PASOS Revista de Turismo y Patrimonio Cultural, 9(2), 225–236.

Hernández Sampieri, R., Fernández Collado, C., & Baptista Lucio, P. (2014). Metodología de la investigación. Sexta Edición. Editorial Mc Graw Hill. México.

Hiriart Pardo, C. & Mínguez García, C. (2016). Coyuntura, retos, oportunidades y estrategias para el desarrollo de un producto turístico cultural en México: la Ruta Don Vasco en Michoacán. International Journal of Scientific Managment Tourism, 3, 369-396.

Hiriart, Pardo, C. A. (2018). El turismo cultural sustentable en la Ruta Don Vasco en Michoacán (México). Gremium, Revista de Restauración Arquitectónica, Editorial Restauro. Vol. 5, (9).

INEGI, 2016. http://www.inegi.org.mx/est/contenidos/proyectos/cn/tur/ Consultado Mayo de 2018
Jenkins, O. H. (1999). Understanding and measuring tourist destination images. The International Journal of Tourism Research, 1(1),

Krippendorff, K. (1980). Content analysis. Beverly Hills. California: Sage Publications, 7, l-84.

Lista, A., & Sabaté Bel, J. (2001). Projectant l'Eix del Llobregat: paisatge cultural i desenvolupament regional-designing the Llobregat Corridor: cultural landscape and regional development. Universitat Politècnica de Catalunya–Massachusetts Institute of Technology: Barcelona.

Luna, M.E. (2003). Estructura territorial del turismo en ciudades históricas: caso de San Miguel de Allende, Guanajuato. México: Universidad Nacional Autónoma de México (Tesis de Licenciatura).

Martín, A. S. (2002). ¡Mírame!: teoría y práctica de los mensajes publicitarios. Ediciones Eneida.

Medina Molina, C., Rey Moreno, M. y Rufín Moreno, R. (2010). Imagen de los destinos turísticos urbanos y lealtad del turista...: ¿Actitud o comportamiento?. Estudios y Perspectivas en Turismo, 19 (2), 279-298.

Mercado López, E. (2015). El turismo y la protección legal del aspecto típico de las poblaciones en el México posrevolucionario. Palapa, 3(1), 57-22.

Mercado López, E. (2017). La imagen turística de las ciudades patrimonio y los pueblos mágicos de México desde una perspectiva histórica. Ed. Ilia Alvarado Sizzo & Álvaro López. Pasos, Revista de Turismo y Patrimonio Cultural, 22(1), 55-80

Morgan, N., & Pritchard, A. (1998). Tourism promotion and power: Creating images, creating identities. John Wiley & Sons Ltd.

Ortiz Mena, A. (1998). El desarrollo estabilizador: reflexiones sobre una época. México: FCE - El Colegio de México.
Ruiz, M. P., & Menero, E. M. O. (2011). Procesos de «re-imageneering» turístico: el eclipse de la identidad local de Valencia. Cuadernos de Turismo, (28), 191-214.

Sabaté Bel J. y Galindo G.J. (2009). El valor estructurante del patrimonio en la transformación del territorio. Apuntes, 22 (1), Bogotá, Colombia. 20-33.

SECTUR, 2014 http://www.sectur.gob.mx/programas/programas-regionales/ Consulta: Mayo de 2018
Serrano Montes J.L. y Caballero Calvo, A. (2017). ¿Cómo influyen los logotipos en las actitudes sociales hacia el paisaje de las áreas protegidas? Una aproximación al caso de los parques nacionales y naturales de España. XXV Congreso de Geógrafos Españoles: Naturaleza, territorio y ciudad en un mundo global, Madrid, 25-27 de octubre.

Torres i Prat, J. (2004). Consumo, luego existo. Poder, mercado y publicidad. Barcelona, Icaria.

Torres, Camacho, Jesús. (2017). Los premios de embellecimiento: paisaje e identidad turística local. XXV Congreso de Geógrafos Españoles: Naturaleza, territorio y ciudad en un mundo global, Madrid, 25-27 octubre.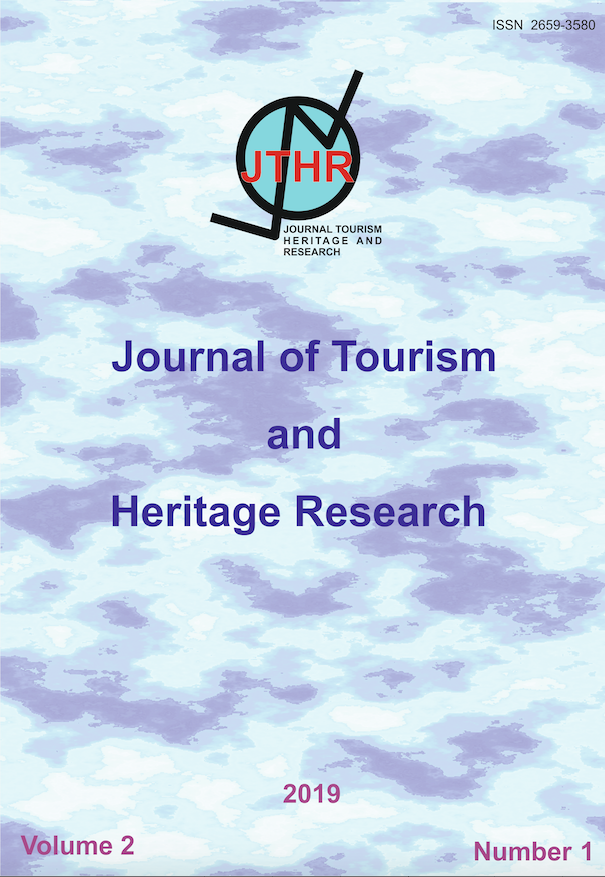 How to Cite
García Quevedo, K. M., & Mercado López, E. (2019, June 26). From reflection to a methodological proposal on the image of tourist territories and her heritage. la ruta de don vasco. Journal of Tourism and Heritage Research, 2(1), 260-272. Retrieved from https://jthr.es/index.php/journal/article/view/61
This work is licensed under a Creative Commons Attribution 4.0 International License.
1.The works published in this magazine are subject to the following terms: Tourism Research Association (the publisher) preserves the patrimonial rights (copyright) of the published works, and favors and allows the reuse of them under the license of use indicated in point 2.
© Investur, 2017
2.The works are published in the electronic edition of the magazine under a Creative Commons Attribution-NonCommercial-NoDerivative 3.0 Spain (legal text) license. They can be copied, used, disseminated, transmitted and publicly displayed, provided that: i) the authorship and the original source of their publication (journal, editorial and URL of the work) are cited; ii) are not used for commercial purposes; iii) the existence and specifications of this license are mentioned.
3. Self-file conditions. Authors are allowed and encouraged to disseminate electronically the pre-print versions (version before being evaluated) and / or post-print (version evaluated and accepted for publication) of their works before publication, since it favors their circulation and earlier dissemination and with it a possible increase in its citation and scope among the academic community.