TRAVELLERS IN SERRA DA ESTRELA (PORTUGAL): TOURISM AND LITERATURE
investur investur

+34 679218154

Isilda Leitão

Universidade Nova de Lisboa
Abstract
The Serra da Estrela (Mountain of Estrela) a landscape area integrated in the Serra da Estrela Natural Park, was, from the 18th century onwards, a place of interest for erudite travellers, including scientists and intellectuals. It was they, through their pioneering spirit and their reports and stories, who helped to boost the Serra, in the interest that it presents today: a tourist destination, essentially of nature, but also of anthropological and historical interest.
However, the Serra was shaken by devastating fires in 2022. We think that Literary Tourism, based on this literary memory, could favour this protected area. The objective of this work is, therefore, to provide literary contents about the Serra, in order to enrich it with other types of tourism experiences, namely literary itineraries.
The methodology adopted is qualitative, namely documentary research, based on testimonies collected through the study of documents (historical, geographical, literary) and materials, including field studies and photographic surveying, that can be re-examined, in order to discover new meanings and interpretations. After the introduction, we make a brief synthesis about the importance of literary tourism in the context of the development of tourist-cultural experiences in a natural environment. Next, we refer to authors and works that made the Serra famous and we address the causes that motivated scientists to explore it. We end with some final reflections.
References
Aguiar, J. (1992). A Voz dos Deuses. Lisboa, ASA (13ª ed.).
Angelina, M, Brandão, R. (2003). Portugal Pequenino. Lisboa, Ed. Vega, 2ª ed.
Ardérius, V.M. (2016). Reflexões sobre Vergílio Ferreira. Guarda, Ed. V. M. Ardérius.
Bridge, A., Lowndes, S. (2009). Duas Inglesas em Portugal. Uma viagem pelo País nos Anos 40. Lisboa, QUIDNOVI.
Buescu, H.C. (1990). Incidências do Olhar: Percepção e Representação. Lisboa, Ed. Caminho.
Buescu, H.C. (2012). Paisagem Literária. Imanência e Transcendência, Colóquio-Letras, nº 179, Janeiro/Abril. Lisboa, Fundação Calouste-Gulbenkian, pp. 9-17.
Castro, F. (1985). A lã e a neve. Lisboa, Círculo de Leitores.
Correia, J. de A. (1955). Cartas da Montanha. Régua, Imprensa do Douro.
Daveau, S. (2005). Portugal Geográfico. Porto, Edições João Sá da Costa, 4ª ed.
Diós, A. M. (1985). Escritos de Unamuno sobre Portugal. Paris, Foundation Calouste Gulbenkian.
Fabião, C., Guerra, A. (1998). Viriato: em torno da iconografia de um mito. Actas dos IV Cursos Internacionais de Verão de Cascais, Cascais, Câmara Municipal de Cascais, pp. 33-79.
Link, H. F. (2005). Notas de uma viagem a Portugal e através de França e Espanha. Lisboa, Biblioteca Nacional.
Lisboa, I. (1997). Crónicas da Serra. Lisboa, Ed. Presença (2ª ed.).
Mattoso, J. (1988). A Identidade Nacional. Lisboa, Fundação Mário Soares, Gradiva.
Merveileux, C. F. de (1989). Memórias Instrutivas sobre Portugal. O Portugal de D. João V, visto por três forasteiros. Lisboa, Biblioteca Nacional.
Mourão, P. (1997). Prefácio. Crónicas da Serra. Lisboa, Ed. Presença (2ª ed.).
Navarro, E. (1884). Quatro dias na Serra da Estrela. Notas de um passeio. Porto, Livraria Civilisação.
Pereira, A. N. (1979). Poema da Serra da Estrela. Covilhã, Tip. «Notícias da Covilhã».
Pereira, V., Pena, A. (coord.) (2008). Roteiro arqueológico da Guarda. Território, Paisagens e Artefactos. Guarda, Câmara Municipal da Guarda.
Romana, J. M. T. Mota da (2003). Antologia de escritores da Guarda. Guarda, Câmara Municipal da Guarda.
Santa-Rita, G. (1982). Portugal. A Expressão da Paisagem. Lisboa, Direcção-Geral de Divulgação.
Santos, L. R. dos (2001). Kant e o Regresso à Natureza Como Paradigma Estético, Natureza e Ambiente, Representações na Cultura Portuguesa. Lisboa, Centro de Filosofia da Universidade de Lisboa, pp. 169-193.
Saraiva, A. (2017). Vergílio Ferreira, Seminarista nos Seminários da Guarda e do Fundão. Porto, Editora Exclamação.
Saramago, J. (1995). Viagem a Portugal. Lisboa, Editorial Caminho, 11ª Ed.
Torga, M (1993). Portugal. Coimbra, Ed. do Autor, 6ª Ed.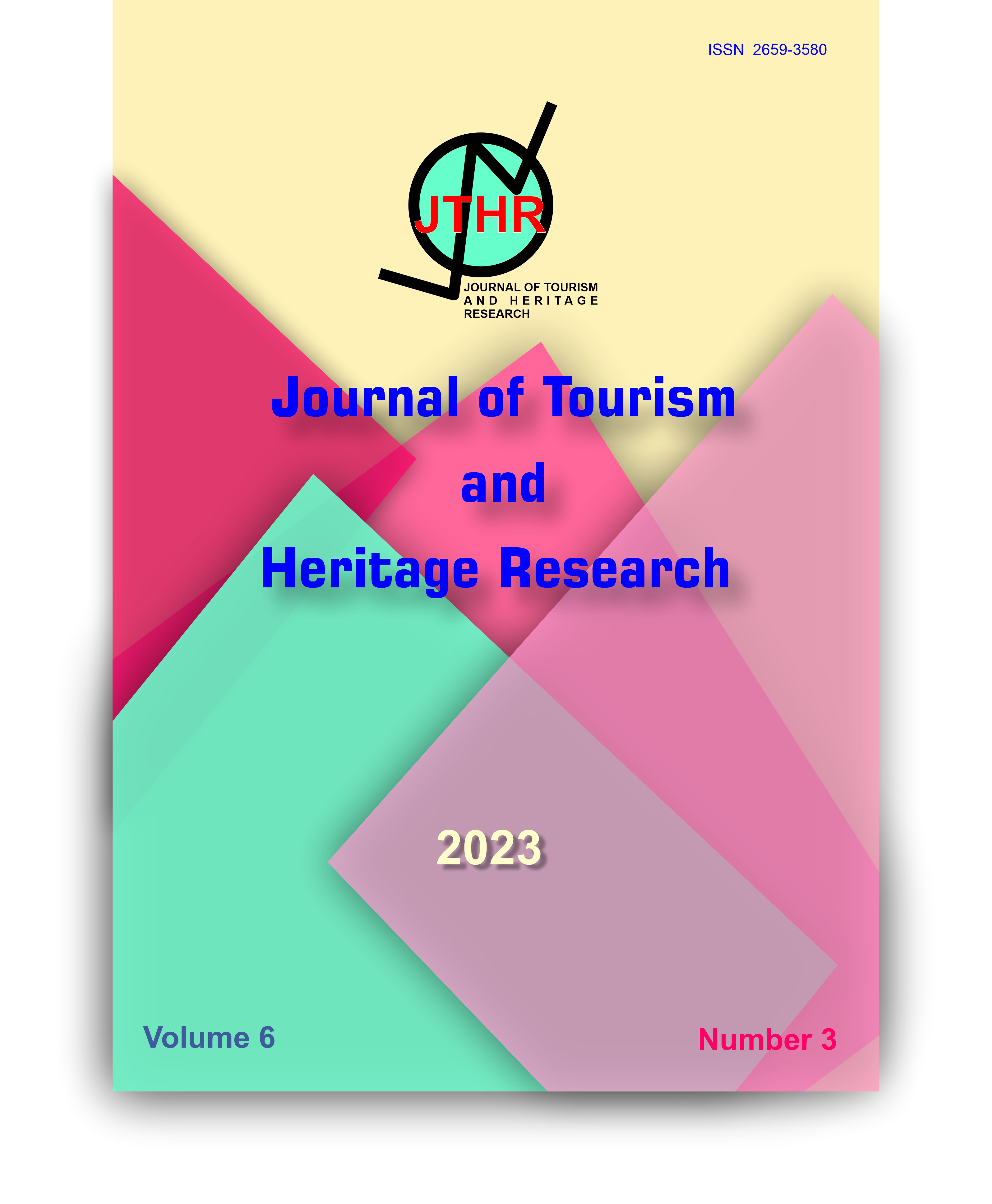 How to Cite
investur, investur, & Leitão, I. (2023, August 7). TRAVELLERS IN SERRA DA ESTRELA (PORTUGAL): TOURISM AND LITERATURE. Journal of Tourism and Heritage Research, 6(3), 181-218. Retrieved from https://jthr.es/index.php/journal/article/view/506
This work is licensed under a Creative Commons Attribution 4.0 International License.
1.The works published in this magazine are subject to the following terms: Tourism Research Association (the publisher) preserves the patrimonial rights (copyright) of the published works, and favors and allows the reuse of them under the license of use indicated in point 2.
© Investur, 2017
2.The works are published in the electronic edition of the magazine under a Creative Commons Attribution-NonCommercial-NoDerivative 3.0 Spain (legal text) license. They can be copied, used, disseminated, transmitted and publicly displayed, provided that: i) the authorship and the original source of their publication (journal, editorial and URL of the work) are cited; ii) are not used for commercial purposes; iii) the existence and specifications of this license are mentioned.
3. Self-file conditions. Authors are allowed and encouraged to disseminate electronically the pre-print versions (version before being evaluated) and / or post-print (version evaluated and accepted for publication) of their works before publication, since it favors their circulation and earlier dissemination and with it a possible increase in its citation and scope among the academic community.