The "pulque" the drink of the gods with milenary value and tradition
Keywords:
Pulque, Tourism, heritage, gastronomy
Abstract
In Mexico, there are a large number of heritage drinks such as sotol, bacanora, mezcal, sisal, colonche, pozol and pulque among many others. However, there are few actions that have been carried out to take advantage of them as a tourist resource. With the intention of supporting the production of beverages with cultural representation, the present work is the results of an investigation on pulque, which is a sour drink with tradition in the country, whose origin is pre-Columbian, and which was considered as the "drink of the gods". Pulque is elaborated in a hygienic way, it has the necessary characteristics to be part of an attractive gastronomic route for tourism.The objective was to analyze some aspects of the white drink, in order to promote a tourism marketing strategy that could be successful by disseminating information about its tradition, elaboration process, preparation modalities, routes, farms and pulquerías. It is intended to promote the ancestral value that is part of Mexican folklore.
Documentary research was done with a qualitative approach, secondary sources were consulted. Conclusions Lack of knowledge of the properties of the drink, The diffusion of the image of pulque is scarce and it is necessary to revalue the drink both nationally and internationally by the responsible agencies.
References
Aguilar, B., Enríquez, J., Rodríguez, G., Granados D. y Martínez, B. (2014). El estado actual de agave salmiana y mapisaga del Valle de México. Revista Mexicana de Agroecosistemas 1(2), 106-120.www.itvalleoaxaca.edu.mx/posgradoitvo/.../volumen-1-numero-2.ht

Aldana, P. y Fuentes, A. 2010. La ruta del Tequila. [DVD]. TEVEUNAM. México

Alpízar, V. & Maldonado, M. (2009). Integración de la ruta del vino en Querétaro, un producto
innovador. Quivera, 11(2) 97-109

Animal Gourmet. (año)https://www.animalgourmet.com/2014/08/13/7-cosas-que-deberias-saber- acerca-del-pulque/
Bessière, J. (2012). Innovation et patrimoine alimentaire en espace rural. Versailles:Quae.

Álvarez, M. (2008). El patrimonio ya no es lo que era: los recursos alimentarios entre la diferencia
cultural y la desigualdad social. En álvarez, M. y Medina, F.X. (dir.), Identidades en el
plato. Barcelona: Icaria, 25-44.

Barceló, Q. (2007). Turismo y patrimonio alimentario: un análisis de conceptos. Antropología y
turismo. Claves culturales y disciplinares. Universidad Autónoma del Estado de Hidalgo-Plaza
y Valdés Editores. México.
Baena, G. (2002). Instrumentos de Investigación, 22a. reimp., Ed. Editores Unidos Mexicanos,
México.

Bustamante, R. G., & Marín, J. G. (2014). Revista Pulquimia. Indicar volumen y paginas Colección archivo Casasola.(año)https://sinafo.inah.gob.mx/coleccion-archivo-casasola/

Cúlhuac, E. (2013). Análisis de la cadena productiva del pulque del Estado de México y
Tlaxcala. Maestría en agroindustrial rural, desarrollo territorial y turismo agroalimentario,
Universidad Autónoma del Estado de México. Estado de México, México.

De León, A., Escalante, P., Barba de la Rosa, A., Blaschek, H. (20082). Optimization of fermentation
conditions for the production of the mezcal from Agave salmiana using response surface
methodology. Chemical Engineering and Processing: Process Intensification, 47
(1), 76-82.

De León, A., Escalante, P., Jiménez, M., Ordoñez, L., Flores, J., Barba, A. (20081). Characterization
of Volatile Compounds from Ethnic Agave Alcoholic Beverages by Gas Chromatography-Mass
Spectrometry. Food Technology, 46 (4), 448-455.

Erlwein, S., Mira, T. J. R., & Velasco, A. (2013). Proceso de elaboración del pulque, su importancia
económica y concepción social en Apan, Hidalgo. Ejercicios etnográficos, aprendiendo a
investigar,indicar el numero 59-103.

El Financiero.https://www.elfinanciero.com.mx/opinion/guillermo-ysusi/de-neutle-y-curados

El Universal. https://www.eluniversal.com.mx/menu/las-pulquerias-mas-famosas-de-la-ciudad-de-
mexico

Escalante, A. y Gosset, G., (2008)."El pulque, una bebida con gran pasado y ¿un futuro incierto?" en Academia de Ciencias de Morelos. [En línea] disponible en: http://acmor.org.mx/descargas/08_jun_09_pulque.pd

Garza, E (1988) "El Positivismo, Polémica y Crisis" en Hacia un Metodología de la Reconstrucción. México, D.F.: Porrúa

Gourmet de México. (año)http://mexicolindoyquerido.com.mx/mexico2/world/120-us-canada- 5/504-agave-pulquero

Gourmet de México. (año).https://gourmetdemexico.com.mx/bebidas/los-pulques-curados

Hall, M. C; Sharples, L; Mitchell, R; Macionis, N. y Cambourne, B. 2003 Food tourism around the
world. Development, management and markets. ButterworthHeinemann, Oxford

INPRFM (Instituto Nacional de Psiquiatría Ramón de la Fuente Muñiz) (2011). Encuesta Nacional de Adicciones: Reporte de Alcohol. México: inprfm.

Martínez, J. A. (2000). Testimonios sobre el maguey y el pulque. Editor y lugar de edición
Meraz, L., Valderrama, J.A. y Maldonado, S.E. (2012). "La ruta del vino en el Valle de Guadalupe, Baja California, México. Perspectiva frente al cambio climático: una primera aproximación". En: López, L.A., Aboites, G. y Martínez, F.

(2012). Globalización y agricultura. Nuevas perspectivas en la sociología rural. México.

Morére, N. (2017). Haciendo camino en el turismo cultural. Methaodos, 5(1), 4-8 Museo del Pulque.https://www.mupyp.mx/es/

OMT (2013). Estudio sobre el turismo y el patrimonio cultural inmaterial. Madrid, España. Organización Mundial del Turismo

Pacheco, J. 2010. Neocultura del pulque. Periódico Reforma. México

Ramírez, M. (2012). El Rey del Pulque. Ignacio Torres Adalid y la industria pulquera. México: Unam

Reporte Índigo.https://www.reporteindigo.com/indigonomics/pulque-la-bebida-se-niega-a- desaparecer-productores-impulso-nuevas-generaciones-competencia/

Revista Pulquimia, Año 1, Volumen 1, Número 4, Abril del 2014, Pedro Loza 719, Guadalajara Jalisco, México, C.P. 44100. Publicación editada por el "Colectivo Pulquimia: Trasmutando la Decadencia en Maravilla. Indicar autor y articulo

Rudiño, L. 2015. Neopulquerias: pulque y algo más. La Jornada del Campo. México.

SAGARPA (Secretaria de Agricultura, Ganadería, Desarrollo rural, Pesca y Alimentación .Esquematización de la cadena Agroalimentaria). 2009.Obtenida el 5 de diciembre del 2012, http://www.sagarpa.gob.mx

SECTUR, CESTUR (2012) Hidalgo en la ruta, "cultura del maguey". Secretaria de Turismo, Cámara Nacional de la Industria de Restaurantes y Alimentos Condimentados. Disponible en: http://rutasgastronomicas.sectur.gob. mx/descargas/rutas/folletos/HGO.pdf. Consultado: 09 de mayo de 2015.

SECTUR. 2002. Estudio estratégico de viabilidad para el segmento de Turismo Cultural en México.
http://www.sectur.gob.mx/hashtag/2015/05/14/turismo-cultural/h
SIAP (2019).https://www.gob.mx/siap/articulos/maguey-pulquero?idiom=es

UNESCO (2003). https://es.unesco.org/themes/patrimonio-cultural-inmaterial

UNESCO (2010). ch.unesco.org/es/RL/la-cocina-tradicional-mexicana-cultura-comunitaria- ancestral-y-viva-el-paradigma-de-michoacan-00400

Vargas, J. G. (2013). Desarrollo regional y sustentabilidad: turismo cultural en la región sur de Jalisco. Revista Dimensión Empresarial, 11(2) 36-50.

Villalobos, L. B. (2007). Las bebidas indígenas fermentadas y los patrones de consumo de alcohol
de los grupos étnicos. El cotidiano, 22(146), 5-11.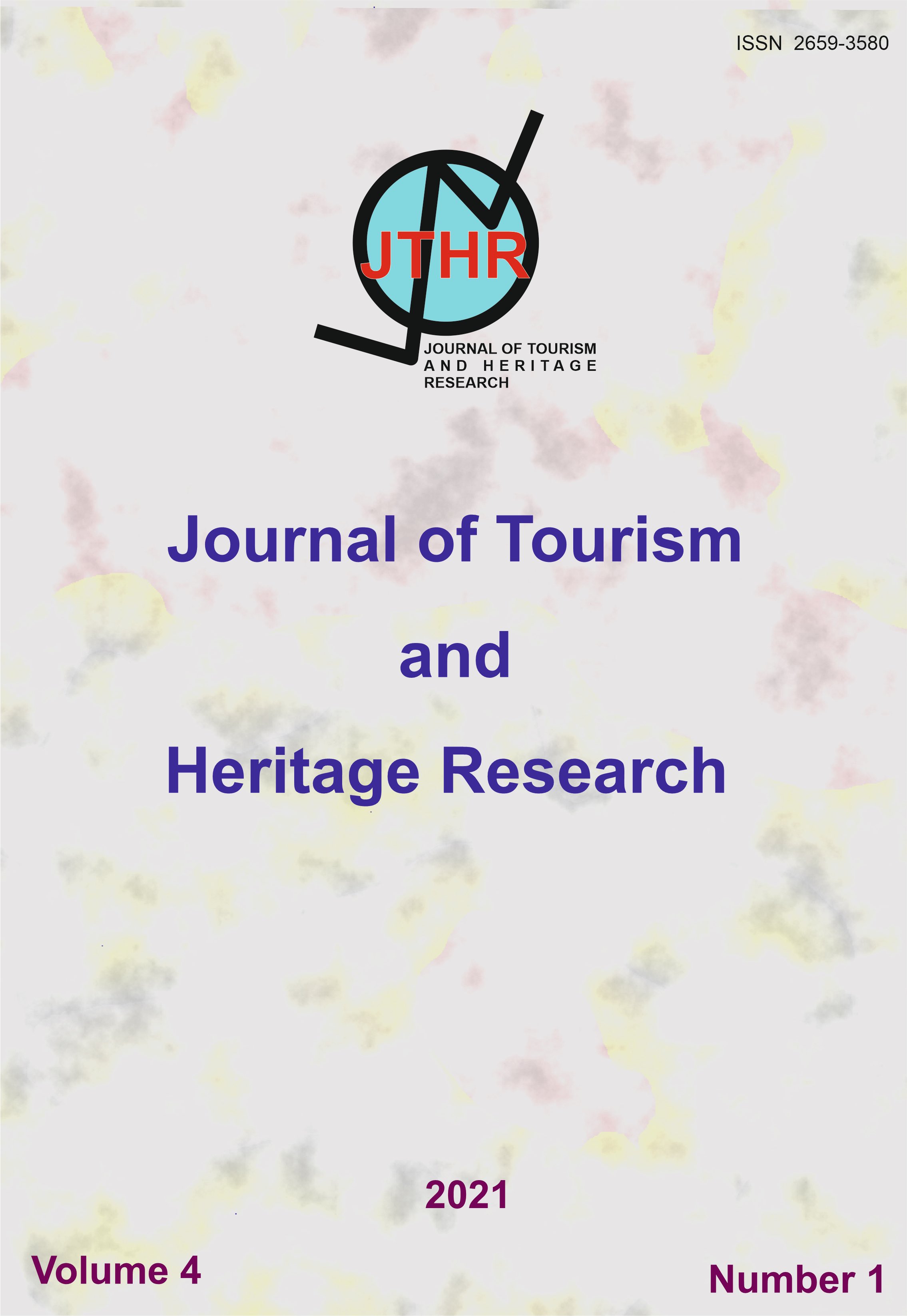 How to Cite
Navarrete-Torres, M. del C., & García Muñoz- Aparicio, C. (2021, January 1). The "pulque" the drink of the gods with milenary value and tradition. Journal of Tourism and Heritage Research, 4(1), 20-36. Retrieved from https://jthr.es/index.php/journal/article/view/244
This work is licensed under a Creative Commons Attribution 4.0 International License.
1.The works published in this magazine are subject to the following terms: Tourism Research Association (the publisher) preserves the patrimonial rights (copyright) of the published works, and favors and allows the reuse of them under the license of use indicated in point 2.
© Investur, 2017
2.The works are published in the electronic edition of the magazine under a Creative Commons Attribution-NonCommercial-NoDerivative 3.0 Spain (legal text) license. They can be copied, used, disseminated, transmitted and publicly displayed, provided that: i) the authorship and the original source of their publication (journal, editorial and URL of the work) are cited; ii) are not used for commercial purposes; iii) the existence and specifications of this license are mentioned.
3. Self-file conditions. Authors are allowed and encouraged to disseminate electronically the pre-print versions (version before being evaluated) and / or post-print (version evaluated and accepted for publication) of their works before publication, since it favors their circulation and earlier dissemination and with it a possible increase in its citation and scope among the academic community.