The influence of the tourism on the education
Nastute Pavlova

Universidad de Almería

Isabel Ana Eguizábal-Román

Universidad de Almería

Ina Pavlova

Universidad de Almería
Keywords:
Tourism, Education, Culture
Abstract
Tourism influences in the culture, education and health of the people. The activity of tourism and its benefits are studied from several disciplines. The relation between tourism and education is studied and analyzed by researchers from different knowledge areas. It became more usual from the middle of 20th century onwards. Specifically, the number of documents on the importance of tourism in the education, has been growing in the last years, mainly since 2005 until our days. The country which research mostly about this topic is United States, followed by Austria and in the third place United Kingdom. Spain ranks sixth in the study of these variables. The knowledge areas that have been realized more publications are Social Sciences with 50,56 %, Business and Enterprise with 39,84 % of whole production, respectively. This research analyzes the positive relation that exists between tourism and education, and for that we present bibliometric analysis of scientific literature about tourism and education since 1966 until the present (more than 50 years). This study allows to analyze the evolution of last performed investigations about tourism and education, as well as, the main institutions, countries and authors of scientific community on this matter.
References
Alberto, M. J. (2011). Los efectos socio-culturales del Turismo. Revista de Investigación en Turismo y desarrollo local. Vol 4, Nº 9.

Ardanuy, J. (2012). Breve introducción a la bibliometría. Barcelona. Editorial: Universidad de Barcelona.

Aurora, A. (1998). Teoría y práctica del Viaje Educativo. Ministerio de Educación. Madrid.

Codina, L. (2017). Cómo utilizar Scopus y Web of Science o ¿porqué cuesta tanto usar bien estas bases de datos? Recuperado de: https://www.lluiscodina.com/scopus-web-of-science-tutoriales/

Colom, C.A.J., Brown, G. G., (1993). Turismo y educación, bases para una pedagogía del turismo. Revista Española de Pedagogía, Vol. 194, 57-75.

Fu, X., Niu, Z., & Yeh, M. K. (2016). Research trends in sustainable operation: a bibliographic coupling clustering analysis from 1988 to 2016. Cluster Computing, 19(4), 2211-2223.

Hidalgo, K., Sandí, J., Cruz, S. (2014). Integración del Turismo Educativo en la Formación de Nuevas Sociedades Ecológicas. Congreso Iberoamericano de Ciencia, Tecnología, Innovación y Educación. Art. 654. Buenos Aires, 12-14 de noviembre 2014.

Pérez, A. T. E., Camargo, M., Rincón, P. C. N., & Marchant, M. A. (2017). Key challenges and requirements for sustainable and industrialized biorefinery supply chain design and management: A bibliographic analysis. Renewable and Sustainable Energy Reviews, 69, 350-359.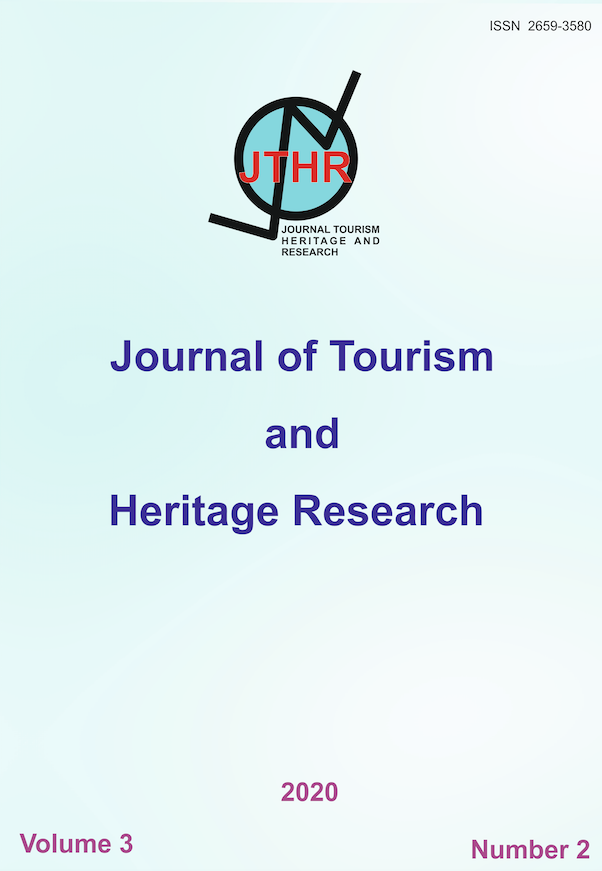 How to Cite
Pavlova, N., Eguizábal-Román, I. A., & Pavlova, I. (2020, April 1). The influence of the tourism on the education. Journal of Tourism and Heritage Research, 3(2), 286-301. Retrieved from https://jthr.es/index.php/journal/article/view/176
This work is licensed under a Creative Commons Attribution 4.0 International License.
1.The works published in this magazine are subject to the following terms: Tourism Research Association (the publisher) preserves the patrimonial rights (copyright) of the published works, and favors and allows the reuse of them under the license of use indicated in point 2.
© Investur, 2017
2.The works are published in the electronic edition of the magazine under a Creative Commons Attribution-NonCommercial-NoDerivative 3.0 Spain (legal text) license. They can be copied, used, disseminated, transmitted and publicly displayed, provided that: i) the authorship and the original source of their publication (journal, editorial and URL of the work) are cited; ii) are not used for commercial purposes; iii) the existence and specifications of this license are mentioned.
3. Self-file conditions. Authors are allowed and encouraged to disseminate electronically the pre-print versions (version before being evaluated) and / or post-print (version evaluated and accepted for publication) of their works before publication, since it favors their circulation and earlier dissemination and with it a possible increase in its citation and scope among the academic community.