Educational tourism in the province of Cadiz
Maryia Maiseyenka

Universidad de Cádiz

Benito Gutierrez Santaella

Universidad de Cádiz
Keywords:
Erasmus, Students, Tourism, Universidad de Cádiz.
Abstract
 This research seeks to deepen the characteristics of educational tourism in the province of Cádiz focusing on the case of study of Erasmus + students at the University of Cádiz. For this purpose, a deductive investigation was carried out through the search of documentary, statistical information and a survey was made of the Erasmus + Incoming students of the University of Cádiz in the period between 20011-2017 with the objective of knowing with great level of detail its characteristics and then determine the main strengths, opportunities, threats and weaknesses that the University of Cádiz has in this regard. Next, a proposal to improve Erasmus + tourism in the UCA was formulated, since it is an important element in the economy of the province.
References
Bosch, J., Suaréz, S., Olivares, G. 2004. "La importancia de la generación de empleo como dinamizadora del desarrollo local en un centro turístico. Caso: San Carlos de Bariloche" en Aportes y transferencias Vol.8, número 2. Mar de la Plata. 25-44.

Comisión Europea. 2018. Guía Erasmus+. Disponible en
http://ec.europa.eu/programmes/erasmus-plus/resources/programme-guide_es

Instituto de Estadística y Cartografía de Andalucía. (2011, 2012, 2013, 2014, 2015, 2016, 2017). Encuesta de Coyuntura Turística de Andalucía, datos estadísticos.

Instituto de Estudios Cajamar 2003. Análisis municipal de la actividad económica de la provincia de Cádiz. Disponible en: http://www.publicacionescajamar.es/seriestematicas/informes-coyuntura-monografias/analisis-municipal-de-la-actividadeconomica-de-la-provincia-de-cadiz/

Junta de Andalucía, 2005. Plan director de marketing turístico de Andalucía 2006 - 2008. Junta de Andalucía.

Junta de Andalucía. 2012. Plan de choque contra la estacionalidad turística del litoral andaluz 14-16. Disponible en:
http://www.turismonuevasideas.org/sites/default/files/docplanes/pc_estacionalidad_litor alandaluz.pdf

Junta de Andalucía. 2014a. Plan Director de Promoción turística de Andalucía.
Disponible en:
https://www.turismonuevasideas.org/sites/default/files/docplanes/pdp_20132016_aprobado.pdf
Junta de Andalucía. 2014b. Estrategias para la gestión de la estacionalidad turística
2014-2020. Disponible en: http://www.juntadeandalucia.es/export/drupaljda/CG_ESTRATEGIAS%20ESTACION ALIDAD%2005-05-2014-1.pdf

Ministerio de Educación, Cultura y Deporte, 2015.Estadística de Programas educativos europeos-Educación Superior. Disponible en:
http://estadisticas.mecd.gob.es/EducaDynPx/educabase/index.htm?type=pcaxis&path=/ Relconexterior/ProgramasEuropeos/Superior/Conv2014&file=pcaxis&l=s0

Ministerio de Educación, Cultura y Deporte. 2015. Datos y Cifras del Sistema Universitario Español. Curso 2014/2015.
Quintero, J. 2004. Los impactos económicos, socioculturales y medio ambientales del turismo y sus vínculos con el turismo sostenible. Anales del Museo de America. 263-274.

Turespana, 2008. Turismo Idiomático, Estudios de Productos Turísticos No 4. Secretaria General de Turismo, Secretaria de Estado de Comercio y Turismo, Ministerio de Economía, Madrid.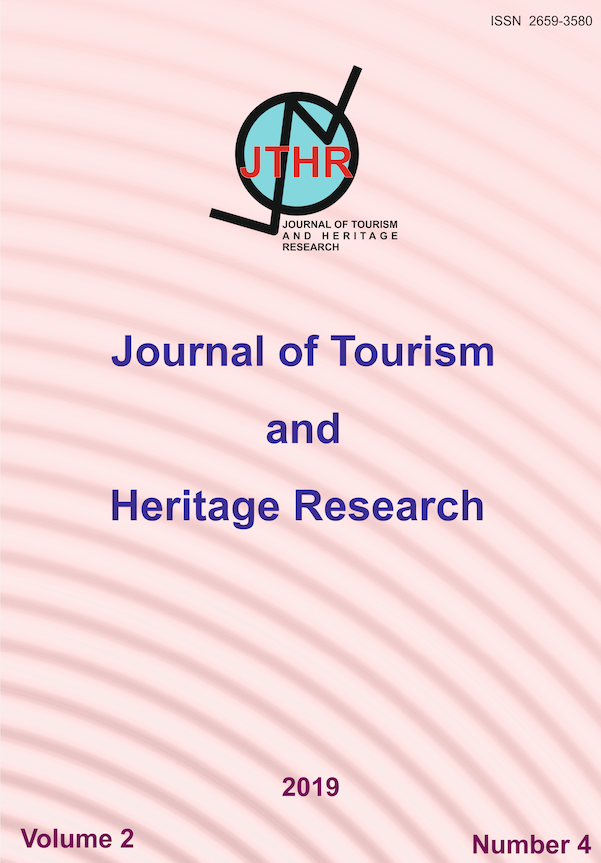 How to Cite
Maiseyenka, M., & Gutierrez Santaella, B. (2019, October 1). Educational tourism in the province of Cadiz. Journal of Tourism and Heritage Research, 2(4), 67-89. Retrieved from https://jthr.es/index.php/journal/article/view/102
This work is licensed under a Creative Commons Attribution 4.0 International License.
1.The works published in this magazine are subject to the following terms: Tourism Research Association (the publisher) preserves the patrimonial rights (copyright) of the published works, and favors and allows the reuse of them under the license of use indicated in point 2.
© Investur, 2017
2.The works are published in the electronic edition of the magazine under a Creative Commons Attribution-NonCommercial-NoDerivative 3.0 Spain (legal text) license. They can be copied, used, disseminated, transmitted and publicly displayed, provided that: i) the authorship and the original source of their publication (journal, editorial and URL of the work) are cited; ii) are not used for commercial purposes; iii) the existence and specifications of this license are mentioned.
3. Self-file conditions. Authors are allowed and encouraged to disseminate electronically the pre-print versions (version before being evaluated) and / or post-print (version evaluated and accepted for publication) of their works before publication, since it favors their circulation and earlier dissemination and with it a possible increase in its citation and scope among the academic community.