IMPORTANCE OF CITYBRANDING IN TOURISM
Keywords:
Citybranding, tourist destinations, tourism, brand, image
Abstract
The Citybranding corresponds to the creation of a representative brand that identifies the diverse characteristics of a city for its projection to the tourist market, therefore, it is necessary that said brand be in accordance with the qualities that are desired to be strengthened, since this will have a significant influence on the perception that both visitors and residents will acquire from the city and will also serve as a means of communication and brand recall. In the present study it was proposed to conceptually evaluate the generalities of the citybranding, through a bibliographical-descriptive analysis of the existing literature, which allows to know the role that the citybranding plays in the development of tourism, it was evidenced that the motive that moves the creation of a brand for a city is its potentialization in the tourist market.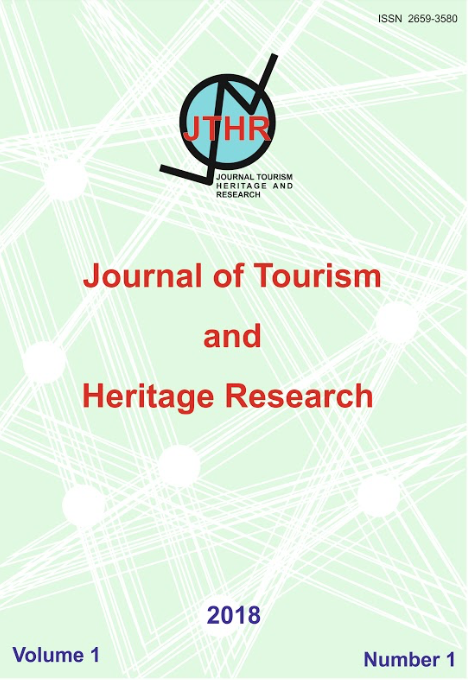 How to Cite
Calderón Bailón, J. (2018, March 30). IMPORTANCE OF CITYBRANDING IN TOURISM. Journal of Tourism and Heritage Research, 1(1), 1-14. Retrieved from http://jthr.es/index.php/journal/article/view/9
1.The works published in this magazine are subject to the following terms: Tourism Research Association (the publisher) preserves the patrimonial rights (copyright) of the published works, and favors and allows the reuse of them under the license of use indicated in point 2.
© Investur, 2017
2.The works are published in the electronic edition of the magazine under a Creative Commons Attribution-NonCommercial-NoDerivative 3.0 Spain (legal text) license. They can be copied, used, disseminated, transmitted and publicly displayed, provided that: i) the authorship and the original source of their publication (journal, editorial and URL of the work) are cited; ii) are not used for commercial purposes; iii) the existence and specifications of this license are mentioned.
3. Self-file conditions. Authors are allowed and encouraged to disseminate electronically the pre-print versions (version before being evaluated) and / or post-print (version evaluated and accepted for publication) of their works before publication, since it favors their circulation and earlier dissemination and with it a possible increase in its citation and scope among the academic community.