THE RELATIONSHIP BETWEEN TOURISM AND THE HISTORICAL-MILITARY HERITAGE: PRESERVATION AND PROMOTION OF THE PAINTINGS OF THE MILITARY MUSEUM OF LISBON
Carla Rego

Instituto Politécnico de Tomar

Lígia Mateus

Associação de Turismo Militar Português

Eunice Lopes

Instituto Politécnico de Tomar
Abstract
Nowadays, the intersection of tourism and cultural heritage takes a central role in the creation of new products, in the promotion of new experiences and in attracting new audiences. As a segment of cultural heritage, historical-military heritage is no exception. This dependent relationship between these two sectors can be seen as an opportunity both for the preservation of heritage assets, of a historical and military nature, as well as for their dissemination and promotion.
The extensive portuguese historical-military heritage, material and immaterial, assumes itself as a testimony to our history and identity, which must be preserved for future memory.
The present work highlights the importance of this enlace between historical-military heritage and tourism through the study and intervention of conservation and restoration of four paintings of the Military Museum of Lisbon, developed in the Conservation and Restoration Laboratory of the Polytechnic Institute of Tomar, with the support of the Portuguese Military Tourism Association. In this sense, this study aims to present this multidisciplinary relationship as a contribution to the promotion, safeguarding and communication of this heritage in touristic context.
References
Carta Nacional do Turismo Militar: Do Conceito à Operação - Proposta de Intervenção
(2015). CINAMIL. Military Academy Research Center. Instituto Politécnico de Tomar, Tomar;

Coelho, J. P. (2011). Turismo Militar como segmento do Turismo Cultural: Memória, Acervos, Expografias e Fruição Turística. Dissertação de Mestrado, Mestrado em Desenvolvimento de Produtos de Turismo Cultural, Escola Superior de Gestão de Tomar do Instituto Politécnico de Tomar. Tomar;

Coelho, J. P., Figueira, L. M., Costa, C. (2014). O turismo militar e a ativação turística do património: conceitos, perspetivas e tendência. Revista Turismo e Desenvolvimento: Journal of Tourism and Development, 21/22;

Decreto-Lei no 41/2016 (2016). Diário da República, no 248/2016, Série I de 2016-12-28, p. 4851. Disponível a partir de https://dre.pt/application/conteudo/105637671 (último acesso 2021-01-06);

Dempsey, K., Gilchrist, R., Ashbee, J. et al. (2020) Beyond the martial façade: gender, heritage and medieval castles. International Journal of Heritage Studies, 26(4);

E.C.C.O – Professional Guidelines (II): Code of Ethics (2003). Bruxelas: E.C.C.O. (European Confederation of Conservator-Restorers' Organizations). Disponível a partir de http://www.ecco- eu.org/fileadmin/user_upload/ECCO_professional_guidelines_II.pdf (último acesso 2019-05-19);
Ioannides, M., Martins, J., Žarnić, R., & Lim, V. (Eds.) (2018). Advances in Digital Cultural Heritage. Cham: Springer;

Lima, R., Martins, O., Marques, C. G., & Lopes, E. R. (2018). The Internet as Place Branding strategy in tourist destinations management: a proposal for practical application. Journal of Tourism Research, 19;

Lopes, E. R & Rego, C. (2017), Cultural and Touristic Management: cultural and creativity diversity in touristic territories, International Journal of Scientific Management and Tourism, 3 (2);

Marques, C. M., Sol, H., Pedro, J., Mateus, L., Pestana, H., Coelho, J. P., & Silva, M. (2020). Activating Templar heritage: tourism, narrative strategies and information technologies. Advances in Tourism, Technology and Smart Systems. Springer (no prelo);

Matteini, Mauro (et.al.) (2001). Ciencia y restauración: Método de Investigacion. Editorial Nerea;

Melo, Alessandro & Cardozo, Poliana. (2015). Patrimônio, turismo cultural e educação patrimonial. Educação & Sociedade. 36;

Rego, C., Mateus, L. & Lopes, E. R. (2018). Protection of Cultural Heritage and Tourism. Journal of Tourism Research, Greece, 19;

VIÑAS, Salvador Muñoz (2005). Contemporary Theory of Conservation. Oxford: Elsevier Butterworth-Heinemann. ISBN 0 7506 6224 7.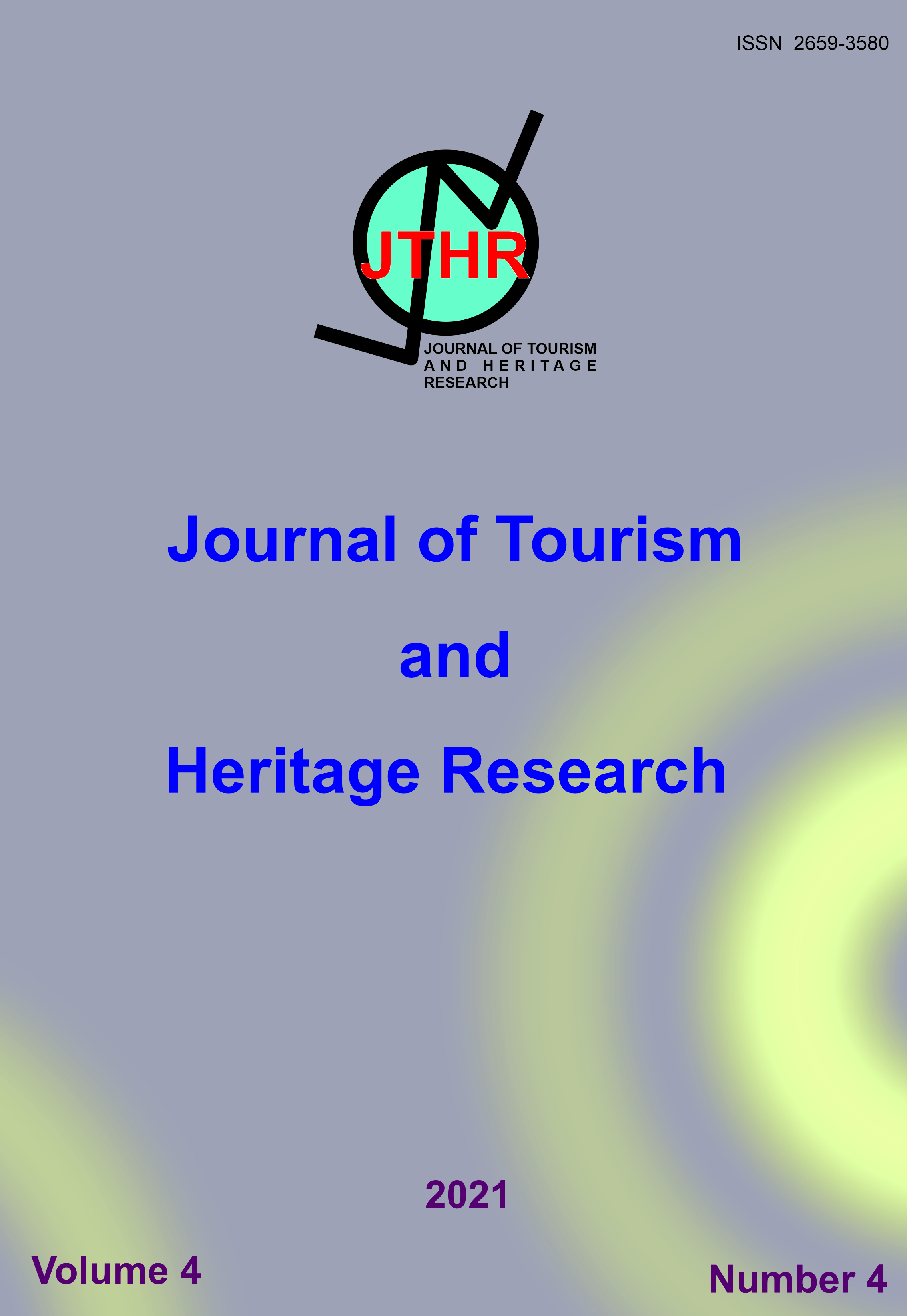 How to Cite
Rego, C., Mateus, L., & Lopes, E. (2021, October 1). THE RELATIONSHIP BETWEEN TOURISM AND THE HISTORICAL-MILITARY HERITAGE: PRESERVATION AND PROMOTION OF THE PAINTINGS OF THE MILITARY MUSEUM OF LISBON. Journal of Tourism and Heritage Research, 4(4), 67-77. Retrieved from http://jthr.es/index.php/journal/article/view/315
This work is licensed under a Creative Commons Attribution 4.0 International License.
1.The works published in this magazine are subject to the following terms: Tourism Research Association (the publisher) preserves the patrimonial rights (copyright) of the published works, and favors and allows the reuse of them under the license of use indicated in point 2.
© Investur, 2017
2.The works are published in the electronic edition of the magazine under a Creative Commons Attribution-NonCommercial-NoDerivative 3.0 Spain (legal text) license. They can be copied, used, disseminated, transmitted and publicly displayed, provided that: i) the authorship and the original source of their publication (journal, editorial and URL of the work) are cited; ii) are not used for commercial purposes; iii) the existence and specifications of this license are mentioned.
3. Self-file conditions. Authors are allowed and encouraged to disseminate electronically the pre-print versions (version before being evaluated) and / or post-print (version evaluated and accepted for publication) of their works before publication, since it favors their circulation and earlier dissemination and with it a possible increase in its citation and scope among the academic community.