TRANSMIT OR SUCCUMMING: EXPLORING THE DYNAMICS OF THE TOQUILLA STRAW HAT
Freddy Espinoza Figueroa

Karina Farfán Pacheco2

Paola Moreno Campoverde
Keywords:
Intangible cultural heritage;, weaving of straw hat toquilla;, dynamics;, transmission;, tourism;
Abstract
The weaving of the Ecuadorian straw hat was inscribed in 2012 in the Representative List of the Intangible Cultural Heritage of Humanity of UNESCO, it is intimately linked to the history of Ecuador. The southern region concentrates approximately 90% of the national production, United States, Canada, Germany, France, Italy, United Kingdom and Spain are the main destinations of the hat, tourists who visit Cuenca are also interested in this garment that currently It has become a product that contributes to the economy of rural families. The study focuses on the characteristics of small-scale straw hat production in relation to the cost of maintaining tradition and the relationships between cultural and economic dynamics. The approach used was of qualitative type of exploratory scope, through ten semi-structured interviews to weavers of the rural parish of San Martín de Puzhío, belonging to the canton Chordeleg, province of Azuay, in addition an interview was made to a representative of the Ministry of Culture and Heritage. Subsequently, the information of the interviews was entered into the software Atlas ti, version 7. It is necessary to guarantee the transmission of knowledge, the loss of knowledge of the tissue implies a substantial loss for all the actors. It is necessary to break the value chain and tourism can be an answer to ensure equity in development.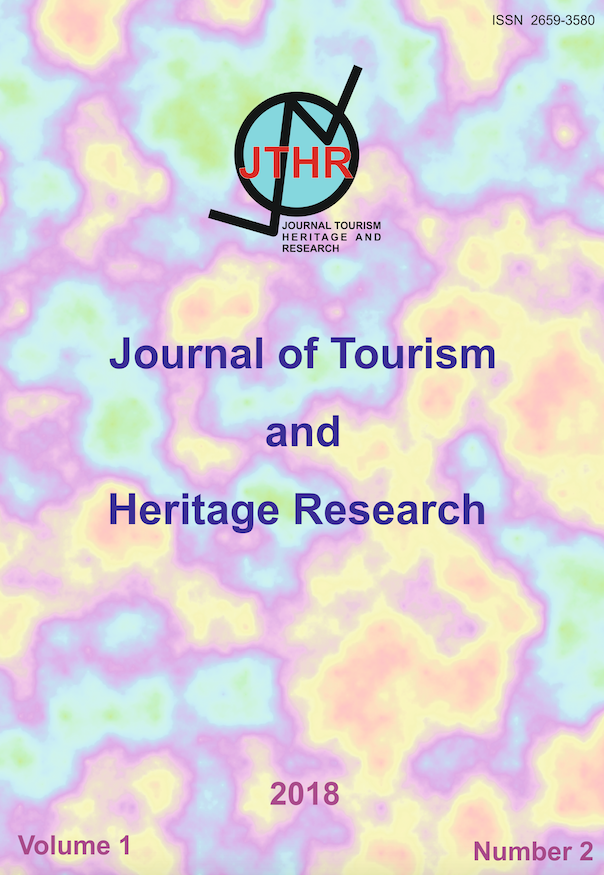 How to Cite
Espinoza Figueroa, F., Farfán Pacheco2K., & Moreno Campoverde, P. (2018, June 30). TRANSMIT OR SUCCUMMING: EXPLORING THE DYNAMICS OF THE TOQUILLA STRAW HAT. Journal of Tourism and Heritage Research, 1(2), 12-26. Retrieved from http://jthr.es/index.php/journal/article/view/14
1.The works published in this magazine are subject to the following terms: Tourism Research Association (the publisher) preserves the patrimonial rights (copyright) of the published works, and favors and allows the reuse of them under the license of use indicated in point 2.
© Investur, 2017
2.The works are published in the electronic edition of the magazine under a Creative Commons Attribution-NonCommercial-NoDerivative 3.0 Spain (legal text) license. They can be copied, used, disseminated, transmitted and publicly displayed, provided that: i) the authorship and the original source of their publication (journal, editorial and URL of the work) are cited; ii) are not used for commercial purposes; iii) the existence and specifications of this license are mentioned.
3. Self-file conditions. Authors are allowed and encouraged to disseminate electronically the pre-print versions (version before being evaluated) and / or post-print (version evaluated and accepted for publication) of their works before publication, since it favors their circulation and earlier dissemination and with it a possible increase in its citation and scope among the academic community.