THE OFFER OF THE HOTEL AS AN ACTOR OF TOURISM IN CORDOBA (SPAIN)
Keywords:
tourism, lodging, Córdoba
Abstract
Lodging in a sign of the strength from the tourist point of view of a city. Overnight stays attract economic movement to the city, since it increases the average expenditure not only in the accommodation itself but in all the services attached: from transport services, to the hotel industry or attendance at night. This means that, together with other factors, it collaborates with the economic and tourism sector in an active way, and, therefore, must be subject to observation, analysis and improvement both from the point of view of quantity and quality. In this article, accommodation is analyzed from the point of view of capacity in number, in general, it provides information from the point of view of the offer that Córdoba currently has, in order to subsequently carry out future studies and a better use of tourism products and obtain the maximum possible benefit.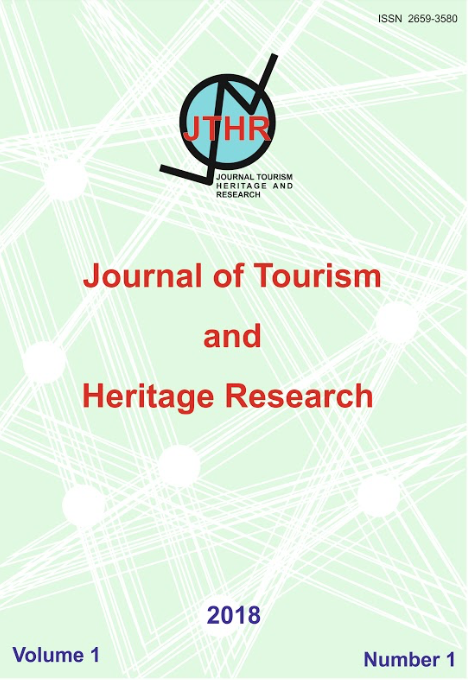 How to Cite
Oliva Vallecillo, A. (2018, March 30). THE OFFER OF THE HOTEL AS AN ACTOR OF TOURISM IN CORDOBA (SPAIN). Journal of Tourism and Heritage Research, 1(1), 49-61. Retrieved from http://jthr.es/index.php/journal/article/view/12
1.The works published in this magazine are subject to the following terms: Tourism Research Association (the publisher) preserves the patrimonial rights (copyright) of the published works, and favors and allows the reuse of them under the license of use indicated in point 2.
© Investur, 2017
2.The works are published in the electronic edition of the magazine under a Creative Commons Attribution-NonCommercial-NoDerivative 3.0 Spain (legal text) license. They can be copied, used, disseminated, transmitted and publicly displayed, provided that: i) the authorship and the original source of their publication (journal, editorial and URL of the work) are cited; ii) are not used for commercial purposes; iii) the existence and specifications of this license are mentioned.
3. Self-file conditions. Authors are allowed and encouraged to disseminate electronically the pre-print versions (version before being evaluated) and / or post-print (version evaluated and accepted for publication) of their works before publication, since it favors their circulation and earlier dissemination and with it a possible increase in its citation and scope among the academic community.